US Power Sector Slashing CO2 Emissions And Toxic Air Pollution, But Progress Is Slow, Scattered: Report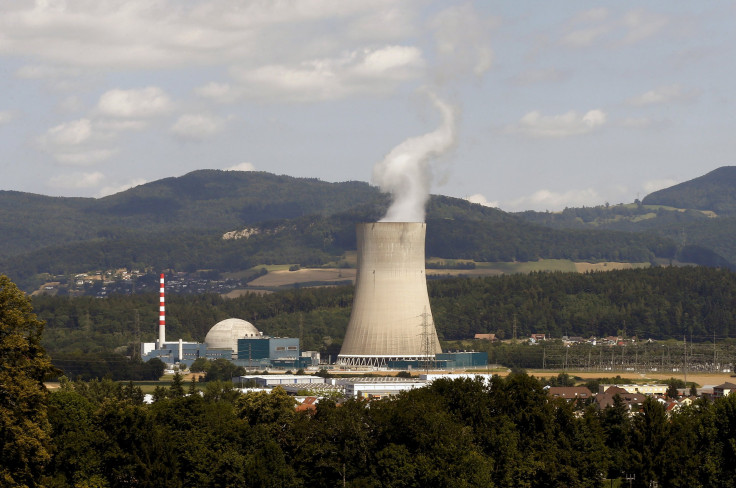 The U.S. power sector is steadily slashing emissions of toxic particles and heat-trapping carbon dioxide. But the progress is distributed unevenly among utilities and across state lines, and the emissions cuts still aren't steep enough to meet national climate change targets, a new analysis found.
"Overall, the carbon emissions curve is still not bending fast enough," said Mindy Lubber, president of Ceres, a coalition of environmentally focused investors that helped produce the Tuesday report. "Most parts of the country are firmly on the path toward a clean energy future, but some states and utilities have a longer way to go."
The analysis compared emissions data from the 100 largest U.S. power producers, which together own roughly 2,800 power plants. Combined, these plants account for 85 percent of the nation's reported electricity generation and 87 percent of emissions reported by industry.
Carbon dioxide pollution in particular dropped 12 percent from 2008 through 2013, researchers found, as more producers ditched coal for cleaner natural gas and retired older, dirtier coal-fired power plants.
The U.S. drilling boom has boosted the country's natural gas production by 30 percent since 2008, driving prices down to levels about a third of what they were a decade ago. This spring, natural gas for the first time overtook coal as the top source of U.S. electric power generation, suggesting carbon emissions have continued to dip over the past year.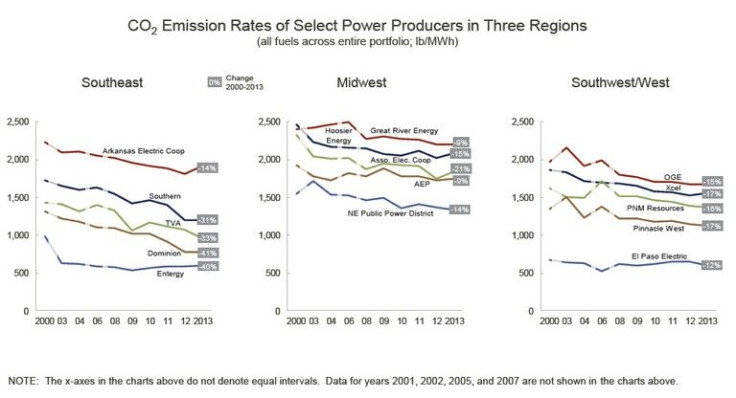 Among the plants surveyed, sulfur dioxide emissions, which can cause respiratory problems like asthma attacks, fell by 80 percent in 2013 compared to levels in 1990, when Congress added significant regulatory teeth to the federal Clean Air Act, forcing power plant operators to install scrubbers and other pollution control technologies.
Nitrogen oxide emissions -- another harmful greenhouse gas -- dropped 74 percent in 2013 over the 23-year period. Mercury emissions, meanwhile, which spread neurotoxins and threaten fetal development, fell by 50 percent in 2013 compared to 2000 levels.
Yet researchers found uneven performance across both power companies and states. Carbon emission rates varied by a factor of 10 among the top 100 producers, from a high of nearly 2,300 pounds of carbon per megawatt-hour for Big Rivers Electric Corp. in 2013, to lows of 200 pounds of carbon or less for utilities such as Exelon Corp., PG&E Corp. and Iberdrola SA.
Emissions rates by state were similarly varied, topping out around 2,000 pounds of carbon per megawatt-hour in Kentucky, Wyoming and West Virginia and dropping to about 300 pounds of carbon in Idaho, Washington and Oregon -- all states with large hydroelectric power plants.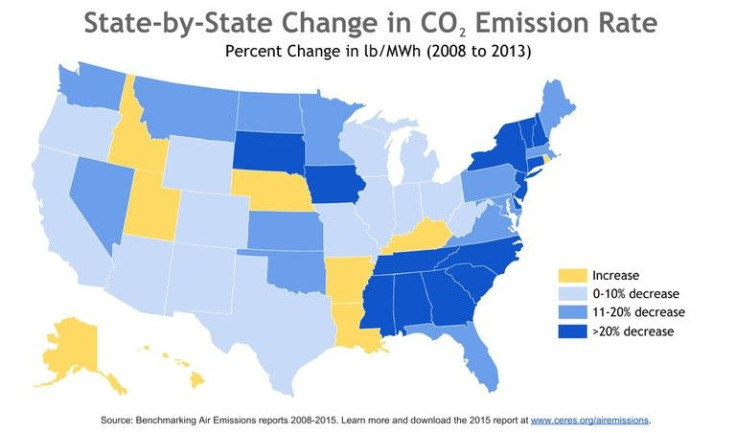 Ceres and other environmental groups behind the report said the piecemeal progress in reducing emissions highlights the need for aggressive federal policies, including the Obama administration's proposed Clean Power Plan. The Environmental Protection Agency is expected to finalize the rule this summer, which would require the U.S. power sector to slash greenhouse gas emissions by 30 percent by 2030, compared to 2005 levels.
"To level the playing field for all utilities, and achieve the broader CO2 emissions cuts needed to combat climate change, we need final adoption of the Clean Power Plan," Ceres' Lubber said.
But the landmark climate rule is facing stiff opposition from some U.S. policymakers, power companies and business groups. Critics of the plan say it will harm energy companies and their customers by raising electricity costs and forcing utilities to shutter coal plants. U.S. energy analysts have said America's coal production could plunge to levels not seen since the 1970s if the proposed power plant regulations take effect.
Murray Energy, the largest privately owned U.S. coal company, accused the EPA of promulgating "illegal, irrational and destructive cap-and-tax regulations," according to its lawsuit against the agency. A U.S. appeals court dismissed the suit on the grounds the rule isn't yet final, though Murray and its coal state allies are expected to file again once the EPA formalizes the measure.
A separate EPA plan to slash power plant mercury emissions suffered a significant blow in June after the U.S. Supreme Court ruled the agency acted improperly when adopting its Mercury and Air Toxics Standards. The court's decision will require the Obama administration to review and reanalyze the landmark standards, which took effect in April, and consider the costs the rules will impose on power producers.
Still, the Ceres emissions report suggests some utilities will forge ahead with investments in cleaner energy supplies and power plant technologies, even as federal regulations stall.
Entergy, a New Orleans energy company and one of the report's sponsors, said it adopted one of the country's first voluntary caps on carbon emissions from its power plants. New Jersey's PSEG (Public Service Enterprise Group), another sponsor, said it is investing $400 million in energy efficiency programs and plans to spend more.
"The nation's power plants remain the largest source of carbon pollution and we can't wait any longer to stem this growing danger to our health and economy," said David Hawkins, director of climate programs at the Natural Resources Defense Council.
© Copyright IBTimes 2023. All rights reserved.
FOLLOW MORE IBT NEWS ON THE BELOW CHANNELS