US Coal Production Will Decline Significantly If Obama EPA's Clean Power Plan Takes Effect: Report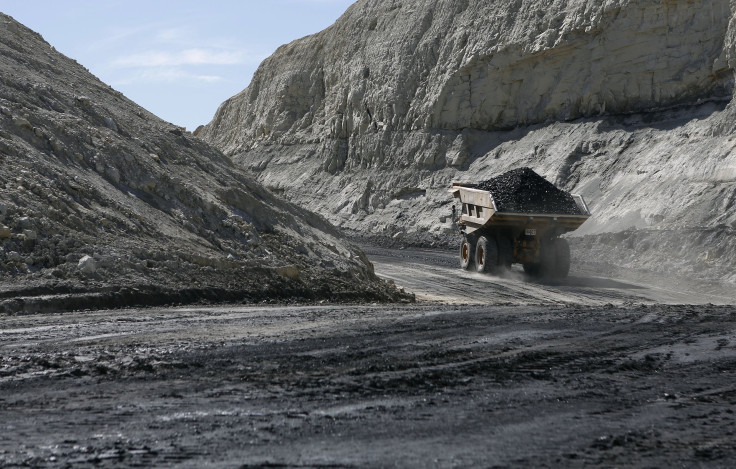 The Obama administration's signature plan to slash carbon emissions from power plants will deal a hefty blow to U.S. coal miners. America's coal production could plunge to levels not seen since the 1970s if the proposed power plant rule takes effect, federal energy analysts said Wednesday.
The dire forecast comes as major U.S. coal companies already are struggling with fierce competition from cheap natural gas, rising coal prices and waning demand from overseas customers like China. Peabody Energy Corp., Murray Energy Corp. and Alpha Natural Resources Inc. have all announced plans to lay off hundreds of workers and slash annual spending as revenues steadily decline.
Wednesday's report also follows a federal court decision to dismiss a lawsuit brought by Murray Energy and 14-coal producing states against President Barack Obama's Clean Power Plan. Environmental groups hailed Tuesday's ruling as a victory in the fight against climate change, though coal industry supporters are vowing to try again.
The power plant initiative, proposed last June, would require states to reduce emissions of heat-trapping carbon dioxide by as much as 30 percent below 2005 levels by 2030. The Environmental Protection Agency is expected to finalize the rule in August.
With the plan in place, U.S. coal plants will account for only about one-third of total U.S. electricity generation, down from 52 percent in 2000, the administration estimates. The shift to cleaner energy sources, including natural gas and wind and solar power, will hinder coal production at all major basins, the Energy Information Administration (EIA) said.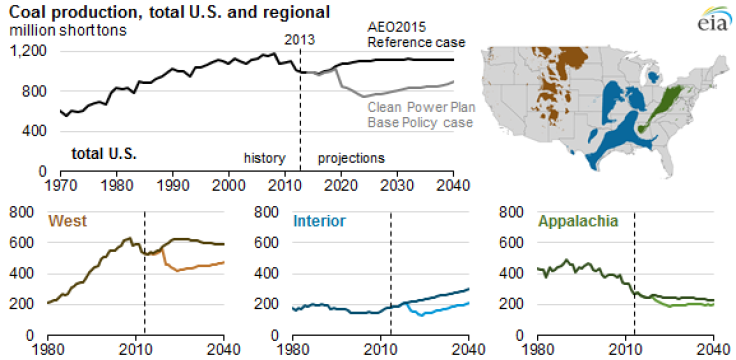 Western coal production will drop by 34 percent, or 214 million tons, in 2024 if the Clean Power Plan is enacted, compared to a business-as-usual scenario. Wyoming and Montana, home to the Powder River Basin, will see the bulk of those regional declines.
In the Interior region -- primarily around Illinois and the Gulf Coast states -- coal production falls by 45 percent, or 103 million tons, within nine years. Appalachian coal production, which has steadily fallen in recent decades due to competition from the West, will fall just 19 percent, or 46 million tons, from its current trajectory under the Clean Power Plan, federal analysts said.
Eventually, coal production will rebound somewhat as overall U.S. electricity demand increases over time and as natural gas prices rise. Still, coal production in the next few decades won't surpass levels reached in the 1980s, according to the EIA report.
Even without the Clean Power Plan, the U.S. coal sector is suffering. Coal production dropped by 3.1 percent in 2013 from the previous year, falling below 1 billion short tons for the first time in two decades, the EIA reported in April. Coal mine productivity fell by 2.5 percent in 2013, while the average number of employees at coal mines dipped by 10.5 percent, to nearly 80,400 employees.
Those figures don't include recent layoffs announced by coal mining firms. Peabody Energy, the world's largest coal company, said Tuesday it would eliminate 250 corporate and regional positions across the United States, a move that could save it up to $45 million each year. Peabody has lost more than $1.8 billion since 2012 due to falling demand and rising coal prices.
Peabody Energy Corporation (BTU) | FindTheCompany
Murray Energy, the largest privately held coal company, reportedly laid off 1,800 workers -- or about one-fifth of its workforce -- last month at its mines in West Virginia and Ohio. Alpha Natural Resources cut nearly 450 positions in May, citing current market conditions.
The companies have criticized the Obama administration for waging a so-called "war on coal," arguing that the president's policies to curb emissions from power plants are harming energy companies and their customers. Murray Energy led the lawsuit against the Environmental Protection Agency to scrap the Clean Power Plan. The Ohio coal company accused the agency of promulgating "illegal, irrational and destructive cap-and-tax regulations," according to the lawsuit.
The U.S. Court of Appeals for the District of Columbia Circuit on Tuesday dismissed the suit on the grounds that the power plant rule isn't yet final. The EPA "has not yet issued a final rule. It has issued only a draft rule. Petitioners … want us to do something that they candidly acknowledge we have never done before: review the legality of a proposed rule," Judge Brett Kavanaugh wrote in the court's opinion.
Opponents have vowed to keep fighting the plan. "Although the administration dodged a bullet, it can't really claim the case as a big victory," Jeffrey Holmstead, a former EPA official who lobbies for electric utilities with the firm Bracewell & Giuliani, said in a statement cited by the New York Times. "The court did not say anything about the legal merits of the Clean Power Plan. All those issues are simply put off to another day."
© Copyright IBTimes 2023. All rights reserved.