US Students Compete To Solve Declining Bee Populations, Homeless Problem As Samsung Wades Into STEM Funding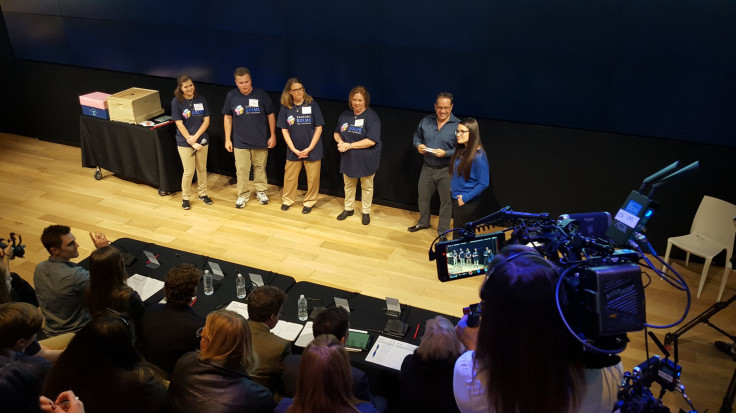 Applying for U.S. patents and restoring depleted honeybee populations aren't normally among the top concerns for middle school and high school students. But they are more important than daily homework and passing the driver's test for the small teams of science and engineering students who competed Tuesday at Samsung's Solve For Tomorrow science competition.
Fifteen teams of students, national finalists selected from 4,100 teams that applied from across the U.S., gave a whole new meaning to the phrase "Think Global, Act Local" in New York City as part of Samsung's competition meant to promote science, technology, engineering and mathematics, or STEM, education. Five winners, to be selected by a panel of judges and via Instagram and Twitter hashtags in April, will receive a $120,000 prize from Samsung.
That's part of the $17 million Samsung has invested in the program since launching it six years ago, joining a number of other tech heavyweights to invest in U.S. education.
"To us it isn't really a success yet," said one student at Anoka Middle School for the Arts, in Anoka, Minnesota, where 900 district students were identified as homeless. The team, with help from the community and local legislators, which loosened municipal residential codes, designed portable shelters for homeless youth. "It's not about us, or winning. It's just about helping people out."
Other projects included a solar-powered charging station for electric vehicles, a solar-powered sidewalk heater meant to quickly melt snow and ice, a prosthetic enhancement for a local veteran, and a noise-emitting watch designed to alert the hearing or visually impaired about oncoming traffic. Contest applicants from grades 6 through 12 are participating.
The Bee The Change project, from students in Lawrence County High School in Lawrence County, Ala., is trying to regenerate the rural area's dying honeybee population, an international problem. With help from their teachers, students have distributed to local farmers custom-built beehive entrances meant to scrape varroa mites, destructive parasites, from the bee's back before the mites can infect the rest of the hive. Nichols Payte, a 16-year-old junior at the school, is at work on a mobile app meant to enable users to see which local farms are producing the most honey, and potentially provide early insight into which bee farms have declining populations.
"A beekeeper can look in their stock, or people looking for honey can see where they can buy local," said Gina McCarely, a computer science teacher at Lawrence County High. "There's just no data source for this. But now we can see this farmer on this side of town and see how much honey he is producing compared to the other side of town."
The 10 finalists who aren't selected among the top five as winners are awarded $40,000 in technology, ranging from laptop computers, tablets, big-screen TVs and other options.
The competition comes as American students are losing ground to the rest of the world in STEM skills. Just 16 percent of members of the American Association for the Advancement of Science said the U.S. has the best or above-average STEM education in the world, according to a 2015 survey from the Pew Research Center. Forty-six percent said U.S. STEM competence is below average.
Samsung is just the latest tech company to invest in science learning at U.S. schools. Intel hosts perhaps the best known science competition with the Intel Science and Engineering Fair, which doles out $4 million in prizes every year.
"We can catch students who have a latent interest and bring that out of them," said Ann Woo, director of corporate citizenship at Samsung, adding that Intel's competition is meant for individual applicants. "We love the fact that our program gets to install a little pride and gets kids out of their shell. This is about giving them a platform to show off how hard they worked all year."
© Copyright IBTimes 2023. All rights reserved.