'Valentine's Again' Hallmark Movie Premiere: Trailer, Synopsis, Cast
Hallmark Channel's "Love Ever After" programming event continues with the special Valentine's Day premiere of the film "Valentine's Again," starring Nicky Whelan and Greg Vaughan.
The film is sure to be a treat for Hallmarkies who aren't used to seeing Whelan and Vaughan in the movies the channel shows. While it isn't the first title for either, they are both better known for other roles. Whelan did star in "Romance at Reindeer Lodge" for Hallmark Movies & Mysteries but is best known in recent years for "Dear Christmas," "A Christmas Arrangement" and "Sins and Seduction" on Lifetime, as well as "Pretty Little Stalker" on Netflix.
As for Vaughan, he is best known as Eric Brady on "Days of Our Lives," a role he left in 2020, and Calvin on the series "Queen Sugar." He also has starred in "A Very Country Christmas" and "A Very Country Wedding," and previously held a role in Hallmark Movies & Mysteries' "The Christmas Note."
So what can fans expect in this film?
"As Kat (Whelan) dejectedly walks home from a failed Valentine's Day date with an online match she was certain was perfect for her, she bumps into a mysterious stranger (Marina Sirtis) who reveals that Kat spoke to the love of her life earlier that day," a synopsis reads. "The next morning, Kat has a serious case of déjà vu, and, after running into Marta once more, learns that she'll continue to relive the same Valentine's Day, over and over, until she reconnects with her soul mate."
However, the attempt to get it right doesn't go well-meaning Kat could be stuck in the loop forever.
"Kat is skeptical at first but follows Marta's advice and goes out with each man she encountered," the synopsis reads. "But when Kat finally goes on a date with Danny m(Vaughan), the man meant for her, Cupid's arrow misses the mark. Before Valentine's Day will stop repeating itself, Kat must learn more about who she really is and what she wants from life in order to enjoy her happily ever after."
"Valentine's Again" premieres Sunday, Feb. 14, at 9 p.m. on Hallmark Channel.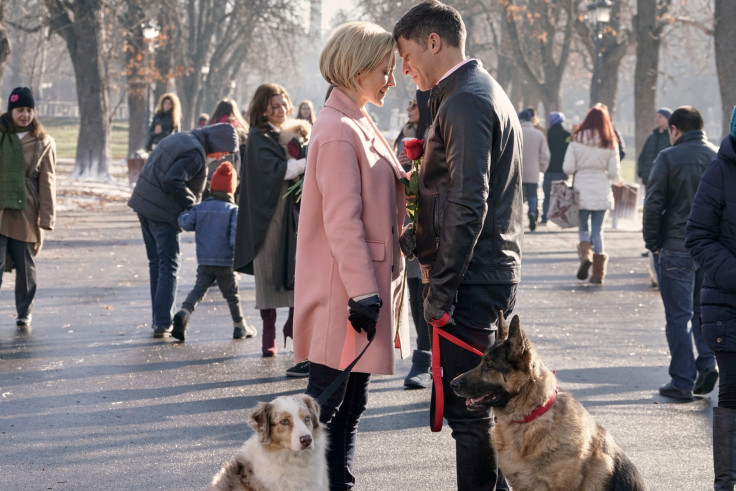 © Copyright IBTimes 2023. All rights reserved.