Venezuela Launches Cryptocurrency Amid Flagging Economy, Sanctions, Hunger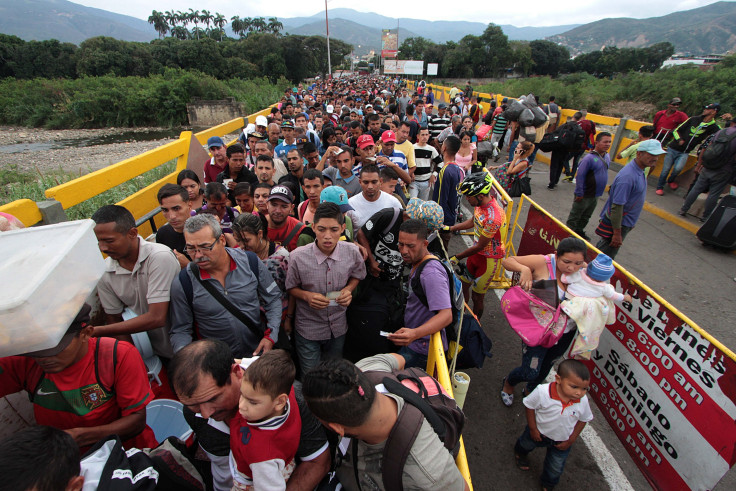 Pre-sale for an oil-backed cryptocurrency began Tuesday in Venezuela as the financially strapped government attempts to curb an economic crisis. Venezuela hopes their cryptocurrency, called the "petro," will help buoy the country's economy, crippled by inflation, economic sanctions and volatile oil prices.
Venezuelan President Nicolás Maduro said that the petro aims to infuse his cash-strapped economy with around $6 billion in sales from the initial cryptocurrency offering.
"Petro has been created in an innovative way, using the highest standards in blockchain technology and information security," Venezuela stated on the petro website. "Electronic asset representations facilitate more direct trade between emerging nations as well as the work of the State within the framework of true financial and economic independence."
The country hopes to see investment from countries like Qatar and Turkey. The U.S. and European Union have imposed economic sanctions on the country as a way to punish a regime seen as autocratic.
"They have been trying to figure out ways to get around anti-money laundering sanctions provisions, and crypto is maybe one way they can do that," Venezuelan journalist Francisco Toro told CNBC. "I do think that part of this is about getting investors from non-traditional lenders, from Russia and China, to put in some more money, to lend fresh cash. The financial sanctions — the U.S. sanctions, the European sanctions — are not the main reason Venezuela can't raise financing. The main reason Venezuela can't raise financing is that macroeconomic finance is a s--- show."
The petro, at first, can't be bought in Venezuelan bolivars, making it unavailable to most Venezuelans.
In addition to sanctions, Venezuela has been hurt by inflation and lower production of its main export, oil. The bolivar has seen an inflation rate of more than 4,000 percent in the past year, according to the country's National Assembly. Currently, one U.S. dollar would fetch 235,000 bolivars on the black market, according to the Financial Times.
The National Assembly is run by the opposition party and outlawed the petro last month, but the body has seen their power drained since Maduro has mostly ignored their decisions and convened a superseding body, the Constituent Assembly, last year.
"This is not a cryptocurrency, this is a forward sale of Venezuelan oil," said legislator Jorge Millan last month. "It is tailor-made for corruption."
Economic mismanagement in the country has led to what some call a humanitarian crisis. Food and medicine in the country have become scarce. A study from several universities and aid organizations show that nearly 75 percent of the country lost at least 20 pounds in 2016.
© Copyright IBTimes 2023. All rights reserved.