Verizon Strike to End With Bargaining Pact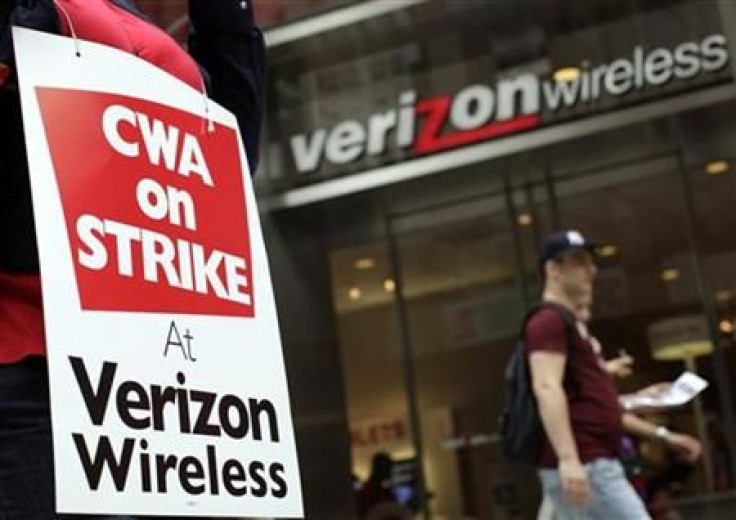 About 45,000 Verizon Communications employees are set to end a two-week strike and return to work by Tuesday after the telephone company and unions said they had reached an agreement to proceed with bargaining.
Almost half of the workers in Verizon's wireline business went on strike on August 7 after talks for a new labor pact failed when their contract expired.
Under the latest agreement, reached early on Saturday morning, Verizon promised to extend the terms of the old contract indefinitely while it continues bargaining for a new one with unions representing technicians and customer service workers.
As a result workers will start to head back to work for late shifts on Monday night and the rest of the striking workers will show up to their jobs on Tuesday, one union said.
Neither side would provide details about how the agreement was reached.
Clearly it's a difficult time to be on strike with the world economy as it is, said Verizon spokesman Richard Young. Both sides agree that the best course at this time is to bring employees back to work.
Tens of thousands of Verizon managers were asked to work 12 hours a day for six days a week and many worked more than that to cover for the strikers, Young said.
The decision follows an announcement by the company last week that healthcare benefits would expire on August 31 for workers that were still on strike at the time.
This would have affected 35,000 workers represented by the Communications Workers of America, and another 10,000 members of The International Brotherhood of Electrical Workers in nine states and the District of Columbia.
BITTER DISPUTE
The decision to end the strike came after the unions and the company were able to agree on a structure and focus for bargaining on key issues such as jobs, employment security and financial issues such as healthcare contributions and pensions, according to CWA President Larry Cohen.
Cohen told Reuters that the issues on the table are complicated and will take some time to work out but he said the union was looking forward to the joint process.
We would both say that this focus is much better than it was two weeks ago, Cohen said.
The striking workers are in Verizon's wireline business which provides telephone, Internet and television services.
Verizon is looking to cut costs in this business, which has been declining for years as consumers have been hanging up home phones in favor of cellphones and Internet services.
But the unions had argued that Verizon was looking for too many concessions in areas such as healthcare contributions, pensions and work rules.
Verizon, which had drafted in thousands of managers to cover for the striking workers in the last two weeks, said it had made headway with negotiating a number of local and regional issues with the unions.
The dispute turned bitter very quickly as Verizon complained of network sabotage on the second day of the strike while the unions said picketers had been injured by vehicles driven by Verizon managers covering for the strikers.
Both sides also swapped complaints at the National Labor Relations Board.
Cohen said the problems facing the strikers went beyond Verizon and its workers. He argued that there should be some kind of national framework for workers healthcare and bargaining rights.
I don't really blame Verizon leadership for this problem, he said. It's the nation.
© Copyright Thomson Reuters 2023. All rights reserved.