Veterans Day 2014: Vets Face Challenges Despite Improvements In Jobless Rates, Homelessness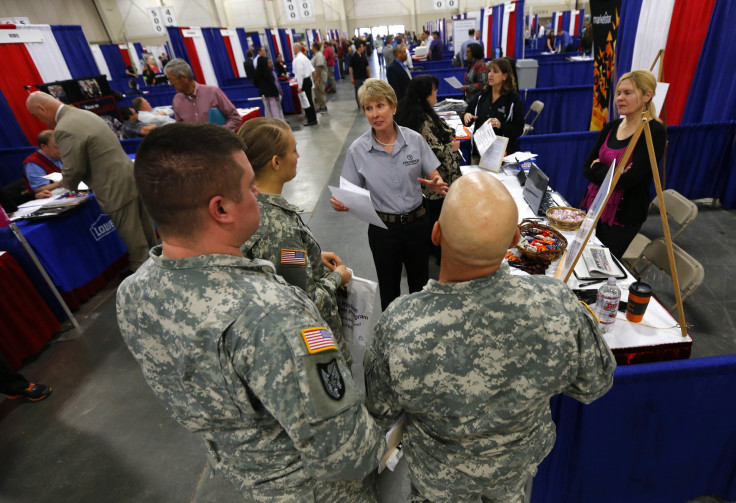 When Jason Hansman was deployed in Mosul, Iraq, the U.S. Army reservist didn't worry about making rent, buying food or paying the bills. The military covered his living expenses, and he hardly touched his small monthly paycheck of about $2,000. So his return from duty in 2005 came as a painful reality check. Unable to balance his budget, he quickly racked up credit card debt and fell behind on bill payments.
"It was absolutely a struggle," says Hansman, now 31. "I'm still having to repair some of the mistakes that I made pretty early on."
Hansman is now the external relations director at Iraq and Afghanistan Veterans of America, a New York-based advocacy group. He says money mismanagement is one of the biggest economic challenges that U.S. veterans face after coming home or leaving the military. "By far, the No. 1 thing we do within our [program] is fund emergency financial assistance for vets," he says.
About one-third of recent veterans surveyed by University of North Carolina and Duke University had exceeded their credit limits, written a bad check or been contacted by a collection agency, according to a 2013 study of more than 1,000 people. The researchers found that a lack of financial literacy may contribute to homelessness among veterans.
While veterans of all wars have struggled financially, troops who served after September 2001 were hit particularly hard by the recent economic downturn. Just as they were returning from war zones and leaving military bases, jobs in the civilian labor force were drying up, and many Americans' budgets were shrinking. Around 21.4 million men and women were veterans of the U.S. Armed Forces last year, or roughly 9 percent of the civilian adult population,
according to
the U.S. Bureau of Labor Statistics. Some 2.8 million people are veterans of the wars in Iraq and Afghanistan, a group collectively referred to as Gulf War-era II veterans.
These veterans saw unemployment rates of 9 percent in 2013, compared with the national civilian average of 7 percent, and all veterans in recent years have made up a disproportionately high percentage of the nation's adult homeless population. Some 900,000 veterans currently depend on federal food stamp benefits to buy basic items such as milk, cheese, meat and bread.
Over the past year, though, the economic outlook for veterans has steadily improved, as the U.S. economy strengthens and federal and private programs to help veterans find jobs expand. In October, the unemployment rate for veterans overall was lower than that of nonveterans, and the rate for recent veterans dropped to 7.2 percent, according to federal statistics reported last week.
"The job market has picked up, and we see that in the unemployment rates for veterans," says Teresa Gerton, a deputy assistant secretary for the Labor Department's Veterans' Employment and Training Service. "Veterans as a whole are doing very well."
Gerton credits a 2011 initiative of first lady Michelle Obama and Jill Biden, wife of Vice President Joe Biden, with helping to bring attention to veterans' employment issues. The program, called Joining Forces, encourages private companies and public offices to hire veterans and provides job training and career development for departing service members. In 2012, President Barack Obama followed up with a $1 billion Veterans Job Corps initiative, which includes a "reverse boot camp" workshop to help veterans write résumés, prepare for job interviews and apply for higher education programs.
Government officials also say there are fewer homeless veterans than in past years. A recent count found that 50,000 veterans are homeless, a 10 percent drop from 2013, the U.S. Department of Housing and Urban Development reported last month in its annual homeless assessment. By contrast, the total U.S. homeless population of 580,000 people fell by about 2 percent from last year.
"We are now at the lowest level of veteran homelessness since we began tracking this over the last decade," says John Kuhn, national director of the homeless prevention program at the Department of Veterans Affairs. He attributed part of that decline to the department's efforts to help homeless veterans find jobs, secure permanent housing and tap other financial benefits. "We're pushing full speed ahead to get to a place where there are no veterans in vulnerable conditions," he says.
The numbers don't give Hansman much confidence. He points out that the federal homelessness figures don't reflect the number of veterans who are struggling to find permanent housing. "We still have a great deal of vets sleeping on a friends' couch, or in their car," he says.
And he says he's concerned that veterans' housing issues, economic hardships and money management matters may only increase as more troops return from Iraq and Afghanistan. The war in Iraq officially wound down in late 2011, and Obama has vowed to withdraw most troops from Afghanistan by the end of 2016. In the next few years, the number of "separating" veterans (i.e., people who leave the military altogether) could jump about 10 percent, to 220,000 military exits a year, Gerton says.
Both Gerton and Kuhn say federal veterans' programs are sufficiently equipped to handle the challenge of a growing veteran population. The Obama administration's budget request for fiscal year 2015 would pour greater funding into such initiatives. Veterans Affairs is seeking $1.6 billion to tackle homelessness, an 18 percent boost from last year, plus $106 million to help service members transition to the civilian workforce. Labor requested slightly more funding for its $270 million veteran employment service program.
Hansman says the biggest fear in the veterans' community is that once troops are home, less attention will be paid to their economic problems and federal support will dwindle. "We're trying to get as much done as we can in the next couple of years while the media and Congress are still focused on these issues," he said. "We're reminding people that these issues aren't going to go away."
© Copyright IBTimes 2023. All rights reserved.