Viacom Names CEO Dauman As Chair As Redstone Exits; Daughter Protests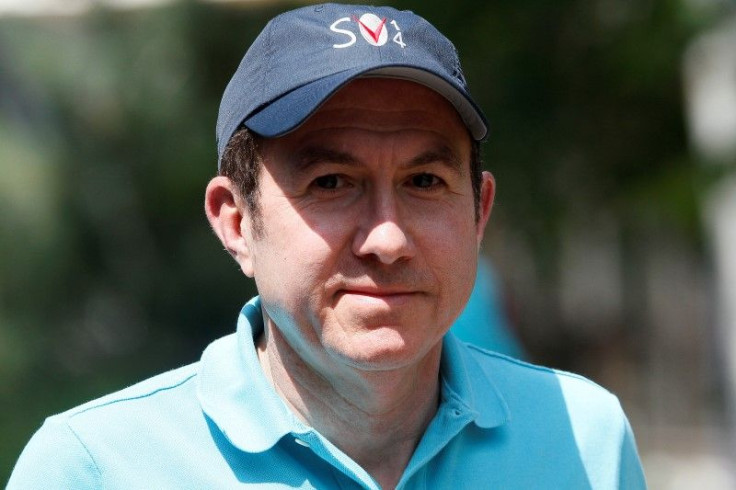 Viacom Inc.'s board of directors named Chief Executive Officer Philippe Dauman as executive chairman, replacing majority owner Sumner Redstone, overriding calls for an independent board chief from Redstone's daughter, who voted against Dauman.
Viacom announced on Thursday that the ailing 92-year-old Redstone was becoming chairman emeritus, a day after CBS Corp. said Redstone, also the CBS majority owner, was stepping down as executive chairman and being replaced by CEO Leslie Moonves.
The boards of CBS and Viacom have been discussing Redstone stepping down for several weeks, according to two sources familiar with the situation.
Thursday's decision puts Viacom firmly in the hands of Dauman, a longtime associate of Sumner Redstone. His daughter, Shari, said in a statement she wanted someone who was not a member of her father's trust to run Viacom, which would have excluded Dauman.
Dauman and Moonves are natural rivals as leaders of the two halves of the empire that Redstone separated 10 years ago. After Redstone's eventual death, analysts expect several scenarios, such as selling the companies in pieces, leaving them as they are, or reuniting them, which could pit the executives against one another.
Sumner Redstone and the rest of Viacom's board voted in favor of Dauman, and only Shari Redstone voted against him, according to a source close to the company. Viacom said Shari Redstone turned down the non-executive chairman role.
Shari Redstone will "continue to advocate for what she believes to be in the best interests of Viacom shareholders," she said in a statement.
Viacom shares initially rose sharply, but later pared gains, closing up 1.5 percent at $45.34 on Nasdaq.
Investor reaction was mixed.
SpringOwl Asset Management, a Viacom shareholder that has agitated for change, was disappointed by the move. "It raises questions about the board, corporate governance and fiduciary duties," the firm said in a statement. "The market agrees ... that someone other than Philippe Dauman should be the Chairman."
Michael Cuggino, president and portfolio manager at San Francisco-based Permanent Portfolio of Family Of Funds, which is the fifth largest voting shareholder in Viacom and CBS, applauded Dauman's appointment, and was willing to give him time to improve the company's performance.
"Viacom's issues have not gone away and they still need to be tackled, but all the noise surrounding Sumner's situation has been taken out of the equation," Cuggino said. "The answer to whether Philippe is the right guy to do this will come later."
Sal Muoio, whose investment firm also is a top owner of voting Viacom shares, said he is also willing to give Dauman time: "This at least is a step toward clarity. I think we need to wait and see how these operational things unfold."
Mario Gabelli, the largest Viacom shareholder outside the Redstone family, said on financial news channel CNBC that Dauman has six to nine months to prove himself.
"Philippe has to deliver," Gabelli told Reuters in an interview. "How does he jump-start the process? It's going to be tough to get into the digital world and over-the-top (Internet), given his perception of what his core competences are. It's going to be a challenge."
Gabelli dismissed the idea that Moonves could take over both companies: "He can't do both, I don't think."
Redstone hived off Viacom from CBS, expecting faster growth from the owner of MTV and Paramount than the storied television network, but in recent years CBS has outperformed Viacom. CBS shares are up more than 135 percent in the last five years, while Viacom has eked out a 3 percent gain.
Viacom in recent years has suffered from falling ratings at its cable networks as its audience of younger viewers migrate to online and mobile video. In April 2015, the company announced a restructuring to save $350 million annually. Dauman has taken steps to woo advertisers by using data to better target their commercials.
The elder Redstone has faced questions about his health and leadership abilities for some time. He underwent a mental examination last Friday by a psychiatrist hired by his former girlfriend, Manuela Herzer, who has challenged Redstone's mental competency in a lawsuit.
The results of the examination have not been made public. Neither CBS nor Viacom explained why Redstone stepped aside.
After Herzer's lawsuit, investor Gabelli called for the media company to disclose the state of Redstone's mental competence.
Shari Redstone, 60, has said both companies needed an "independent voice" as chair who was not involved in the family's personal matters. She supported Moonves as CBS chief.
Dauman serves as a Sumner Redstone trustee in the event of his death as well as his health care proxy.
Shari Redstone believes Herzer's lawsuit is weighing on her father's mind.
"Ms. Herzer's lawsuit, and the fact she is actually trying to once again insert herself into my father's life, is causing my father tremendous stress and agitation," she said in a declaration to a California court filed this week.
Redstone controls about 80 percent of the voting shares in Viacom and CBS Corp through a holding company.
In January, Viacom said it cut the compensation of its top two executives, Redstone and Dauman, as the company faced business pressures and a sharp drop in its share price.
© Copyright IBTimes 2023. All rights reserved.