Vietnam's Basa Fish Industry Hopes To Export More To The US As Demand From The EU Plunges And Regional Competition Intensifies
Exports of basa fish from Vietnam have been a key source of revenue for its economy, but the nation may be losing its position as a staple in the global fishing market, due to decreased demand from the European Union and increased competition from the country's neighbors in Southeast Asia.
In response, Vietnamese fish exporters are hoping that increased demand from the United States might save them from a bad year.
The basa fish is a type of catfish native to the Mekong River delta in Vietnam. Over the past decade, farmed basa fish have emerged as one of Vietnam's key export products, with the volume increasing 50 fold to surpass 1 million tons annually. The value of exported basa fish, now sold to 142 countries and territories, accounts for 2 percent of Vietnam's GDP, according to Vietnam Plus, a Vietnamese news portal.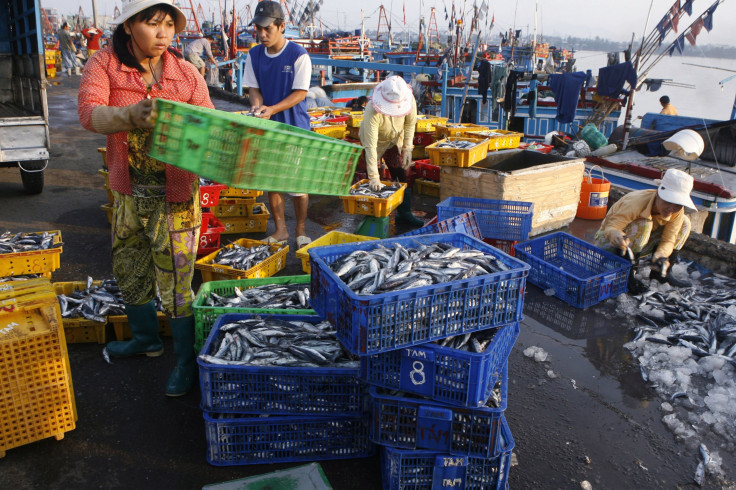 Unfortunately, exports of basa fish have been on a downward trend in 2013. The total value of exports for the first half of the year are projected to reach around $800 million, a year-on-year decrease of 7.3 percent. Exports in the first five months decreased 6.7 percent compared to the same period last year, reaching around $670 million, according to Viet Nam Association of Seafood Exporters and Producers, or VASEP.
The decline is in large part due to decreased demand from the EU, which is in recession and deeply mired in a sovereign debt crisis. Truong Dinh Hoe, general secretary of VASEP, predicted that fish demand from EU countries is unlikely to recover in 2013, as consumer purchasing power in those countries has yet to change for the better.
Thus far in 2013, Vietnam has only exported $151 million worth of basa fish to the EU, a 17.6 percent plunge from the same period last year, Vietnam News reports.
To make matters worse, other Southeast Asian countries have caught on to the highly lucrative business. Vietnam will have to face heavier competition in the future to hold onto its share of the market.
The Filipino Department of Trade and Industry recently approved a $15.8 million basa fish farming project and aims to earn $23 million in export revenue by 2016, according to Vietnam Plus.
Indonesia has plans to turn part of the Batanghari River that runs across the central Indonesian province of Jambi into a basa fish farm, General Director of Aquaculture in the Ministry of Marine Affairs and Fisheries Slamet Soebjakto said. Experts said if Indonesia takes full advantage of its resources, it may surpass Vietnam in basa fish production in the near future.
With such pressures, Vietnam's fishing industry has cast its hope on Americans, who have been consuming more of its basa fish recently. In the first five months of 2013, Americans imported $150.8 million worth of basa fish from Vietnam, a 3.8 percent increase from the same period in 2012, Vietnam News reports.
Basa fish have faced negative press before in the U.S. Basa fish was introduced to the U.S. in 1994 and was initially sold as catfish. By the early 2000s, after trade wars between Vietnamese fish exporters and domestic American catfish producers escalated, U.S. regulators said that the Vietnamese variety may no longer be called catfish when sold in the U.S. market.
However, in a taste test carried out by the Mississipi State University, basa fish were preferred three to one to locally produced catfish, and increased import of basa fish by the U.S. seems to corroborate the results of that test.
© Copyright IBTimes 2023. All rights reserved.