Volvo's Next Safety Frontier: Tech To Help Drivers Share The Road With Cyclists
LAS VEGAS -- The Volvo brand is synonymous with safety. Safety, that is, of the car driver and occupants. But Volvo Cars wants to take that further: to the safety of people outside the car.
On that front the automaker, which separated from Ford Motor Company in 2010, has set itself some ambitious safety goals and is looking to achieve them through its City Safety system, a series of sensors, autonomous driving technologies and data fed constantly into a proprietary cloud. The impetus for the move is clear: 50,000 cyclists and more than 80,000 pedestrians on average are injured or killed in encounters with cars in the U.S. each year, according to the Department of Transportation.
"What we are saying is by 2020 no one in a new Volvo should be seriously injured in it," said Volvo Cars Chief Information Officer Klas Bendrik, in an interview. "Beyond that we also see that eventually our Volvos will not crash at all and that very much leads us to autonomous driving."
The Swedish company showed up at the International Consumer Electronics Show here with a new XC90, which goes on sale in the U.S. in the second quarter. It also showed up with a bike, a professional cyclist and a bunch of smart helmets from POC to show how connected headgear could alert both cyclist and driver to impending danger.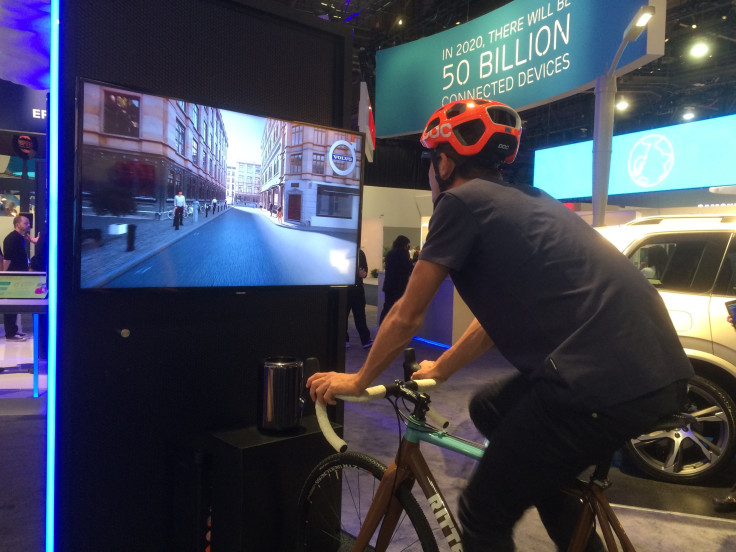 The prototype flashes LED lights for the rider and a vibration when it senses a collision is possible. Drivers get an alert on a heads-up display and an arrow to show where the bike is coming from. The helmet sensors communicate via a smartphone app with the Volvo cloud, built through a partnership with another Swede: Ericcson. The alerts can be altered based on location and environment. An alert might trigger when a car is approaching in the suburbs, but it could also adapt to the city where cars and bikes roll side by side.
The system can stop the car completely using an auto brake up to 28 miles per hour; above that the Volvo hits the brakes to mitigate the damage. But it's not just helmets: Bracelets could also alert drivers to the presence of children, or a family crossing the street and of course motorcycles. "Originally it was very much about safety for people in the vehicle," said Bendrik. "Now you see we are actually protecting the unprotected. That is part of our responsibility."
The interaction between vehicles and sensors within connected cities was a big theme at CES with Ford announcing 25 mobility experiments to address safety, congestion, car sharing and alternative ownership models. "We have fully autonomous vehicles in our future plans," said Ford CEO Mark Fields during a keynote. An Audi drove itself 560 miles from Silicon Valley to Las Vegas; Mercedes unveiled a self-driving prototype where steering is "optional."
While Volvo's product isn't yet in the market, it's not science fiction either. The Volvo XC90, the first all-new car since Volvo became independent of Ford, will ship with the sensors and feed data into the Ericcson cloud. The helmet, app and any number of connected devices can easily be integrated later.
But the idea of an autonomous car raises all sorts of issues, from the ethics of prioritizing lives (save the driver, or the pedestrian?) to the safety of the data being fed constantly into the cloud. Some here raised the issue of whether cars would need a "privacy mode" where tracking would be disabled.
"For us to use that data would require an active acknowledgement from the customer for any specific purpose," Bendrik said.
© Copyright IBTimes 2022. All rights reserved.
FOLLOW MORE IBT NEWS ON THE BELOW CHANNELS