Audi Self-Driving Car Completes 560-Mile Trip To Las Vegas For CES 2015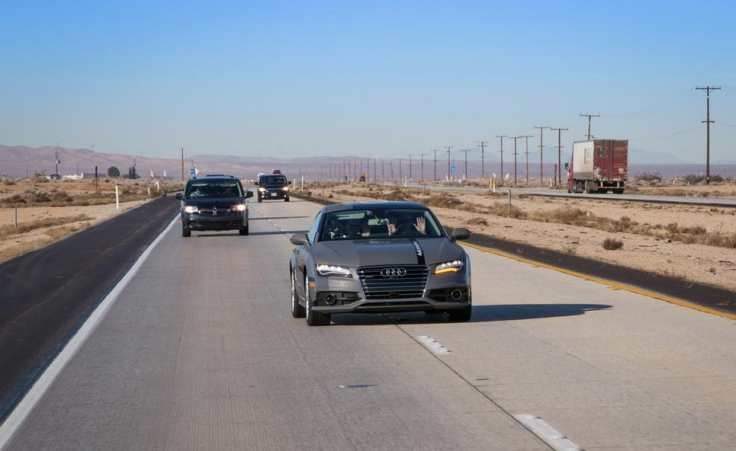 Audi successfully sent a self-driving car to this year's Consumer Electronics Show in Las Vegas at speeds up to 70 mph. The stunt for CES 2015 marks a comeback for the German automaker, which failed to complete a similar attempt last year.
The self-driving Audi A7 Sportback is a concept car the automaker nicknamed "Jack." Using GPS signals processed by an onboard computer, it can pass other cars, change lanes and adapt its speed as necessary for driving conditions.
Under the hastag
#DrivingNotDriving
, the automaker documented the 560-mile trip from San Francisco, stopping every 100 miles to pick up journalists and other people. Audi said all of the sensors and navigational systems built into its self-driving concept car are "near production ready."
"Jack" can accelerate and brake independently, and warns its "driver" before initiating a lane change or similar maneuver. In addition to Audi's standard long-range front-facing radar, which it currently uses for adaptive cruise control, the concept includes two rear- and side-facing radar sensors and a laser scanner, or LIDAR, behind the grill and in the rear bumper, much like the technology found on Google's
self-driving car prototype
.
A pilot helped the concept car on its trip, stepping in during conditions where the software ran short, such as driving through cities. Before changing over to manual control, the A7 alerts a driver with warning signals that include flashing LEDs at the base of its windshield, signals in the dashboard and an alarm of sorts. If the driver does not take control, the concept car pulls over to the side of the road, Audi said in a
release
.
A wide-angle 3D camera also scans objects in front of the self-driving concept, aided by four smaller cameras. Audi says its 2016 Q7 will ship with the 3D camera, along with a large in-dash touchscreen and "virtual cockpit" capable of displaying GPS directions.
© Copyright IBTimes 2023. All rights reserved.