Wal-Mart Stores Inc (WMT) Stock Price Plunges 9%, Erasing $20B Off Market Cap After Retail Giant Warns Of Declining Profits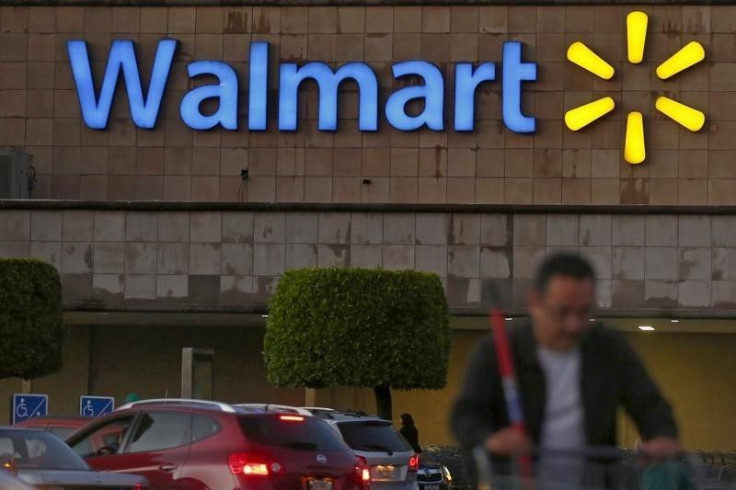 Shares of Wal-Mart Stores Inc. (NYSE:WMT) tumbled more than 9 percent Wednesday after the world's largest retailer warned that sales growth would be flat this year, and forecast revenue to drop next year. The Bentonville, Arkansas-based company also authorized $20 billion in stock buybacks over the next two years.
Shares dropped as much as 9.9 percent to $60.12, hitting a three-year low and putting the stock on course for its worst trading day in roughly 15 years.
The losses Wednesday erased around $20 billion in market value, which is equivalent to the market capitalization of CBS Corp. ($20.60 billion), Dollar General Corp. ($20.03 billion) or Royal Caribbean Cruises Ltd. ($20.19 billion).
The warnings come less than two weeks after Walmart laid off 450 employees at its headquarters in Bentonville as part of a plan to boost its competitive edge, as it struggles to compete with the likes of e-commerce giant Amazon.com Inc.
Wal-Mart also has rising expenses — in the form of wage increases and health care costs — that will likely weigh on earnings. The company, which has been heavily criticized for its labor practices and also runs the Sam's Club retail warehouse chain, announced in February that it will give a half-million full-time and part-time employees pay raises. The expected cost of the pay increase in 2016 will be about $1 billion.
The company is the biggest private employer in the world with around 2.2 million employees. As U.S. healthcare enrollment increases, it will dramatically increase costs.
Wal-Mart Stores, Inc. (WMT) Stock Price - Current Day | FindTheCompany
An overriding theme this earnings season, even for Wal-Mart: the strong U.S. dollar. The potent greenback influenced the company's expectation for flat sales this year, Wal-Mart said.
The retailer anticipates sales to rise 3 percent for its current fiscal 2016 year, excluding the impact of currency exchange fluctuations, the company said during its investor day Wednesday. Wal-Mart also forecasts earnings to decrease by 6 to 12 percent in fiscal 2017.
For the quarter ended Oct. 31, analysts expect Wal-Mart to report third-quarter net income of $3.2 billion, or 98 cents per share, on revenue of $118.1 billion, according to estimates surveyed by Thomson Reuters. That compares with a profit of $3.7 billion, or $1.15 per share, on sales of $119 billion during the same period a year ago.
© Copyright IBTimes 2023. All rights reserved.