'The Walking Dead' Director Greg Nicotero Talks Alternate Season 6 Premiere Version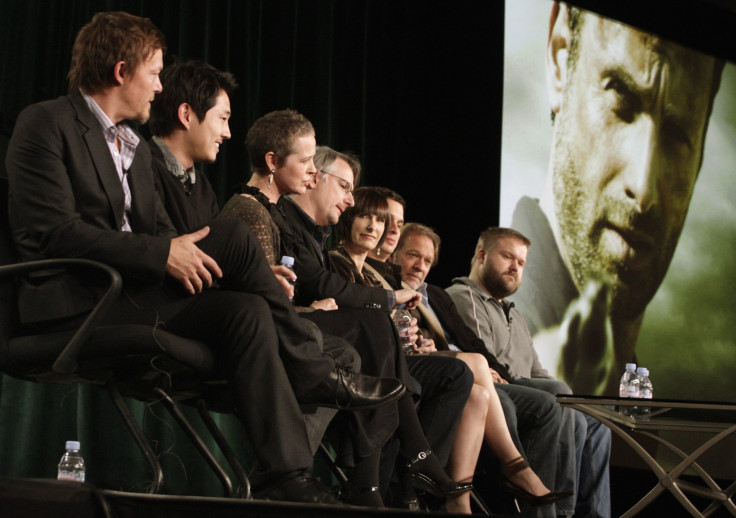 The Season 6 of AMC's hit zombie survival series, "The Walking Dead," already premiered in the U.S. on Sunday, Oct. 11 and in a recent interview, the show's director, Greg Nicotero, shared a few interesting details about the series' new season.
"The Walking Dead" director sat down with Entertainment Weekly, where he shared how season 6's premiere episode initially had a different version. Sunday's episode featured colored scenes, along with black and white shots, to depict the switch between current happenings and previous events. Nicotero revealed that he and showrunner Scott Gimple planned to shoot season 6 using "desaturated flashbacks and then oversaturated present." However, it didn't quite turned out how they wanted it to be.
"In the first version of the episode, we had oversaturated the present day and desaturated the past," Nicotero explained. "The trick was when we did it, we looked at it, and it looked like The Wizard of Oz. Our world is not oversaturated, our show is not oversaturated. So when you saw the really vibrant greens of the forest, it made the world look too alive."
He added that that zombies didn't look dead when they oversaturated the scenes for the present day, because the pale color of the zombies "has been accentuated."
However, Nicotero told Entertainment Weekly that he's hoping an all color version of "The Walking Dead" season 6 will be available on DVD, should the team decided to make one. "I've been pushing Scott to put a color version of the episode on the DVD because it has a different flavor," he said.
"The Walking Dead" director commented that the visual effects of a colored version are "breathtaking," including the zombie colors. Nicotero also shared that in color, viewers will be able to differentiate the walkers, the truck and the quarry in the premiere episode of season 6.
Meanwhile, Nicotero also told Variety that season 6 of "The Walking Dead" will be the biggest season to date. The director said that it is "without a doubt… exponentially bigger." When asked to comment on expectations that season 6 will be bigger than the rest, Nicotero replied, "It is and it really does take its toll on us. But the truth of the matter is we wouldn't have it any other way. We'd never want to just rest on our laurels."
Season 6 of "The Walking Dead" airs every Sunday in the U.S. on AMC.
© Copyright IBTimes 2023. All rights reserved.