Wall Street's Week Ahead: Dow Jones Industrial Average Plunges 200 Points On Greece Contagion Fears; FOMC Meeting, Fitbit IPO On Tap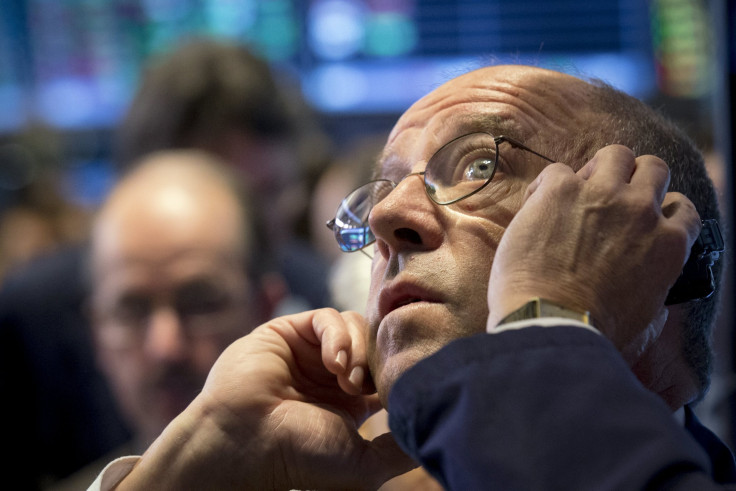 U.S. stocks traded sharply lower Monday morning, with the Dow Jones Industrial Average plunging nearly 200 points, after the debt negotiations between Greece and its creditors stalled again over the weekend. Meanwhile, investors await this week's statement from the Federal Reserve, looking for further clues as to when the U.S. central bank will lift interest rates.
All 10 sectors in the S&P 500 traded lower, led by declines in healthcare, energy and utilities.
The Dow Jones Industrial Average (INDEXDJX:.DJI) tumbled 192.34 points, or 0.95 percent, to 17,698.42. The Standard & Poor's 500 index (INDEXNASDAQ:.IXIC) fell 17.95 points, or 0.86 percent, to 2,075.99. The Nasdaq composite (INDEXSP:.INX) lost 54.43 points, or 1.08 percent, to 4,996.72.
The Athens stock exchange tumbled more than 6 percent Monday as talks in Brussels between Greece and its creditors collapsed once again, reviving fears that Greece will default on its debt obligations, risking an exit from the eurozone. The bond markets across the eurozone sold off on concerns that Greece's debt crisis will spread to Spain, Italy and Portugal. The gap in 10-year yields between Spanish and German debt touched its widest point since August 2014.
Greek Prime Minister Alexis Tsipras is scheduled to meet with German Chancellor Angela Merkel and other eurozone leaders at a Brussels summit on June 25, with time running out as Greece must repay 1.6 billion euros ($1.8 billion) to the International Monetary Fund on June 30.
European Central Bank President Mario Draghi will give a quarterly update to the European Parliament Monday, three months after beginning a 1 trillion euro ($1.1 trillion) stimulus program to revitalize the economy, with expectations to end it in September 2016. Draghi is likely to face questions regarding the sharp drop in global bond prices this month, after recently announcing the financial markets should get used to period of higher volatility.
Economists are looking ahead to the U.S. Federal Reserve's two-day policy meeting, which kicks off Tuesday, followed by a statement from the Federal Open Market Committee at 2 p.m. EDT Wednesday. The Fed has signaled recently that it could begin returning interest rates to normal levels sometime this year.
The Fed has held rates at historic lows since the financial crisis in 2008 to help the economy emerge from the recession.
Fed Chair Janet Yellen will hold a press conference at 2:30 p.m. Wednesday following that statement, and investors will look for clues to the timing of the Fed's rate hike, which most economists anticipate will happen in late summer, or early fall.
"I don't expect any surprises out of the meeting," said Tim Dreiling, senior portfolio manager at the Private Client Reserve at U.S. Bank. "We're still expecting the first rate hike to come in September."
Dow component United Technologies Corporation (NYSE:UTX) led the index lower Monday, falling more than 2.5 percent after announcing plans to exit its Sikorsky helicopter business.
Software giant Microsoft Corporation (NASDAQ:MSFT) also weighed on the blue-chip index, losing nearly 2 percent.
Fitbit Inc., a health and fitness consumer electronics device maker, is expected to price its initial public offering Wednesday and begin trading Thursday on the New York Stock Exchange under the ticker symbol "FIT." The company is forecast to offer 29.9 million shares in the price range of $14 and $16 per share.
Here's the economic calendar for the week of June 15. All listed times are EDT.
Monday
8:30 a.m. -- Empire state index (June)
9:15 a.m. -- Industrial production (May)
9:15 a.m. -- Capacity utilization (May)
10 a.m. -- NAHB home builders' index (June)
Non U.S.:
Europe -- Speech from European Central Bank President Draghi's
Tuesday
8:30 a.m. -- Housing starts (May)
8:30 a.m. -- Building permits (May)
Wednesday
2 p.m. -- FOMC announcement
2:30 p.m. -- Janet Yellen press conference
Thursday
8:30 a.m. -- Weekly jobless claims
8:30 a.m. -- Consumer price index (May)
8:30 a.m. -- Current account deficit (Q1)
10 a.m. -- Philly Fed (June)
10 a.m. -- Leading indicators (May)
Non U.S.:
Switzerland -- Swiss National Bank Interest Rate Decision
Friday
No major U.S. economic data scheduled.
Non U.S.:
Japan – Bank of Japan Monetary Policy Statement
Jessica Menton is a writer who covers business and the financial markets. News tips? Email me here. Follow me on Twitter @JessicaMenton.
© Copyright IBTimes 2023. All rights reserved.