In War-Torn East Ukraine, Donetsk Faces Starvation As City Is Isolated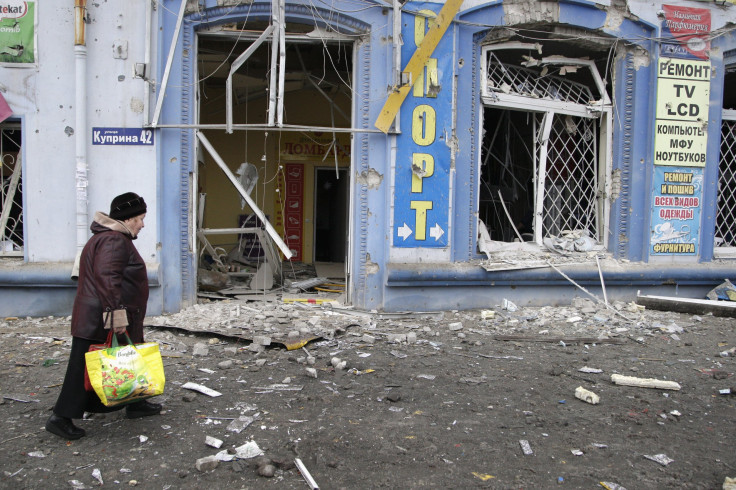 DONETSK, Ukraine -- In a small kitchen in an apartment in this war-torn city, Tamara Bilan placed some bread next to a plate of cookies. That was all she had to offer a visitor, and all she had to eat herself. The 67-year-old pensioner had made both the bread and cookies with ingredients she got through food-aid distribution in the city.
What would she do if there were no donations? "I don't even want to think about it," she said. "Probably I would die of starvation." Bilan's voice quivered, and she began to cry as she explained how, like many other elderly people here, she has not received her pension for five months.
Donetsk sits on the front line of the separatist offensive that has reignited the war in eastern Ukraine and all but made a mockery of the Minsk Agreement, the cease-fire deal signed by the rebels and the Ukrainian government last September.
The United Nations reported Friday that more than 5,000 have been killed in the conflict since April. And last month, Amnesty International warned that a humanitarian disaster was looming in Donetsk, the capital of the self-proclaimed Donetsk People's Republic, with residents facing starvation after the Kiev government isolated the city.
For Bilan and other residents in rebel-held areas, this means donations of food and medicine are the only way to survive because they do not have any access to money. In November, the government cut off state services to rebel-held areas, announcing it would not provide benefits and pensions to locals, even though it had actually stopped paying months earlier.
Some residents are stuck in bomb shelters without proper heating or cooking facilities, because their homes have been destroyed or their neighborhoods are too dangerous. In the city, there are sometimes hundreds of people waiting in line for aid.
Now, the Kiev government is asking that both locals and U.N. workers traveling through parts of the eastern region get special documents. The U.N. said the new rule will limit the delivery of aid to areas affected by the conflict, arguing in a recent press release that the regulations are "undermining humanitarian agencies' ability to help people in need, creating the conditions for a major humanitarian crisis."
Olga Kosse, who works with a local nongovernmental organization called Responsible Citizens that distributes aid to residents, said the situation is dire in smaller towns and villages where many people are starving. Once, Kosse told International Business Times, she visited a town where two elderly women were surviving solely on frozen grapes. "We found these women, and we helped, but we can't find all the old people," she said.
Not all elderly residents are lucky enough to be found. Some die of treatable conditions because there are no drugs. Kosse said she went to one town where two women, ages 52 and 60, could not get medicine for their heart conditions. "No one [could] help them, and they died," she said.
She said there are no available figures on how many people are dying because of the conflict due to the fact that authorities will not officially chalk up deaths caused by a lack of food or medicine -- but there are a lot. The real extent of the problem will become clear in the summer, she said, when bodies now frozen in the winter cold will start to smell.
Kosse said that in the smaller towns, which were already poor, people are especially vulnerable because work is even harder to find. And if a town isn't currently under fire, it isn't eligible for aid.
In Donetsk, her group stores donations in a former bakery downtown. Piles of diapers, bed sheets and winter clothes lie beside boxes of hygiene kits from UNICEF, the U.N.'s relief agency for children. Working with a list with names and addresses of families in need, she would later photograph birth certificates to show the agency the donations are going to the proper people.
On her rounds to distribute aid to six families for the day, while two other teams made their own trips in the city, Kosse headed to the Leninsky district and drove over the spot where a bus was shelled Thursday -- an attack that killed as many as 15 civilians, according to a U.N. Security Council statement.
A few streets away, she visited Elena Barisheva, a single mother with six children, including one born in April, the month the conflict in the east started.
"The biggest problem is we don't have money," Barisheva said. She has to rely on the aid because the store she worked in closed, and she needs to stay at home to care for her baby. On top of her struggle to get food, she now has to think about the safety of her neighborhood, which had been considered a relatively quiet area of Donetsk.
"This was considered a safe zone," Barisheva said. "Everything was OK."
Fighting has recently increased in Donetsk, with 262 people killed in the last nine days, according to the U.N.
In the same neighborhood, Alexandra Litvinova now lives with her granddaughter and four great-grandchildren, who moved in with her after their home was shelled. Her granddaughter was supposed to catch the bus that was shelled Thursday, Litvinova said, but she was running late and missed it.
She said there is now no running water or heating in the home, and her family is also relying solely on food donations to survive.
Responsible Citizens isn't the only group providing aid. Another distribution center has been set up with funds provided by Ukrainian oligarch Rinat Akhmetov, the richest man in the country. Russia also has sent aid. Litvinova said she once got four packs of oatmeal via Russia, but they were such poor quality that the oatmeal could not be cooked properly and it was inedible.
Litvinova has sold all her valuables, such as jewelry, but couldn't even get enough blankets for everyone. She would do anything to support her great-grandchildren, she said.
"If it will be needed, I will go beg," she said. "I need to feed them."
FOR FREE to continue reading
✔️ Unlock the full content of International Business Times UK for free
offer available for a limited time only
✔️ Easily manage your Newsletters subscriptions and save your favourite articles
✔️ No payment method required
Already have an account?
Log in
© Copyright IBTimes 2023. All rights reserved.