Watch: 28-Feet-Tall Japanese Robot Looks Like A Real World Transformer
A Japanese engineer has created a gigantic robot, one that looks like a real-world transformer and works just as well as any other humanoid on the block.
The two-legged robot, dubbed Mononofu, weighs around seven tons and stands a whopping 28 feet tall. However, that should not raise any alarms as the whole thing is controlled by a human rather than artificial intelligence. An operator has to get into the robot's cockpit in order to work the levers designed to control its functions.
We have seen many manually-controlled robots in the past, but this one draws particular attention due to its striking resemblance to the machines featured in the Transformers movie series. "I think this is the biggest in the world," Nagumo told Reuters.
Though Mononofu might not be as highly capable as those in movies, it can easily perform complex finger and upper-body motions, that previously looked impossible for a machine this big, and move forward and backward. The giant-robot can also walk at less than a mile per hour and shoot sponge balls on demand.
Mobile Suit Gundam
The idea for the robot comes from "Mobile Suit Gundam," an anime show that aired in Japan during the late 1970s. Inspired by the show, engineer Masaaki Nagumo wanted to develop something similar and eventaully brought Mononofu to life. He worked in collaboration with agricultural equipment manufacturer Sakakibara Kikai. The company has developed robots in the past, primarily for the purpose of renting them out for children's birthday parties.
Nagumo also sees the giant robot as a potential business opportunity. Speaking to Reuters, the engineer stressed on the popularity of the franchise in Japan and noted people there would like to have an anime-inspired robot that could be driven around like a car.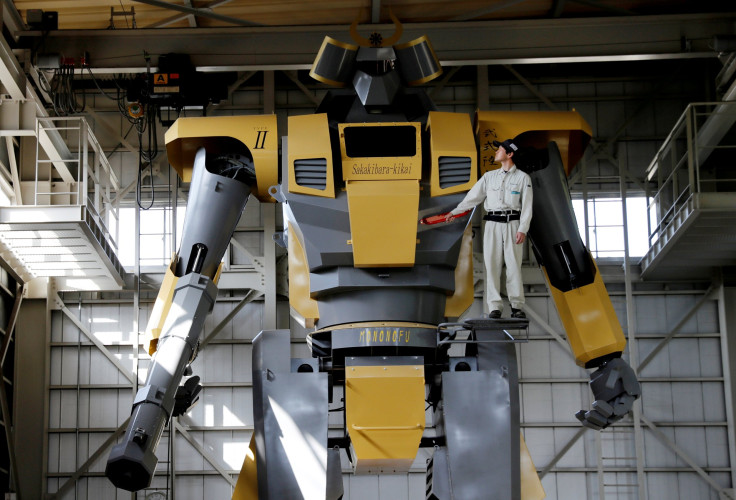 © Copyright IBTimes 2023. All rights reserved.