WATCH: American Airlines Flight 383 Catches Fire Just Before Take-Off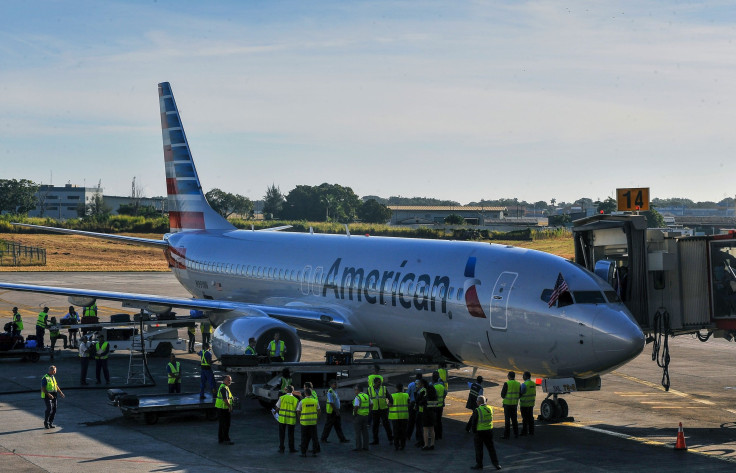 A new footage showing an American Airlines flight bursting into flames last year in October surfaced online Friday. The American Airlines flight 383 was about to take off from Chicago's O'Hare Airport to Miami when the right side of the aircraft caught fire, causing emergency evacuations.
It is estimated that the flight lost more than 2,000 gallons of fuel at the time due to fire. The video shows the aircraft picking up speed as it rode down the runway at 147 mph, leaving a trail of black smoke behind, before it slowed down and came to a complete stop, according to the Telegraph.
The flight was carrying 161 passengers at the time of the crash. It could have proved to be quite disastrous if the pilots had not taken the split decision of aborting plans of a take-off and follow emergency protocols to ensure the safety of everyone onboard. The crew too acted swiftly and deployed emergency chutes.
Read: American Airlines Crew Forced Passenger To Sit Next To Masturbating Man, Woman Claims
Two minutes and 21 seconds after the plane went up in flames and it came to a halt, all the passengers and the plane crew was back on the land, at a safe distance from the burning aircraft.
One of the flight attendants described the scene inside the plane as chaotic with the panicked passengers jumping over the seats in order to get to the exit, according to an NBC report. The crew member also said that even though she could see the flames cover the right wing of the plane, she failed in communicating the same to the captain, despite several attempts to do so.
It was reported that no one was hurt in the incident.
Read: American Airlines Flight Reportedly Delayed For Hours Over 'Urine Smell'
According to the Telegraph, the Boeing 767 blew a tire, part of which smashed through fuel lines to one of the engines, which caused the flight to be engulfed in flames in minutes. However, NBC Chicago puts the cause of the fire to a fan disk in the right engine flying apart.
"Immediately, passengers were at the door, pleading to get off the airplane," the NTSB said in a report, New York Daily News reported. "The 4L slide deployed, but was blowing towards the rear of the airplane because the engine was still running."
The video footage shows several fire engines rushing to the scene and trying to put the fire off.
At the time, investigators looked at whether "dry bays" above the engines, which are designed solely to prevent an incident from metal shards from entering into fuel tanks in the wing, were faulty.
© Copyright IBTimes 2023. All rights reserved.