Giant 15-Foot Python Killed In Florida Everglades By Hunters [VIDEO]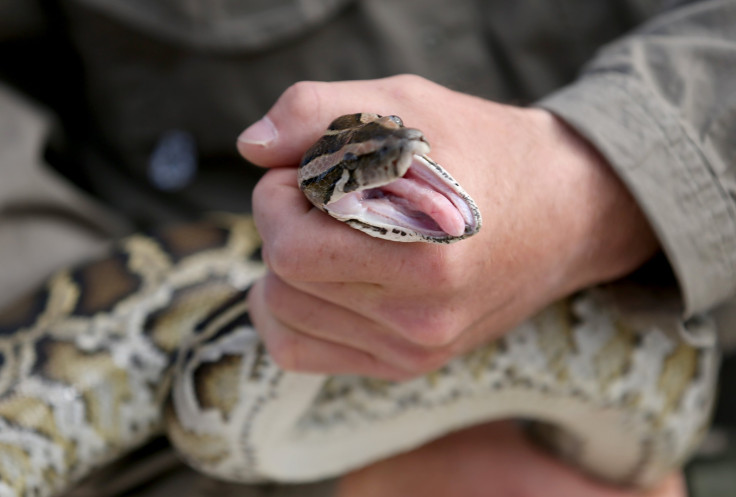 If you're scared of snakes, don't spend your spring break in Everglades National Park. A hunter caught a 15-foot-10, 135-pound python in South Florida Sunday during the inaugural Python Elimination Program, according to a news release from the local water management district.
Patrick Campbell scored $350 for his python just one day after Nicholas Baños and Leonardo Sanchez killed a 15-foot-2 reptile for $325. The latter two wrestled the python out of the brush near a levee and had to "fight it in [the] trees to get it out," as Baños told CBS News.
Read: Python vs. Man: Indonesian Police Find Body In Stomach Of Giant Snake [VIDEO]
The men were participating in the South Florida Water Management District's Python Elimination Program, a pilot initiative that pays hunters to find and kill invasive Burmese and Northern African pythons in Florida's Miami-Dade County. The snakes aren't native to the area, which means their thriving population threatens wild animals, food resources and humans.
The program launched March 25 with 25 hunters being paid $8.10 an hour with bonuses based on snake length. So far, they've netted 10 pythons.
"For these hunters to have already eliminated 10 snakes is tremendous, given the fact that simply locating the elusive python is literally like finding a moving, camouflaged needle in a haystack," the district's governing board chairman, Dan O'Keefe, said in the release.
Read: Deadly King Cobra Snake Helped By Indian Villagers Caught On Video
The initiative came after the Florida Fish and Wildlife Conservation Commission's Python Challenge, which last year inspired hunters to turn in 106 snakes, according to the Austin-American Statesman.
"Every one pulled out is one less out there, and every time we go out there and pull out another one, it's one less mammal, one less native mammal, native bird, or native whatever that's being taken out by one of these guys," hunter Omar Gomez told WSVN.
© Copyright IBTimes 2023. All rights reserved.