Florida Snake Problem: Amid Everglades Burmese Python Outbreak, Hatchlings Discovered In Key Largo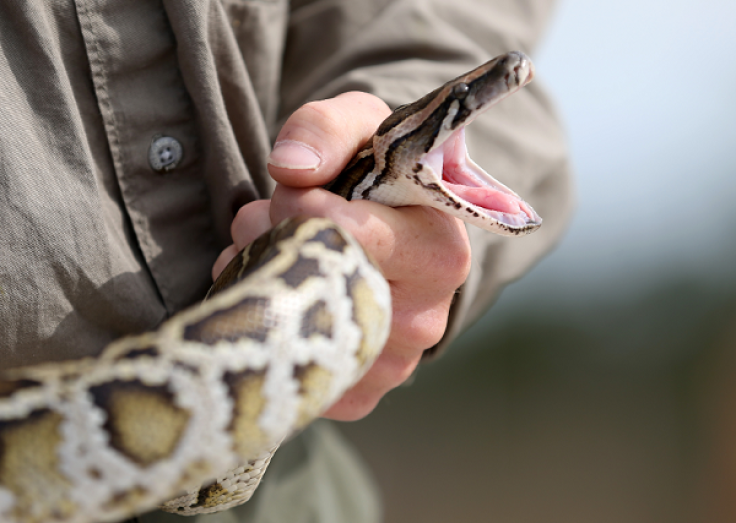 South Florida's python problem isn't getting any better. Despite a state-supported competition encouraging the removal of Burmese Pythons in the Everglades, it appears the snakes have slithered a ways south into the Florida Keys. The Florida Fish and Wildlife Conservation Commission announced Thursday that the python population is growing in Key Largo after the discovery of hatchlings in the area.
State wildlife officials said they found more evidence of python breeding in August after two hatchlings about 18 inches long were discovered for the first time in Key Largo, according to reports. Officials found a third hatchling on Aug. 23 near an area closest to Florida's southern tip. Authorities have not yet found python nest or eggs, however, the hatchlings suggests the snakes have been reproducing in the area, the commission said.
This comes just one week after a 10-foot Burmese python was found in western Palm Beach County on a levee at the Loxahatchee National Wildlife Refuge by a law enforcement officer.
While the snakes have been credited for destroying mammal life in the Everglades, the pythons' new residency in the Keys signifies an even more horrific fate for animals that are already at risk of endangerment, like the Key Largo woodrat and the Key Largo cotton mouse. Both are easy pray for Burmese pythons.
Back in February, 106 Burmese pythons were captured during the state's snake hunt competition. In March, a snake weighing over 140 pounds and 16 feet long became the biggest python captured in the Everglades since the hunt started.
Burmese pythons come from Southeast Asia. They first infiltrated the Florida wetlands back in the 1980s, according to the Florida Fish and Wildlife Conservation Commission's website. They were once allowed in Florida as an exotic pet but were later banned. It's believed that escapees from a breeding facility destroyed during Hurricane Andrew in 1992 are to blame for the snake population in the Everglades.
© Copyright IBTimes 2023. All rights reserved.
FOLLOW MORE IBT NEWS ON THE BELOW CHANNELS