Watch Out, China, Pork-Flation Is Coming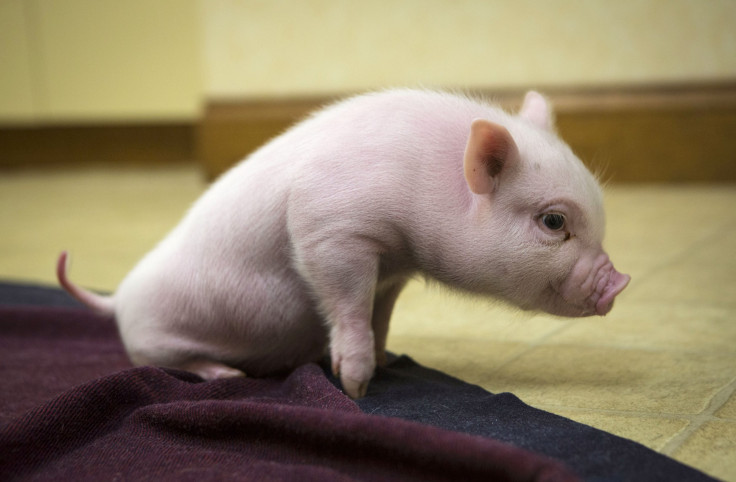 Pigs may seem like an unlikely candidate on the list of things that keep a country's leaders up at night, but in China, they could lead to social unrest.
Half the world's pigs -- more than 470 million of them -- live in China, but even that may not be enough to satisfy the growing Chinese appetite for meat.
Pork prices have been rising rapidly, up by 13 percent now since they bottomed in mid-May, which raises an important question: Would the latest rise be temporary or grow into a serious inflation threat?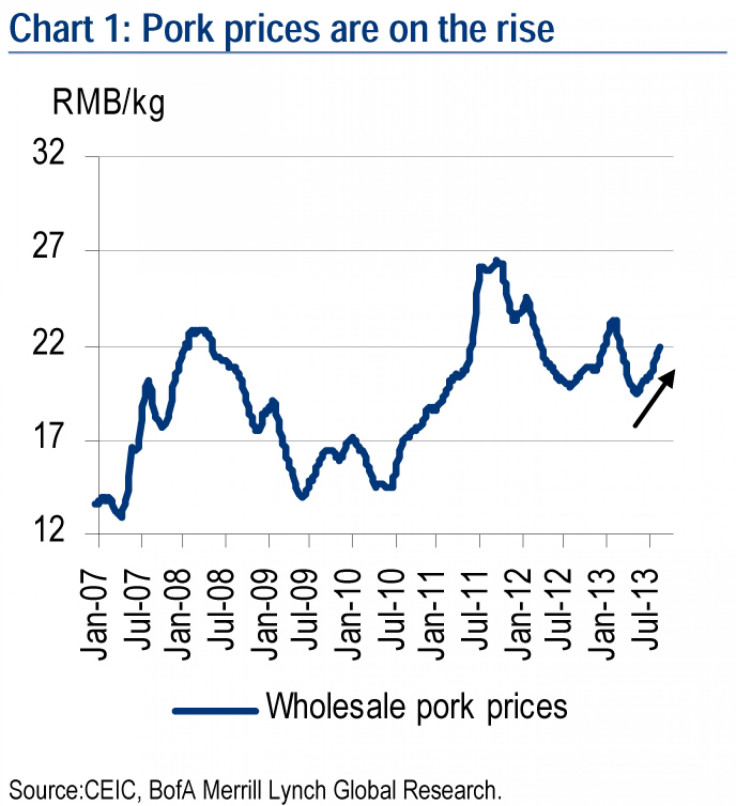 Food accounts for about one-third of the Chinese consumer price basket, of which meat, dominated by pork, comprises a considerable weight. Over the past decade, pork has been the biggest driver of inflation.
Almost every episode of China's inflation spikes in the past few years were driven by food prices -- escalating pork prices in 2007-08 and 2011, and rising vegetable prices in late-2010.
Currently China's CPI inflation remains relatively muted at 2.7 percent as of July, leaving necessary room for a moderate expansion of fiscal policy while avoiding monetary tightening. But the markets could become more cautious when monthly CPI inflation exceeds 3.0 percent, noted Bank of America Merrill Lynch China economists Ting Lu and Xiaojia Zhi.
Premier Li Keqiang in July stated clearly that 3.5 percent CPI inflation would be the cap of his "appropriate zone" of macro economy, meaning he will take actions to cool down the economy if CPI inflation exceeds that threshold.
One important driver for the higher pork prices currently is the extremely hot weather in many parts of China since July. The heat wave – the worst in at least 140 years in some parts – has pushed thermometers above 40 degrees C (104 F) in at least 40 cities and counties. It's been so hot that people are grilling shrimp and frying bacon on manhole covers.
"The pace of breeding and weight gaining will slow significantly once the temperature reaches 35 degrees, and the chance of death is also a lot higher during transportation when the weather is hot," Lu and Zhi said.
China's Love For Pork
Pork is China's meat of choice, accounting for nearly three-fourths of its meat consumption. People in China ate 53 million tons of pork in 2012 -- six times as much as in the U.S.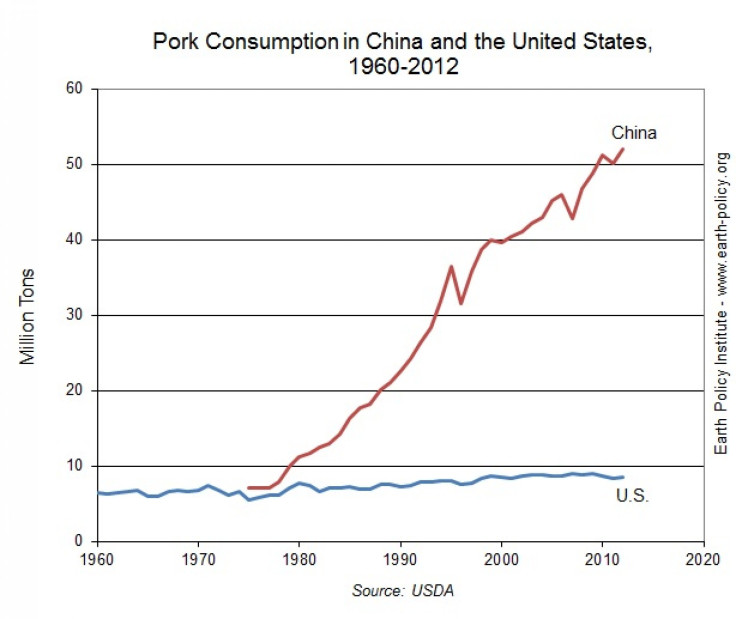 On a per-person basis, Americans ate more pork than the Chinese until 1997, when pork consumption in China first eclipsed that in the U.S. and has never looked back. Now the Chinese each eat an average of 84 pounds (38 kilograms) of pork in a year, while Americans average 59 pounds, according to the environmental group Earth Policy Institute.
As demand rises, pork is starting to shift from household or farm-scale production into larger factory-like operations. Overcrowding in these facilities has been blamed for pollution and the spread of disease, as well as for the recent dumping of thousands of dead pigs into a river flowing into Shanghai.
The $4.7 billion purchase of U.S. meat giant Smithfield Foods Inc. (NYSE: SFD) by Chinese meat processor Shuanghui International Holdings announced in late May underlines China's growing reliance on foreign producers.
There's Even A Pork Reserve
It's not unusual for governments to keep huge reserves of things like petroleum or grain. But Beijing took stockpiling to a whole new level.
Pork is so essential to the Chinese diet that in 2007 the government, hoping to stabilize domestic prices during extreme price fluctuations, created a strategic pork reserve. The precise size of this reserve is unknown, but what is known is that this reserve features both live animals and frozen meat.
When pork gets too pricey in China, the reserve adds supply to the market, trying to keep a lid on prices for consumers. Rising food prices might not be a direct trigger of social unrest, but inflation remains a key source of discontent. At other times, when pork gets too cheap, the reserve buys up pigs, trying to keep farmers profitable.
Supply May Catch Up To Tame Prices
This time around, there's no need to get too worried, because pork prices are unlikely to rise as much as they did in 2007-08 (by 75 percent) and in 2010-11 (by 80 percent), according to Lu and Zhi.
The previous price surges were mainly due to low pork supply (blue-ear disease in 2007 and farmers' inventory reduction on loss making in 2010) and to a less extent rising feed grain prices. Although current live pig stock is lower than in 2012, resulting in pork inflation, it is much higher than in 2011 (and likely in 2007, but no data are available), they said.
More importantly, the current sow stock is quite high, so pig supply could catch up quickly if pork prices rise, in turn helping to stabilize prices. "It appears that pig farmers have learned from previous pork price cycles," Lu and Zhi said. "Farmers also slashed sow stock when prices were low, resulting in a slow production expansion in response to subsequent price rises, as it takes about six months to raise a piglet to hog for slaughtering."
The costs of fattening pigs also remain relatively stable (or with mild increase). There's no indication for a significant jump in the prices of corn and soybeans in the near term. Despite losses in some areas, the overall grain condition is normal in large parts of China, and a good harvest is still possible in 2013, according to the Ministry of Agriculture.
After a careful analysis, Lu and Zhi believe that momentum in the current run-up in pork prices could remain supported in the rest of the year on both higher seasonal demand and relatively tight supply. But it will likely soften again after the Lunar New Year of 2014 (which starts from Jan. 31) on supply catch-up and weakened demand.
In other words, they expect pork price inflation to accelerate from 3.0 percent in July to around 10 percent and contributing 30 basis points to CPI inflation at year-end. The overall CPI inflation will likely stay below 3.0 percent in August and September or even October, and then rise above that level in November and December. But the chance for CPI inflation to exceed 3.5 percent is quite small.
© Copyright IBTimes 2023. All rights reserved.
FOLLOW MORE IBT NEWS ON THE BELOW CHANNELS