Shanghai's Record-Breaking Temperatures Hot Enough To Cook Bacon On The Street [PHOTOS]
Shanghai's soaring July temperatures have turned this into the city's hottest summer in 140 years. State news has revealed that at least 10 people have died due to heat stroke in the city.
According to Xinhua News Agency, Shanghai's Municipal Center for Disease Control & Prevention announced that the relentlessly high temperatures this summer have caused a rise in heliosis (i.e. sun stroke) patients in local hospitals. While officials would not disclose exact numbers of deaths, they did say that more than 30 percent of patients were hit by the summer heat while indoors likely due to the fact that most elderly Chinese do not have air-conditioning. A doctor in Shanghai Minhang District Center Hospital was able to confirm that three elderly patients died of sun stroke at the hospital, also reporting that two others remained in critical condition as a result of the high temperatures.
Shanghai isn't the only city feeling the heat in China. An emergency warning by China's Meterological Administration was given to seveal areas of China earlier this week, including eastern Chinese provinces Anhui, Jiangsu, Zhejiang and Jiangxi, central provinces Hunan and Hubei, Chongqing, and Fujian province.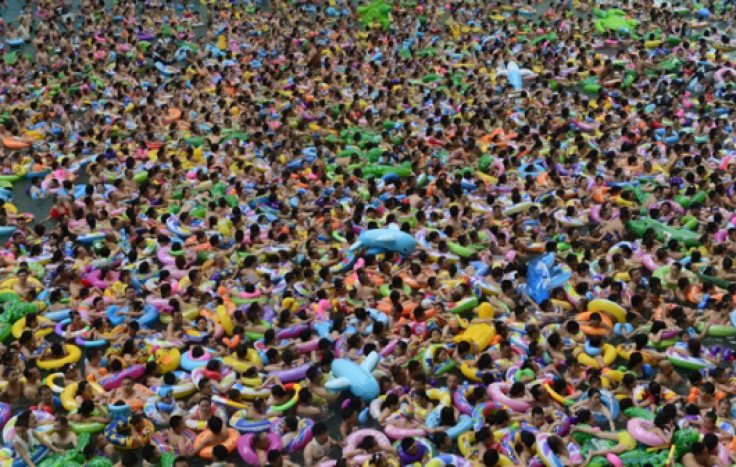 Chinese residents attempting to escape the unbearable temperatures by going to local pools and lakes may be met with an entirely different unbearable situation: crowds. In Sichuan province, photos and videos of droves of people squeezing into the country's largest indoor swimming pool and water park in Daying county, armed with inner tubes, went viral. The facility covers an impressive 30,000 square meters (33,000 square feet) and is able to accommodate up to 10,000 visitors at once, operators of the park claim.
With more than 1 million people having already paid a visit to the water park this summer already, others, braving the heat, did something else entirely: use the heatwave to cook food. A reporter from a Shanghai TV station was able to successfully cook a piece of thinly sliced pork (similar to bacon) on one of the marble walkways in Shanghai's People's Square.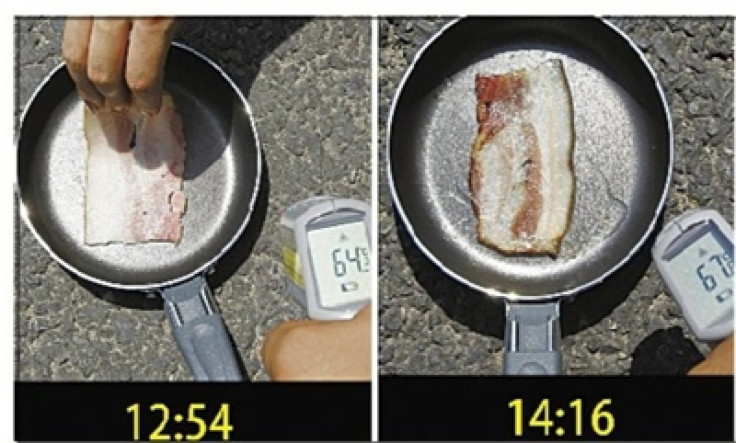 After just 10 minutes, the meat was reportedly 80 percent cooked through. The reporters also did a separate experiment and set a wax candle on the marble. After a few minutes, the candle fell over as the wax at the bottom had begun to melt.
Shanghai's Meteorological Center reported that temperatures in the eastern Chinese metropolis surpassed 39 degrees Celsius, about 102 degrees Fahrenheit, this past Tuesday, making it the eighth day in a row that temperatures rose above 100. The center also confirmed that this has been the hottest July ever in the city since they began taking weather records 140 years ago.
© Copyright IBTimes 2023. All rights reserved.