Webby Award Winner Tampon Run: High School Creators Share How Girls Can Code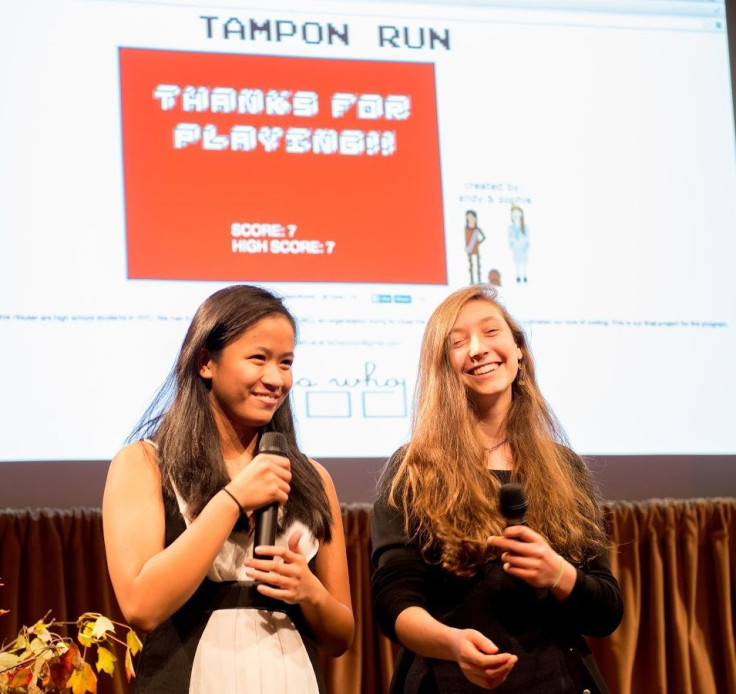 The Internet is praising tampons, and the teenagers who code them. Organizers of the annual Webby Awards -- hailed as the "Oscars of the Internet" -- announced the 2015 winners Monday, and they include two New York City high school students who created the viral sensation "Tampon Run," a video game that involves collecting tampons and shooting them at your enemies.
"Tampon Run" received the People's Voice award after being selected by 500,000 fans who voted April 7-24. The game also was in the running for the Games award against four other titles.
The game's creators, Andrea Gonzales and Sophie Houser, both 17, aren't the youngest Webby winners ever, but in a contest against corporate giants for an award that has been given out since 1996, the two have proven that girls can be programmers. Gonzales and Houser built "Tampon Run" during Girls Who Code, an immersion program in New York that teaches programming skills to 20 participants each summer.
They released their game as an 8-bit Web title in September, shortly before returning to school, and it quickly became a viral hit. The game's success attracted media attention and led them to present a "TED talk" at New York's Hewitt School, where they re-iterated their message of de-stigmatizing menstruation and encouraging girls to be programmers. [TED is a nonprofit organization that invites people from various backgrounds to share innovative or provocative ideas at live events, with many of the talks posted online.]
In the Games category, "Tampon Run" was up against Microsoft's "Assassin's Creed Pirates Race," Hook's "Smarty Pins" and Sesame Workshop's "Sesame Street Games," and "Sortie En Mer: A Trip Out To Sea." "Sortie En Mer" was selected as the winner by the judges, who included talk-show host Conan O'Brien, Tumblr founder David Karp and Huffington Post founder Arianna Huffington. The interactive video, created by Guy Cotton of CLM BBDO Production, simulates the experience of drowning and is aimed at promoting life jacket use.
"It's such a frightening, very immersive experience. I'm glad that one got recognized," Gonzales said.
The Webby Awards declined to disclose the breakdown for the People's Voice award, but Houser said that she believed "Tampon Run" beat out Microsoft by only a few percentage points. "I was worried that in the past hour 'Assassin's Creed' would call up their big corporate connections," Gonzales said.
Houser had found out about their victory when she was in a seminar class on history and philosophy Monday morning. She was discussing the play "Copenhagen" when she received an email from the Webby people. "I wasn't going to yell during class," Houser said. "But I immediately forwarded it to Andy, and my mom came second."
Gonzales, who had tried to see the winners' list at 4 a.m. while writing a term paper, learned the good news later that afternoon while in her computer science class.
"It's funny that this is all happening when we're still in high school," Houser said.
Since the game's launch, the two have juggled media events and have continued to build their product all the while maintaining their grades at school and participating in other extracurricular activities.
Houser, a senior at Bard High School, will be attending Brown University in the fall. She plans to study computer science, something she said she never thought she would do until Girls Who Code. Thanks to Brown's open curriculum she also plans to study photography and history.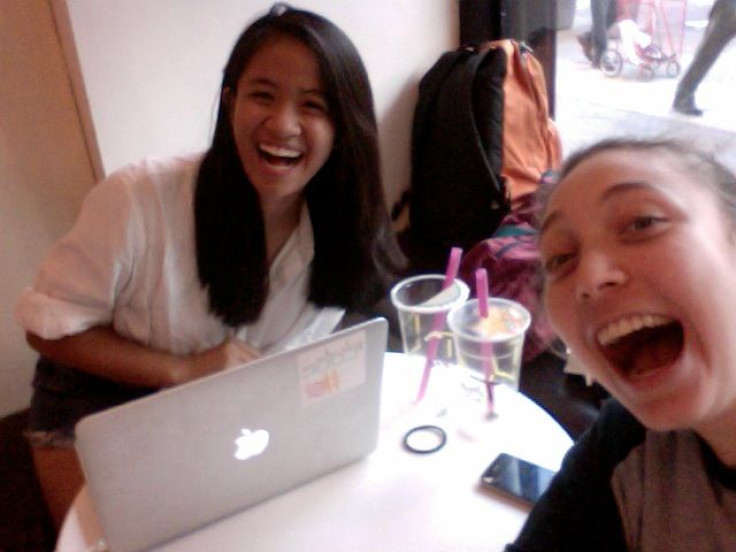 Both girls plan not only to study coding, but to use it to serve good causes.
"When the ability to create technology (and not just consume it) is in the hands of young women like our coders, they can use that technical skill to creatively bring awareness to a social problem. That's just what Andy and Sophie did with 'Tampon Run,' " Emily Reid, curriculum director at Girls Who Code, wrote in an email.
Gonzales, a junior at Hunter College High School, will be interning at DoSomething.org this summer. The company had invited both girls to visit its offices shortly after their game's release and invited them to apply for the company's summer program. Gonzales, who had applied last year but was rejected, will now be creating games there. As for college, she plans to study computer science but the experience has opened her eyes to more liberal arts schools.
"I'm interested in studying computer science, but I want to go and see the applications of that in society," Gonzales said.
Houser's mother and brother had encouraged her to apply to Girls Who Code. Her mother learned about the program in news reports. Gonzales had long been interested in gaming and engineering.
But the girls noted that not all young women have the opportunity to participate in such a program. In the December TED talk, Houser said that women-only programs like Girls Who Code can encourage new ideas. "I don't think a guy would have made 'Tampon Run,' " she said.
That's why the pair is currently working on a proposal for a children's book on coding. "It's kind of like 'Harold the Purple Crayon,' where he drew things and interacted with them. We want to do something like that with computer programs and coding and how it allows creativity," Gonzales said.
The Webby Awards ceremony, to be hosted by comedian and actor Hannibal Buress, will be held May 18 in New York. Gonzales and Houser will be in attendance among celebrity winners. "The Webbys cover all the different corners of the Internet. It's going to have very interesting people," Gonzales said. "I love 'Broad City,' [a Comedy Central series starring Buress] so I'm excited to hear from Hannibal."
© Copyright IBTimes 2023. All rights reserved.