Week Of Outrage Protests: Full List Of Michael Brown, Eric Garner Demonstration Sites By State, Plus Justice For All March Details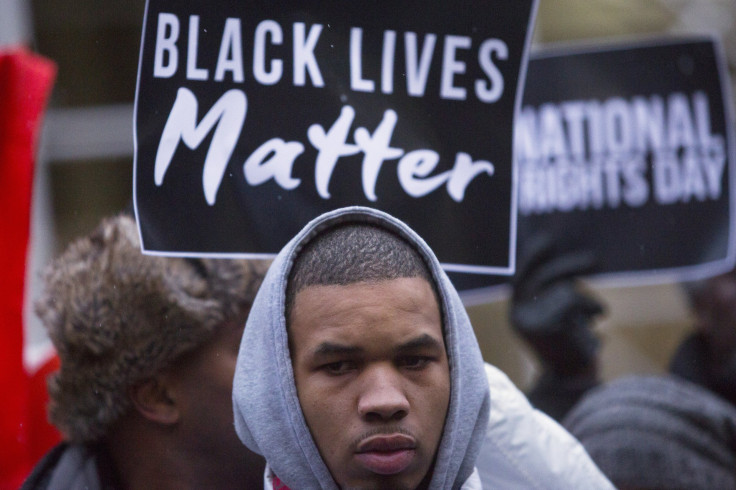 With thousands of demonstrators scheduled to rally against the police-involved deaths of Eric Garner and Michael Brown Saturday in Washington, D.C., people stretching from New York to California will be holding concurrent protests in solidarity. The Rev. Al Sharpton, a civil rights activist and head of the National Action Network, is organizing the D.C. protest, dubbed the Justice for All March. The families of Garner, Brown, Akai Gurley, Trayvon Martin and the mother of Akai Gurley are expected to attend.
Gurley, 28, was shot and killed last month by a New York City police officer inside a darkened stairwell of a housing project. The NYPD classified the incident as an accident, and the officer involved was identified as Peter Liang. Trayvon, 17, wasn't killed by a police officer, but he was shot and killed by neighborhood watchman George Zimmerman, who is half white and half Hispanic, in 2012. The incident spurred debate on racial profiled and Zimmerman's acquittal on murder charges angered the black community.
The cases of Garner and Brown further fueled tensions after the white police officers who killed the two unarmed black men weren't indicted by grand juries in New York and Missouri in recent weeks. Garner repeatedly said, "I can't breathe," before he died and was put in a chokehold. Brown was unarmed when he was shot and killed by Ferguson Police Officer Darren Wilson in August.
The Justice for All March is expected to get underway 12 p.m. Saturday. Meanwhile, multiple protests are planned for New York City throughout the weekend for what is being called the "Week of Outrage."
Below is a list of times for the New York City events and relevant Twitter hashtags to recognize the demonstrations on social media:
Friday
What: People will carry signs bearing the names of 100 black men who "have been subjected to the tyranny of racist violence that has existed across the United States," according to organizers. Hundreds of protesters are expected.
When: 4 p.m.
Where: Times Square in New York City (Gather at West 47th Street & Broadway at the red steps)
Hashtag: #CarryTheNames
What: Skate for Justice!
When: 5 p.m.
Where: 125th & Adam Clayton Powell Blvd in New York City
Details: Protesters are encouraged to skate, bike and roll, and bring whistles and signs. Check out the event flyer here.
Hashtag: #WeekOfOutrage
What: No Justice No Peace Die-In
When: 5:30 p.m.
Where: East 86th Street and Lexington Ave in New York City
Hashtag: #NoJusticeNoPeace
What: A group called Occupy for Justice Because Black Lives Matter will announce a list of demands from the NYPD, including the firing of Officer Daniel Pantaleo and "reparations to the Garner family."
When: 5:30 p.m.
Where: 26 Wall Street, Federal Hall Steps in New York City
Hashtag: #FillWallStreet
What: Speak-Out at Police Stations in the Hoods "Those who live daily under the gun of police terror must have the backing of people throughout society in standing up, speaking out, and blowing the whistle on police brutality, terror, and murder!" reads the event's details.
When: 6 p.m.
Where: 125th st. & Adam Clayton Powell Blvd and various other locations in New York City
Hashtag: #WeekOfOutrage
SATURDAY
What: Dancing for Justice
When: 12 p.m.
Where: Union Square in New York City
What: Millions March For Justice, NYC
When: 2 pm
Where: Washington Square Park in New York City
Hashtag: #MillionsMarchNYC
What: Day of Resistance Protest
When: 10 a.m.
Where: MLK Jr. Park, Dumont Avenue and Bradford Street in Brooklyn
The Bay Area in California is also holding more than one protest. Check out the details:
SATURDAY
What: Mass Protest. Protesters will march from Market Street to a rally at the San Francisco Civic Center
When: 2 p.m.
Where: The Ferry building in San Francisco. The protest site is near the Embarcadero BART stop.
What: Solidarity march with D.C. protesters
When: 2 p.m.
Where: Oscar Grant Plaza, 14th Street and Broadway in Oakland
SUNDAY
What: "Steeples to the Streets" Protests in Support of Ferguson
When: 12:30 p.m.
Where: First Congregational Church, 2345 Channing Way in Berkeley
Hashtags: #WEEKofOUTRAGE #ICantBreathe #EricGarner #MikeBrown
Dozens of other cities across the country are participating in a "Day of Resistance" in solidarity with the D.C. marchers. Hashtags include #DayofAction and #DayofResistance. Here's a list of protests across the country by state:
ALABAMA
When: 4 p.m.
Where: Clinton Avenue between St. Stephens Road and Craft Highway in Mobile
CALIFORNIA
When: 1 p.m.
Where: Hollywood and Highland Center in Los Angeles
When: 6 p.m.
Where: 20th Street and J Street in Sacramento
When: 10:30 a.m.
Where: Civic Arts Plaza, 2100 East Thousand Oaks Blvd. in Thousand Oaks
When: 2 p.m.
Where: 50 Old Courthouse Square in Santa Rosa
When: 1 p.m.
Where: The clock tower at Mission Street and Pacific Avenue in Santa Cruz
When: 10:30 a.m.
Where: Balboa Park, 1549 El Prado in San Diego
WASHINGTON, D.C.
When: 9 a.m.
Where: Stadium Armory Metro Station, 192 19th St. SE
FLORIDA
When: 3 p.m.
Where: Volusia Mall, 1700 W. International Speedway Blvd. in Daytona Beach
ILLINOIS
When: 1 p.m.
Where: State Street and Jackson Boulevard in Chicago
INDIANA
When: 12 p.m.
Where: Sample Gates, East Kirkwood Avenue in Bloomington
When: 3 p.m.
Where: Glen Miller Park, 22nd Street and Main Street in Richmond
LOUISIANA
When: 6:30 p.m.
Where: Lafayette, location to be detrmined. Check this link for further info
MARYLAND
When: 2 p.m.
Where: McKeldin Square, Light Street and Pratt Street in Baltimore
MASSACHUSETTS
When: 12 p.m.
Where: Massachusetts State House, 24 Beacon St. in Boston
MINNESOTA
When: 12:15 p.m.
Where: Bridge Square, Division Street and 4th Street in Northfield.
MISSOURI
When: 12 p.m.
Where: Liberty Plaza, in front of City Hall, 701 W. Broadway in Columbia
When: 1 p.m.
Where: Canfield Drive and West Florissant Avenue in Ferguson (Organizers are urging attendees to bring banners, signs, loud bells and a black T-shirt that can be stenciled with the "I Can't Breathe" slogan.)
NEW JERSEY
When: 11:30 a.m.
Where: Broad and Market Street in Newark
NEW YORK
When: 1 p.m.
Where: White Plains Wal-Mart, 275 Main St. in White Plains
NORTH CAROLINA
When: 2 p.m.
Where: Intersection of Trade Street and Tryon Street in Charlotte
When: 2 p.m.
Where: Market House in downtown Fayetteville
When: 4 p.m
Where: St. James Episcopal Church, 44 Hildebrand St. in Asheville
When: 11 a.m.
Where: St. Paul AME Church, 443 Finley Ave. in Lenoir
NORTH DAKOTA
When: 1 p.m.
Where: Downtown Grand Forks by the railroad bridge
OHIO
When: 11 a.m.
Where: Fountain Square, 520 Vine St. in Cincinnati
When: 11 a.m.
Where: Beachwood Place Mall, 26300 Cedar Rd. in Cleveland
When: 2 p.m.
Where: Department of African-American & African Studies Community Extension Center, 905 Mt. Vernon Ave. in Columbus
When: 12 p.m.
Where: Lock 3, 200 South Main St. in Akron
PENNSYLVANIA
When: 2 p.m.
Where: North side of Philadelphia City Hall
When: 12 p.m.
Where: Main Capitol Biilding in Harrisburg
SOUTH CAROLINA
When: 2 p.m.
Where: Columbus and America streets in Charleston
TENNESSEE
When: 2 p.m.
Where: Eastern Tennessee State University, McDonald's parking lot in Jefferson City
TEXAS
When: 3:30 p.m.
Where: North Star Mall (food court), 7400 San Pedro Ave. in San Antonio
When: 4 p.m.
Where: Archer Park, 101 N. Broadway in McAllen
When: 12 p.m.
Where: Texas State Capitol, 1100 Congress Ave. (south entrance) in Austin
When: 12 p.m.
Where: Gerald Hines Waterwall Park in Houston
WASHINGTON
When: 4 p.m.
Where: Sylvester Park, Capital Way S and Legion Way SE in Olympia
When: 11 a.m.
Where: University of Washington, Red Square in Seattle
© Copyright IBTimes 2023. All rights reserved.
FOLLOW MORE IBT NEWS ON THE BELOW CHANNELS