Eric Garner Grand Jury Decision Angers Whites More Than Michael Brown Grand Jury Decision: 2014 Poll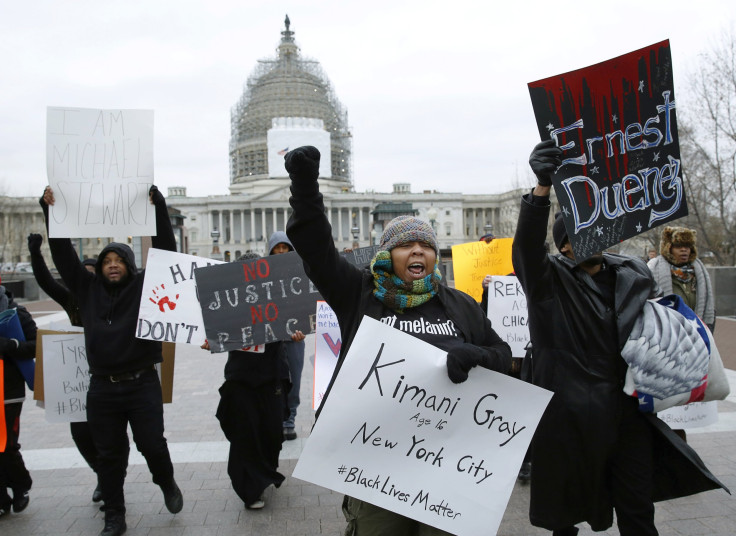 White people are more outraged about a grand jury's decision not to indict a New York City Police officer in the death of Eric Garner than they are about a grand jury's decision not to indict a Missouri police officer in the death of Michael Brown. At the same time, across both races, Americans generally feel race relations have gotten worse or stayed about the same under President Barack Obama, a poll indicates.
The Selzer and Co. poll for Bloomberg News finds 60 percent of Americans agree with a New York grand jury's decision not to bring criminal charges against Officer Daniel Pantaleo. At least 31 percent of whites and 77 percent of blacks polled disagreed strongly with the outcome.
But just 36 percent said they disagree with the Missouri's grand jury decision not to indict Ferguson Police Officer Darren Wilson. Again, opinions fell along racial lines, with 15 of whites and 71 percent of blacks strongly disagreeing with the grand jury results.
The grand jury decisions came within little more than a week of each other, with the New York grand jury announcement last week prompting daily protests across the country against police brutality. Both instances involve black men killed by white police officers. It's unclear why whites are more likely to find fault with the Garner decision compared with the Brown outcome, but it could be because Garner's choke-hold death involving Pantaleo was recorded and widely distributed online while the facts of Brown's fatal police shooting remain unclear.
Garner, a 43-year-old father of six, was killed July 15 in Staten Island while being arrested for allegedly selling individual cigarettes, a misdemeanor offense under New York state law. Brown, 18, was shot by Wilson in Ferguson Aug. 9. Both deaths have sparked a national debate on excessive police force and demonstrations in Missouri, New York and elsewhere.
In California, protests turned violent Sunday after demonstrators attempted to set fire to a patrol car, NBC reported. Officers targeted as many as 500 people marching from Berkeley to Oakland with tear gas. In New York, dozens of protesters blocked traffic on the Staten Island Expressway to protest the Garner grand jury decision Monday morning, the New York Daily News reported.
The Bloomberg poll was conducted Dec. 3-5 and surveyed 1,001 adults. It had a margin of error of 3.1 percentage points.
© Copyright IBTimes 2023. All rights reserved.