This Week In Tesla: Gigafactory Details Likely, But Will Model S Maker Announce Where It Will be Built?
With Tesla poised to announce its quarterly financial results on Thursday, speculation is mounting on the location of the $5 billion so-called gigafactory it needs to fulfill its plans to sell a half-million electric cars a year by 2020. More details on the project are expected after markets close in New York on Thursday, though it's not certain Tesla is ready to announce the location of the 10-million-square-foot factory. Indeed, the company has even said there would be two sites, but whether than means they will be adjacent or located in different states is subject of even more speculation.
Earlier this month, Tesla was reportedly scoping out a 700-acre location in southern Dallas County, Texas, according to the Dallas Morning News. But Tesla has kept quiet as to any specifics beyond saying the projects would be built somewhere in Texas, Nevada, Arizona, New Mexico or California. Until the news from Dallas broke, most reports said San Antonio would be the most likely location if Tesla Motors Co. (NASDAQ:TSLA) picked Texas.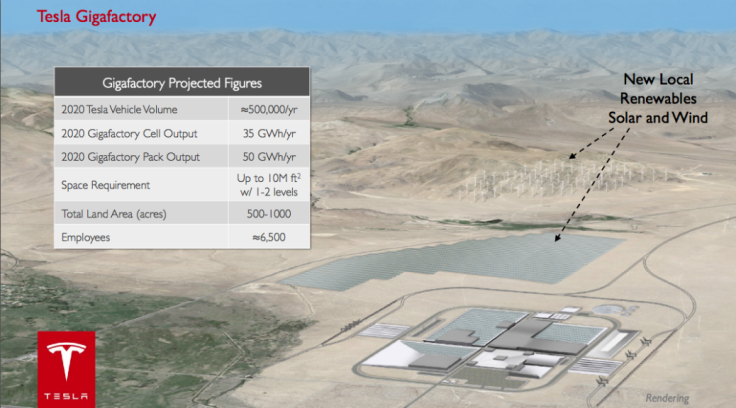 California is least likely to win the deal because of the high cost of setting up a factory there relative to the other states. (Tesla's plant in Fremont, where the Model S is produced, has been an auto-manufacturing site since 1916, so the company didn't have to set it up from scratch.) But the Legislature has moved to stay in the running. Gov. Jerry Brown signed into law this month a bill that would give Tesla property tax credits if it chose California.
"California has re-entered the race and closed the gap with the other states," Tesla spokesman Simon Sproule told USA Today last week.
East of Reno
A site east of Reno, Nevada, has been the subject of a lot of chatter in recent months. Last week, Nevada-based electric car enthusiast Bob Tregilus traveled to the location at the Tahoe-Reno Industrial Center, 23 miles east of Reno, where he found a guarded site where workers were leveling ground in what appeared to be a major addition to the industrial park. But on Friday, Transport Evolved, which ran Tregilus's piece, said the site "has been either temporarily or indefinitely closed."
"My husband, nephew and a couple friends were all working on that project 12-hour days, seven days a week, for the last month on it," a woman who identified herself as a local resident, and who claims Tesla was behind the project, told the website by email. "All the people I know who were working on the project were let go today. I truly wish it wasn't true, we need those jobs."
But later on Friday, the local NBC affiliate scotched the rumor that the site was shut down.
"They've reached the end of the first phase," Lance Gillman, director of the Tahoe-Reno Industrial Center, told News 4. "And so I can tell you that there's been a full mile-long path built in about three and half weeks. And so the first phase of construction process is completed and there is a halt at this time."
Gilman said a nondisclosure agreement between the contractors and the client prevents him from confirming or denying that Tesla is behind the project.
The location would be ideal for a number of reasons, mainly because it's only 236 miles from Tesla's Fremont factory. Nevada has a lot of spare land, too, making the site a relative bargain. There's also a lithium mine nearby operated by Rockwood Holdings Inc. (NYSE:ROC). Lithium is a key mineral ingredient in batteries.
One other bit of circumstantial evidence that the site could be located east of Reno has come from real estate blog REreno, which said local contractor F&P Construction, which holds the excavation permit to level the ground at the site, began an unprecedented local television ad campaign seeking job applicants. The blog also claims Yates Construction was interviewing for local applicants recently. Yates built a battery plant for Nissan Motor Co. Ltd. (TYO:7201) in Smyrna, Tennessee, where the best-selling electric car, the Nissan Leaf, is built for the North American market.
Tesla's stock jumped 2.7 percent to $229.60 in afternoon trading in New York after Japan's Nikkei news service announced that Tesla and Panasonic Corp. (TYO:6752) came to an agreement on the battery factory. Panasonic is Tesla's battery provider and had previously announced it would be a partner with Tesla in boosting battery production. Neither company confirmed the deal as of Monday afternoon. Panasonic's U.S.-listed stock was up 1.39 percent to $12.37 in New York.
© Copyright IBTimes 2023. All rights reserved.