West Virginia Train Derailment Raises Safety Concerns Over Crude By Rail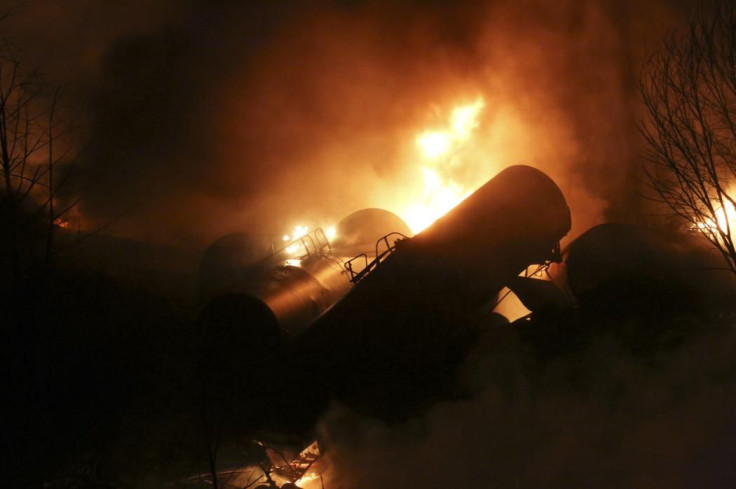 The fiery derailments of two trains carrying crude oil this week are raising fresh concerns about the safety of moving oil by rail. Recent accidents in West Virginia and Ontario come as federal regulators and transportation companies struggle to address a rapid rise in oil tanker trains due to the North American energy boom.
In West Virginia on Monday, a CSX freight train hauling up to 3.2 million gallons of oil derailed near the village of Boomer, launching fireballs 300 feet in the air and dumping crude into a river. West Virginia Gov. Earl Ray Tomblin issued a state of emergency, and more than 2,000 residents were evacuated that evening. Local water supplies were shut off over concerns of contamination.
Late last Saturday, a 100-car oil train derailed in northern Ontario on its way to Alberta, with seven cars catching fire in a remote wooded area. CN Rail says the oil spilled from the train has been contained and doesn't appear to have seeped into waterways.
The region's railroads are moving greater volumes of crude as drillers increasingly tap U.S. shale oil resources, particularly in North Dakota and Texas. Existing pipeline infrastructure isn't enough to carry all the added supply to market, so companies are turning to the rails to fill the gap.
U.S. railcar loadings of oil and petroleum products jumped 13.4 percent from January to October 2014, compared with the same period in 2013, according to the most recent data from the U.S. Energy Information Administration.
Tank cars totaled more than 672,000 during that 10-month stretch, compared with just 9,500 loads for all of 2008. That figure could jump again in 2015 as oil production climbs. The EIA projects U.S. oil production will reach 9.3 million barrels a day this year, up 8 percent over 2014.
Crude oil is not necessarily more dangerous than other "hazardous materials," such as ethanol and chlorine, which are also hauled by trains across the country. But while other substances are moved in only a handful of cars per trainload -- reducing the risk of damage during an accident -- crude oil is transported in trains with more than 100 cars, said Brigham McCown, a transportation expert and former chief of the Pipeline and Hazardous Material Safety Administration, the federal agency in charge of tank car safety.
"When you have 100-plus cars that are transporting one single [hazardous] commodity, extra care and attention needs to be paid to those trains to avoid derailment," he said by phone.
The U.S. Department of Transportation (DOT) has been working on new safety rules for rail tankers carrying hazardous materials since 2012. But officials have been under intensifying pressure to wrap up the rules since a July 2013 tanker explosion at Lac-Mégantic, Quebec, which killed 47 people. Canadian safety officials said last summer that the accident was caused by "systemic problems" in the freight rail industry and lax regulations.
DOT last July proposed rules that include phasing out older and more vulnerable freight cars and replacing them with thicker, more resistant models, as well as reducing operating speeds and upgrading braking systems. It also issued an emergency order requiring rail companies to alert state emergency management officials about shipments of 1 million gallons or more of crude within state borders.
The department is expected to issue a final rail safety ruling in mid-May, McCown said.
Critics point out that the rules will do little to address problems with tanker models and braking systems in the immediate future. The regulations could take years to adopt, all while U.S. shale producers ship ever more crude via rail.
"If the timetable now sticks, it will have taken at least six years to implement new standards for tank cars that were recognized as necessary back in 2012," John Kemp, a Reuters market analyst, said in a Tuesday column. "This is unacceptably slow. While regulators, lobbyists and lawyers for crude shippers have been sparring in Washington ... crude-carrying trains have been derailing and catching fire with frightening frequency."
Kemp noted that between 2006 and April 2014, North America has seen 16 significant accidents involving trains carrying crude oil or ethanol. Nearly 300 cars derailed in total, spilling nearly 5 million gallons in fuel, according to the U.S. National Transportation Safety Board.
McCown said it's not clear whether the accident rate has actually gone up, or if the figures simply reflect the fact that more crude-carrying cars are on the rails. And he said he believes regulators are "doing their best" to put "a pretty robust set of rules" in place in a timely manner.
But he said that DOT and rail companies haven't paid enough attention to figuring out why derailments happen, and have instead focused too much on finding ways to keep railcars from exploding or leaking when they do derail. "People and policymakers should be asking the question 'What's causing these derailments, and how do we prevent them?' " he said.
The latest accidents in West Virginia and Ontario were potentially caused, or made worse, by foul weather. The West Virginia derailment happened during a snowstorm and in unusually frigid conditions. Northern Ontario was blanketed in frozen snow when the CN Rail freight train derailed near the town of Timmons. A derailment last April in Lynchburg, Virginia, occurred during a heavy rainstorm.
McCown said that in such scenarios, a special pickup truck could ride on the rails ahead of an oil tanker train, so that the driver could spot troubling signs and warn the conductor -- much in the way that highway vehicles serve as scouts for oversized semi-truck loads. Other ideas include replacing America's wooden rail ties with concrete versions, which are used in Europe and thought to stay in place better than wood.
"There are things being done, but they take time," McCown said of rail safety efforts. "Every time we have another accident ... it puts additional pressure on regulators in Washington to do something quickly."
© Copyright IBTimes 2023. All rights reserved.