What Is APEC? Obama, Asia-Pacific Leaders Head To Beijing For APEC Summit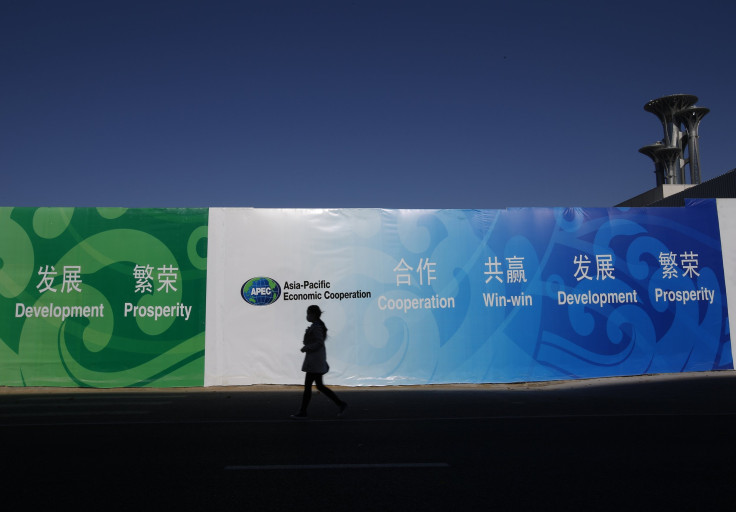 U.S. President Obama departs Sunday for the Asia-Pacific Economic Cooperation (APEC) summit, hosted this year in Beijing. While all eyes will be watching for movement on a regional free-trade deal, as well as a potential flare-up between Chinese President Xi Jinping and Japanese Prime Minister Shinzo Abe, APEC will be commemorating its 25th anniversary as the Asia-Pacific's foremost forum for economic cooperation.
APEC was first founded at the end of the Cold War as economies around the world began establishing trade blocs in light of stalled multilateral trade negotiations. APEC isn't bound by treaties, and all agreements among member countries are voluntary and nonbinding.
The forum is made up of primarily East and Southeast Asian countries, with the United States, Russia, Mexico and Chile also in. What started in 1989 as a loose consortium of countries without a formal structure has morphed into a 21-member forum for regional leaders to hammer out deals and manage economic diplomacy. The organization now represents countries with some 3 billion people in the Asia-Pacific and Americas, and 44 percent of global trade.
Free trade has been a cornerstone of APEC's principles, but over the years the body hasn't progressed much toward that goal. Member countries adopted the Bogor Declaration in 1994, which committed them to free trade and investment among industrial nations by 2010 and among developing nations by 2020. But a wave of protectionism emerged in the wake of the 1997 Asian financial crisis, and APEC-wide moves toward trade liberalization goals haven't kept pace.
Now the Trans-Pacific Partnership, a free-trade agreement being negotiated by 12 of APEC's 21 member countries, is seen as the region's biggest opportunity for liberalized trade. China is also pushing for an alternate regional free-trade agreement, as Beijing is currently excluded from the TPP.
And while economic negotiation is central to APEC's annual meetings, the summit provides opportunities for leaders to hash out dialogue on political and security questions as well. Host country China is widely expected to use this year's summit as an opportunity to smooth relations with its neighbors in light of escalating tension over territorial disputes in the region.
© Copyright IBTimes 2023. All rights reserved.
FOLLOW MORE IBT NEWS ON THE BELOW CHANNELS