When Is 2016's First NFL Game? Date, Time For Regular Season Opener, Kickoff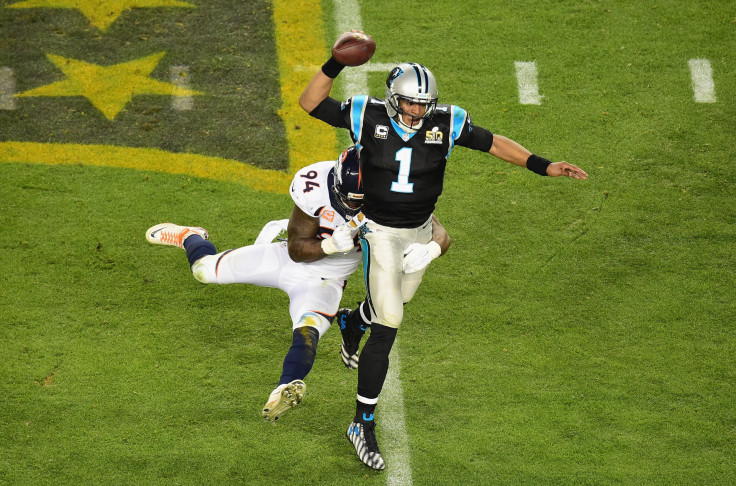 The final game of the 2015 NFL season will also be the first of the new 2016 campaign. The defending champion Denver Broncos will rehash their Super Bowl 50 matchup with the Carolina Panthers and kickoff the NFL's latest regular season on Thursday, Sept. 8 at Sports Authority Field at Mile High.
The first game of the new 2016 NFL season will serve as the lead-in for the rest of Week 1's games, taking place on Sunday, Sept. 11 and doubleheader on Monday, Sept. 12, as well as the start of NBC's coverage this season.
The revenge-minded Panthers and quarterback Cam Newton, in particular, have a lot to prove in the coming season and beating the Broncos will go a long way. Carolina won its first 15 games and nearly completed a perfect regular season last year with Newton named league MVP after firing off a career-high 35 touchdowns to 10 interceptions and gaining another 636 yards and 10 scores.
But the 27-year-old Newton's first Super Bowl appearance quickly became a nightmare thanks to Denver linebacker and Super Bowl MVP Von Miller. The Broncos relentless pass rush sacked Newton six times, with Miller notching 2.5 sacks, and Newton wound up going 18-for-41 for 265 yards and one interception for a 55.4 passer rating in the 24-10 loss.
Still, Carolina is favored by a point on the road and that's largely due to some heavy roster turnover in Denver, especially at quarterback. The Broncos said goodbye to now-retired Peyton Manning in the best way possible, a Super Bowl victory, but Denver now has veteran Mark Sanchez battling second-year passer Trevor Siemian and first-round rookie draft choice Paxton Lynch for starter's duties.
However, Sanchez, who Denver acquired from Philadelphia for a conditional 2017 seventh-round draft pick, is quickly losing ground to Siemian and Lynch and publicly admitted his poor play following Saturday's 31-24 preseason loss to San Francisco.
"I feel like I squandered an opportunity to separate myself," Sanchez told reporters. "Poor quarterback play."
That could mean Denver potentially sends out Siemian or Lynch, who have a combined zero starts and just one game of experience under their belts, against a Panthers' defense that ranked first in interceptions and sixth in points allowed last season.
After Carolina at Denver, there are several intriguing matchups peppered throughout Week 1's slate. Eli Manning and the New York Giants will square off against the NFC East rival Dallas Cowboys and Tony Romo, the New England Patriots will face the Arizona Cardinals as Tom Brady serves the first game of his four-game suspension after settling the "Deflategate" controversy andJimmy Garrapolo acting as the interim starter for New England.
And Los Angeles will get its first whiff of the NFL in 22 years when its freshly relocated Rams hit the road to face the San Francisco 49ers for Week 1's final game.
Date: Thursday, Sept. 8
Time: 8:30 p.m. ET
TV Channel: NBC
© Copyright IBTimes 2023. All rights reserved.