When Will Flu Season Peak? This Flu Rivals Swine Flu In Severity
The fifth week of flu season ended Feb. 3 and the number of people who have gotten sick and who have died are still steadily on the rise. During the fifth week, spanning Jan. 28 to Feb. 5, the number of pediatric flu deaths increased by 10, bringing the total to 63, according to the Centers for Disease Control.
This flu season is almost as bad at the 2009-2010 season during which the swine flu was making the rounds. A graph from the CDC shows that the level of flu-like illness has steadily increased over the last few months. The trend line has yet to turn down, indicating that the flu is still spreading and infecting more and more people.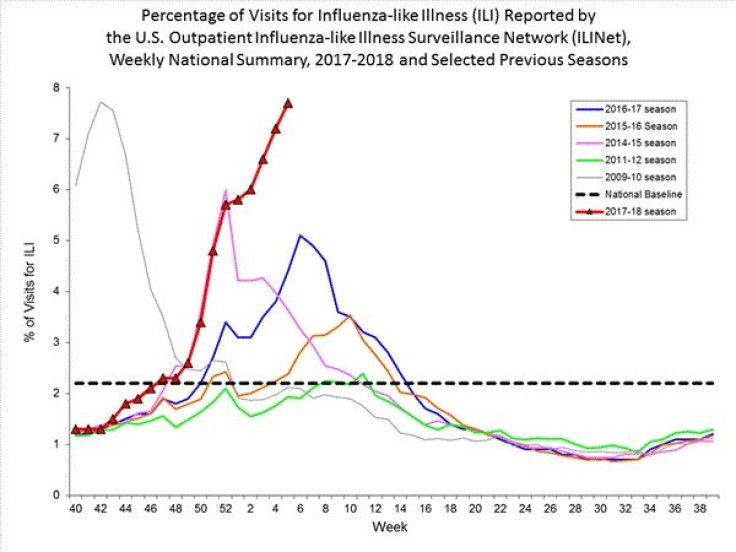 Those who die from the flu typically die of complications from the virus. It can be difficult to track the number of deaths overall because frequently the complication, like sepsis or pneumonia, is listed on the death certificate rather than the flu. Additionally, the CDC does not track deaths caused by the flu for people over the age of 18.
When will the flu season peak?
There is no way to know when the flu season will peak and the number of infected people will start to decrease. It is one of the most aggressive flu seasons of the last decade. Acting CDC Director, Dr. Anne Schuchat, said in a tweet Friday, "We can't predict how much longer this season will last. But if we stay vigilant and take steps to fight flu, we can reduce the risk of getting – and transmitting – it."
When should you see a doctor for the flu?
Flu symptoms might seem like no big deal but it has still taken the lives of many so far. Dr. Schuchat recommended on Twitter that anyone who experiences a persistent high fever, rapid heartbeat, or shortness of breath or difficulty breathing immediately seek medical attention.
Do you always have a fever with the flu?
Symptoms of the flu include a cough, sore throat, congestion, body aches, fatigue, headaches, sometimes stomach issues, and only sometimes a fever. Not everyone who contracts the flu with also have a fever. Someone with the flu and a fever should wait 24 hours after the fever breaks before going out in public or returning to work or school, according to the CDC.
© Copyright IBTimes 2023. All rights reserved.