Where To Buy An Eco-Friendly Christmas Tree: 'Organic,' Sustainably Harvested, Or Even Rent For A 'Greener' Holiday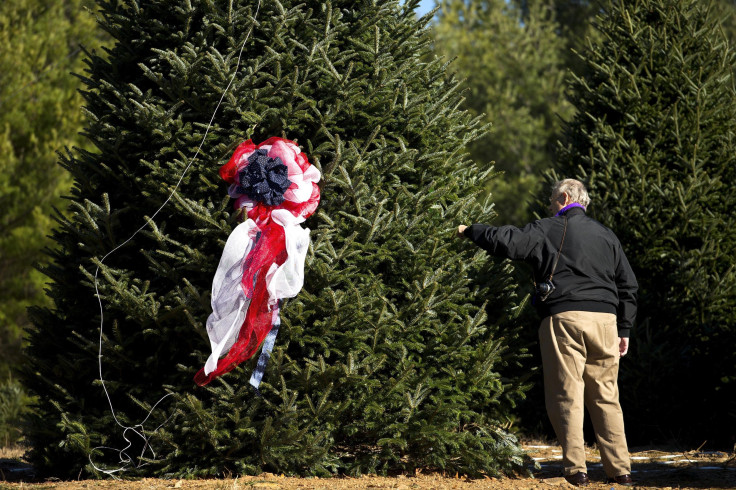 Looking for an eco-friendly Christmas tree option this holiday season? For those who want to get on Mother Nature's nice list, there are several options for going green. And contrary to what some people think, it doesn't involve getting a fake tree.
Plastic trees aren't the environmentally friendly option they're often made out to be. For one, fake Christmas trees usually contain harmful materials, including polyvinyl chloride and even lead. Also, they are usually manufactured overseas and have to be shipped long distances, meaning their carbon footprints are bigger than a Yeti's.
According to The Epoch Times, the average fake tree is discarded after just six to nine years. The plastic trees end up in landfills where, because they biodegrade at a glacial pace, they will sit for hundreds of years.
"The debate is over," Rick Dungey, a spokesperson for the National Christmas Tree Association, told National Geographic in 2011. "The only people still talking about it are the people trying to sell fake trees."
Real trees, on the other hand, are harvested on tree farms and are grown right here in the U.S. In other words, real is the way to go if you're looking for an eco-friendly option.
"They are grown locally. They are improving our environment," Kate Nelson, University of Wisconsin's chief sustainability officer, told WISN. "They are managing storm water while they are alive and they improve the air quality."
If you're looking to go even greener, here are several options for getting the most eco-friendly Christmas tree this season.
Rent A Live Tree
You can rent almost anything these days, so why not a Christmas tree? Some nurseries now offer the option of essentially leasing a Christmas tree for the holiday season.
There are several benefits to renting a Christmas tree. For one, they're less of a fire hazard. The trees are alive, so they're not going to dry out like a chopped tree. Also, according to Earth 911, they're less likely to be knocked over by pets. They'll also filter the air in your home and emit life-supporting oxygen.
So how does renting a Christmas tree work? The nursery brings a live tree – in some instances, even a decorated one – to your home in a pot. Your job is to care fof the tree while it's in your home by watering it and keeping it healthy.
At the end of the holiday season, the trees are collected and taken back to the nursery to be rented out the following year. After about seven years of servie, the trees are retired and planted in the ground where they live out the rest of their days in peace.
Prices for renting a Christmas tree vary between $20 and $200, depending on the size. You'll have to find a nursery in your area that will rent out trees. Because they have to deliver the tree, you'll have to search for something near your home.
In California, there's the Living Tree Christmas Co., Rent A Living Christmas Tree, and Ever Grow Christmas Trees Co., to name a few.
Buy Organic
Locally harvested trees are another option for having an eco-friendly Christmas: Tree farms offer them locally grown and pesticide-free.
Look for USDA-approved organic Christmas tree retailers near you. Start with Local Harvest Locator to find a nursery in your area that offers organic trees.
Grow Your Own
Living, plantable "bulb" trees are becoming increasingly popular. What they lack in size they make up for in good stewardship.
Consider buying a small Christmas tree from a local nursery and keeping it indoors for the holiday season. When the season is over, you can plant it outside for a permanent home, or even transplant it into a bigger pot so it can be brought indoors again the following year.
Either way, growing your own tree is an eco-friendly option for the environmentally conscious. Here are some tips from HGTV on caring for your very own Christmas tree.
Recycle
Like anything else, recycling is an important part of having an eco-friendly Christmas. Leftover trees can be turned into mulch, used to prevent erosion or even as habitat creation.
Your tree can be recycled for free through one of the 4,000 Christmas tree recycling programs throughout the U.S. Check Earth 911 for a location near you.
© Copyright IBTimes 2023. All rights reserved.