Where To Buy Santa Costumes In New York City: Best Deals From Party City, Costume Supercenter And More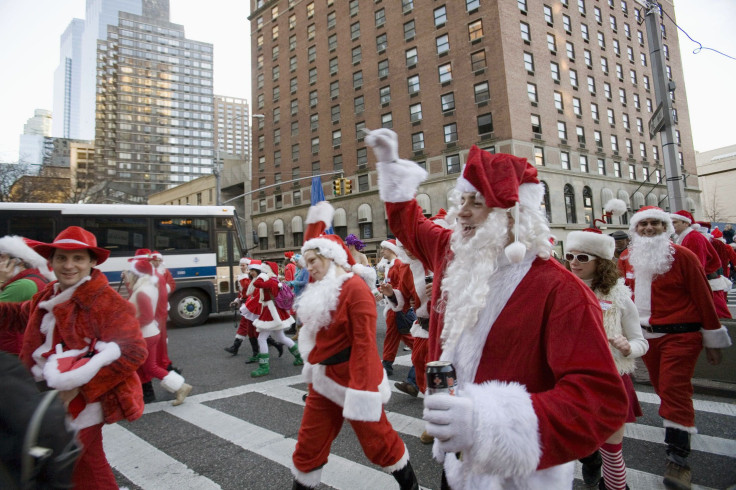 New York City's annual Santacon pub crawl is this Saturday, Dec. 14, and you'll want to put your best Santa foot or reindeer hoof forward. Whether you're more of a traditional Santa, a sexy Mrs. Claus or a Christmas fashionista, there's a Santa costume to meet every taste.
Here are some of the better deals on Santa Costumes in New York City:
PARTY CITY
Santa costumes here start at $19.99 (the "Girls Christmas Darling Costume," a variation of a Ms. Claus winter outfit, is under $20), but expect to pay more like $40 or $60. The store has an adult flannel Santa suit for $39.99 or an adult sexy Mrs. Santa costume for $29.99.
For a quick Santa transformation, there's a Santa beard and moustache for $3.99 and an adult Santa robe for $12.99. Mix and match some of the accessories for a cheaper alternative to buying the whole thing!
As an added bonus, Party City is offering some "Wacky" Santacon costume ideas. Click here for more.
Locations In New York City:
38 West 14th St, New York, NY 10011 (212) 271-7310
223 W 34th St, New York, NY 10001 (212) 216-9102
34-60 48th St, Long Island City, NY 11101 (718) 433-0100
625 Atlantic Ave, Brooklyn, NY 11217 (718) 399-7252
COSTUME SUPERCENTER
Costume Supercenter is offering 25 percent off their adult Santa costumes with promo code SANTA25. Under the promo price, you can pick up an adult crimson "regal plush" Santa suit for $44.99 or a deluxe velvet Santa costume for $52.49. There are also tons of accessories you can order, like a red Santa toy bag, a Santa belly costume, or a wig and beard set.
Online Ordering:
Online ordering from costumesupercenter.com. If you order soon, it should arrive in time for NYC's Santacon 2013. Check the delivery date when you're checking out to make sure.
NEW YORK COSTUMES
The store that stands out as New York City's premiere (and affordable) Halloween store is also selling some holiday costume favorites. One of their best deals is a full Santa suit for $24.99. You can also score a velour Santa top and hat for $32.99.
There's the Ms. Santa pant set will run you $64.99. Then there's the appropriately dubbed "Pub Crawl Santa" costume for $19.99.
Location In New York City:
104 4th Ave and 808 Broadway (212) 673-4546
ABRACADABRA NYC
Abracadabra Superstore NYC has some clever ideas for how to revamp your Christmas Santa costume, or even for how to ditch the Santa getup all together. For those who want to stand out from the crowd, there's a sexy reindeer outfit for $55. Or, go with one of their variety of elf costumes starting at $24.
For traditionalists, snag the "Simply Santa" costume for $36.
Location In New York City:
19 West 21st Street, New York, NY 10010
© Copyright IBTimes 2023. All rights reserved.
FOLLOW MORE IBT NEWS ON THE BELOW CHANNELS