Who Is Geert Wilders? Dutch Anti-Islam Politician Convicted Of Hate Speech, No Penalty Imposed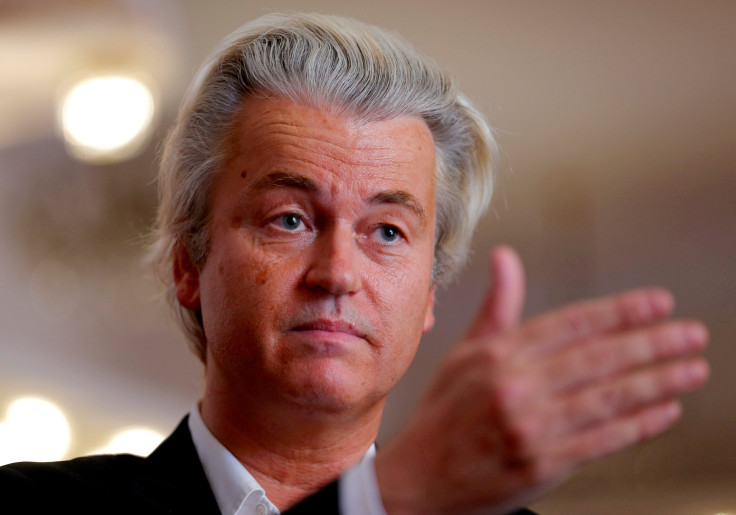 Anti-Islam politician Geert Wilders was convicted of hate speech by a Dutch court Thursday, but no penalty was imposed on the populist leader accused of insulting a group and inciting discrimination.
Presiding Judge Hendrik Steenhuis at the court near Amsterdam said the conviction was punishment enough for a democratically elected politician, whose party is leading in polls ahead of parliamentary elections in March.
Wilders was charged over comments made by during local elections in 2014, when at a rally in The Hague, he asked supporters if they wanted more or fewer Moroccans in the country. When the crowd responded by chanting: "Fewer! Fewer! Fewer!" Wilders replied: "Well, we'll take care of it then."
The police received 6,400 complaints about the comments made by him, leading to a three-week trial that culminated in the verdict Thursday.
Before the verdict, Wilders tweeted: "Whatever the verdict, I will continue to speak the truth about the Moroccan problem, and no judge, politician or terrorist will stop me."
His stand has not changed following the verdict, which he called "madness" in another tweet following the conviction.
Wilders posted a video of his reaction on Twitter, which began with an expression of shock at the verdict. Referring to his local election comment as simply a "question about Moroccans," he said a number of asylum-seekers from Morocco were terrorizing buses in the country, without facing any legal action.
The Dutch politician went on to say that "the Netherlands has become a sick country" and that the judges undermined the freedom of expression and speech of millions of Dutch people with the conviction Thursday.
"Moroccans are not a race, and people who criticize Moroccans are not racists," Wilders said in the video, where he also referred to the trial as a "political" one aimed at silencing him ahead of the election. "I am not a racist and neither are my voters"
In the past, Wilders has been prosecuted for anti-Islam comments — like comparing the religion to Nazism and calling for a ban on the Koran. He was, however, acquitted in the 2011 case, which reportedly gave a boost to his image as a populist leader.
Wilders said he will appeal the conviction.
© Copyright IBTimes 2023. All rights reserved.
FOLLOW MORE IBT NEWS ON THE BELOW CHANNELS