Dutch Election Results Good News For Euro Zone, Tough Break For Geert Wilders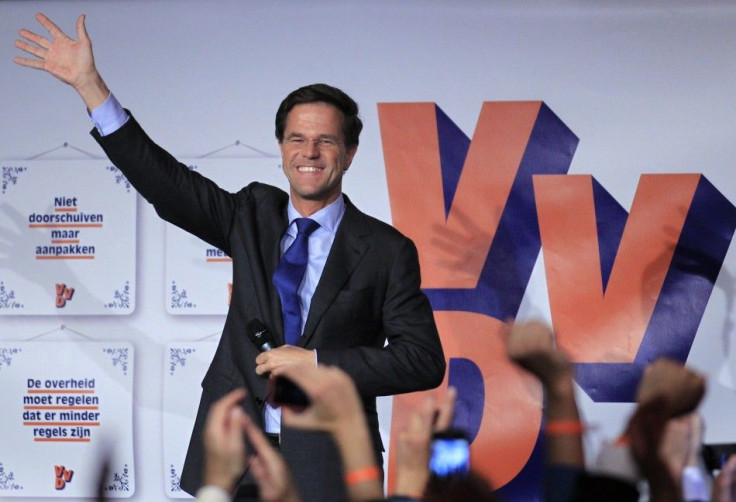 Firebrand politician Geert Wilders's far-right, anti-Europe Freedom Party made a poor showing in the Netherlands' parliamentary elections on Wednesday, according an early count of the votes submitted.
Reuters reports that victory has gone instead to two pro-euro blocs: the fiscally liberal People's Party for Freedom and Democracy, or VVD, and the center-left Labour Party.
The VVD, which gained 10 more seats for a total of 41, is headed by incumbent Prime Minister Mark Rutte.
Diederik Samsom leads the Labour party, which now has 39 seats, up from 30.
Europe's painful debt crisis has changed voter preferences in several countries across the euro zone; incumbent parties were ousted in recent major elections in France, Italy and Greece. Had the Netherlands followed that pattern, analysts posited, Wilders might have scored a surprise victory.
That might have been Wilders' ultimate goal when he left the previous parliamentary coalition over austerity disagreements in April, prompting today's election.
Instead, early results show that the Freedom Party will go from 24 seats to just 15.
Wilders, a charismatic man with voluminous white hair and a perennial tan, is known for such provocative statements as "Islam is evil," "America is facing a stealth jihad" and "the premise of the multiculturalist ideology is wrong." Though he is perhaps best known internationally for his anti-Islam rhetoric, he has also promoted anti-euro zone ideas, favoring a complete withdrawal from the European Union.
Rutte and Samsom, on the other hand, hope to be a part of the euro zone's eventual recovery. But they have different visions: Rutte supports continued austerity, whereas Samsom prefers growth-oriented policies.
Coalition negotiations are now in the works, with both parties expected to band together relatively smoothly. With the plurality of seats in the 150-member parliament, Rutte will seek to uphold his pro-austerity economic policies.
The euro zone, meanwhile, can breathe a sigh of relief. Like Germany, the Netherlands enjoys one of the region's stronger economies and tends to be on the giving end of loans that help to shore up Europe's more fragile nations. Although some Dutch citizens resent this arrangement, Wednesday's results indicate a general willingness to work toward euro zone sustainability.
Also on Wednesday, the German Constitutional Court upheld the euro zone's new fiscal plan for a permanent bailout fund, called the European Stability Mechanism -- a development that analysts say bodes well for the unity of the euro zone.
For now, Rutte knows that addressing the euro zone crisis requires first stabilizing the situation at home.
He promised on Wednesday to "enable this country to emerge stronger from this crisis, to continue to reduce our government's deficit, to continue to make our economy grow, to continue our upward trend," according to CBC News.
© Copyright IBTimes 2023. All rights reserved.