Who Is Jerry Falwell Jr? As Trump Picks Cabinet, Creationist Liberty University President Involved In Education Decisions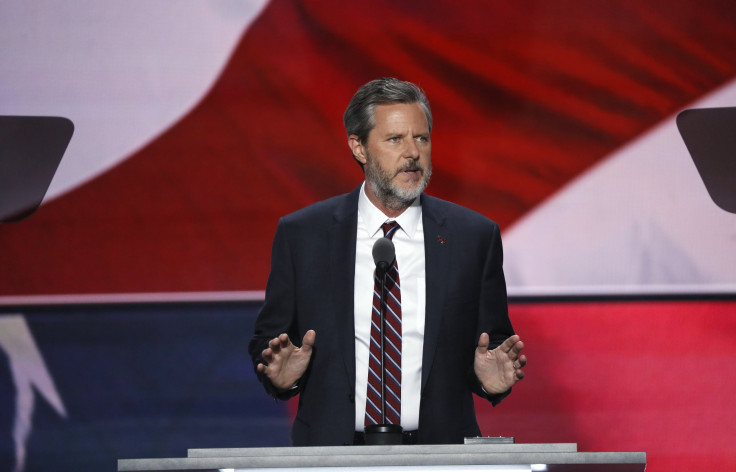 President-elect Donald Trump hadn't yet decided on a secretary of education Tuesday. But it did seem clear that Liberty University President Jerry Falwell, Jr., a staunchly religious leader who backs creationism, would at least be involved in the Trump administration's education decisions.
Falwell supported Trump throughout his campaign and met with the New York City real estate mogul last week after he won the presidency. Falwell would neither confirm nor deny that the top education job was brought up in the meeting, but did say he planned to assist Trump.
"I let them know one of my passions is reforming higher education and education in general," Falwell told the Richmond Times-Dispatch last week. "I told them I'd be willing — I have a lot of responsibilities here — but I'd be willing to serve in some capacity that sort of brings education back to some form of sanity."
Falwell told the Associated Press Friday he will "definitely play a role" in the administration.
Liberty is located in Lynchburg, Virginia, and is the largest Christian college in the country. The school was founded in 1971 by Falwell's father, the Rev. Jerry Falwell, Sr., a controversial televangelist. The family is well-known and influential among evangelical Christians, who largely supported Trump on Election Day, despite his penchant for brash language and his many controversies, including a tape in which he seemingly bragged about sexual assault.
The younger Falwell is also no stranger to controversy. After a deadly mass shooting last year in San Bernardino, California, he urged Liberty University students to obtain permits to carry concealed weapons, claiming that if "more good people" had guns "we could end those Muslims before they walked in."
Liberty, unlike some other universities with religious roots, weaves evangelical Christianity into just about everything on campus. There are rules against everything from alcohol use, to wearing shorts to class, or having sex outside of a so-called traditionally biblical marriage. And while the school has advanced science equipment and classes, faculty members also "take pride in teaching evolution alongside biblical creationism," despite the vast majority of the scientific community accepting evolution, the Washington Post reported.
A number of Liberty students came out against Trump in October after a 2005 tape leaked that showed Trump bragging about grabbing women by genitalia. Falwell stood by the then-GOP nominee, and now the evangelical leader seems poised to help shape the president-elect's administration.
Falwell might not be the secretary of education, however. Buzzfeed News reported Monday the two finalists were school reformer Michelle Rhee and Republican donor Betsy DeVos.
© Copyright IBTimes 2023. All rights reserved.
FOLLOW MORE IBT NEWS ON THE BELOW CHANNELS