Who Is Lee Joon-Seok? South Korean Ferry Captain Apologizes And Faces Criminal Investigation For Sewol Sinking [PHOTO]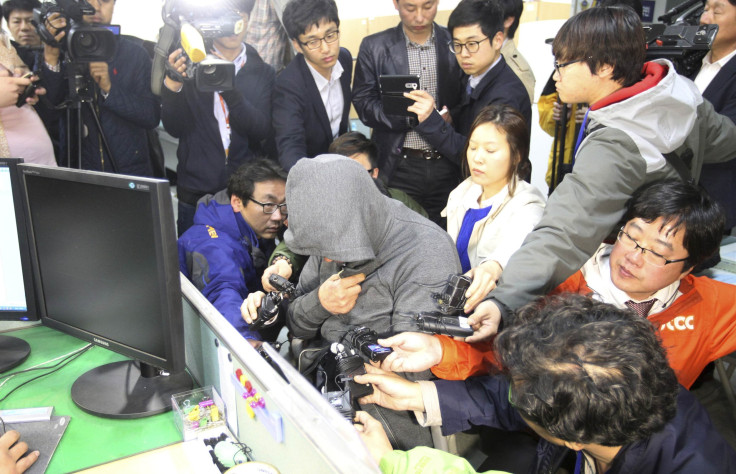 Search and rescue teams and volunteers continued their search on Thursday for the hundreds of missing passengers of the ferry that capsized and sank off South Korea, while officials have begun investigating the actions taken by the ferry captain. According to several unconfirmed reports, he was among the first people to abandon the ferry has it began to sink.
The Sewol ferry captain, Lee Joon-seok, 69, was being questioned by the South Korean coast guard and faces a criminal investigation said an official quoted by Reuters. According to several local reports, the captain faces possible charges of negligence and violating maritime laws which govern ship crew conduct.
"I am really sorry and deeply ashamed. I don't know what to say," Lee said in front of South Korean media.
"I apologize to the passengers and victims and families," Lee added, according to Reuters.
Explanations of how the incident happened have not surfaced. However, plenty of apologies for the ferry sinking have been made. President of Chonghaejin Marine Co., Kim Han-Sik, was seen visibly in tears as he made a public apology in front of reporters.
Many questions of the actions taken by the ship's captain continue to been raised as a result of the accident which has left at least nine people confirmed dead and approximately 290 still missing and unaccounted for.
Lee, the captain of the sunken ferry, was filling in for the ship's normal captain, ferry operator Chonghaejin said according to Reuters. However, he has over 40 years of experience at sea and had previously traveled the route before.
Despite Lee's experience, attention continues to be focused on Captain Lee, due to the several unconfirmed reports where some survivors claim that the captain was one of the first people to be rescued from the sinking ferry. However, none of the survivors actually saw him leave the ship, reports the Independent.
Among other questions being asked is why ship officers didn't immediately evacuate the sinking ship as it began to capsize. Crewmember, Oh Yong-seok, 58, told the Associated Press that the crew was ordered to put on life jackets and stay in place. However, there's doubt on whether or not the same order was also transmitted to passengers through the ship's public address system.
Ultimately the ship may have been finally ordered to evacuate when it was already too late, preventing life boats from being deployed and making it nearly impossible to help passengers out of their rooms on board the sinking ferry.
The alleged actions of the ferry captain have not been confirmed or denied by officials. However, if Captain Lee did abandon ship first, his alleged actions would mirror those of captain Francesco Schettino, who abandoned the Costa Concordia cruise ship soon after it ran aground and capsized in 2012.
The cause of the ferry sinking is currently unknown and under investigation by authorities.
© Copyright IBTimes 2023. All rights reserved.