Who Is Melania Trump? Donald Trump Wife Is A Former Model Who Divides Time Between Family, Philanthropy And Opulence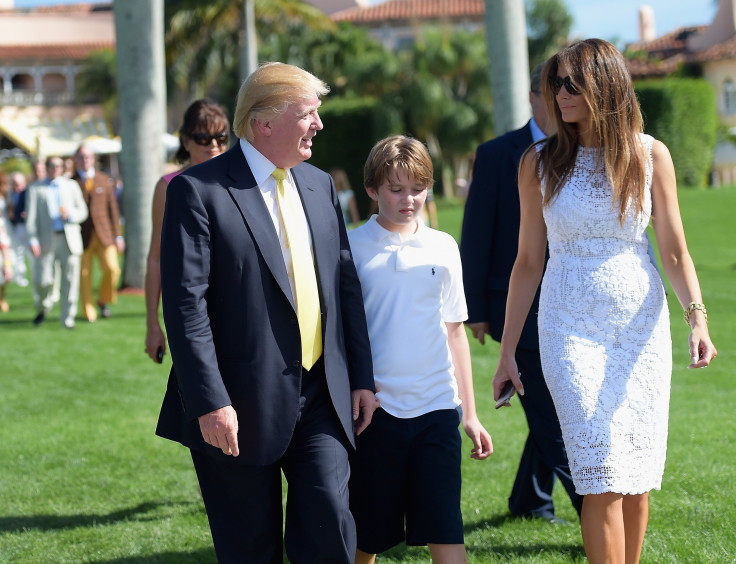 While the wives of some presidential hopefuls have come out front and center for their husbands, the Slovenian former model married to Donald Trump has remained pretty quiet since her husband announced his campaign for the White House. Melania Trump, the considerably more mellow of the pair, said in the past she was not quite ready to start thinking about taking on the role of first lady.
That was in 2012, when news first started to buzz of a potential Trump presidential bid. But with her husband's popularity soaring in the polls ahead of the 2016 contest, a Mr. and Mrs. Trump in the White House, joined by 9-year-old son, Barron, is looking considerably less far-fetched. A recent CBS poll found Donald Trump leading by a significant margin in a fractured Republican party, with nearly a quarter support.
If the Trumps move into the White House, expect more 1 percent touches than under any previous administration, Politico forecasted. Melania, 45, like her real-estate tycoon husband, is known for her opulent lifestyle, and was famously photographed by Vogue wearing a $200,000 custom Christian Dior dress to their wedding. Her closet is filled with designer handbags and expensive silky outfits, and she has launched her own anti-aging cosmetics and luxury jewelry brand.
The White House might even be a step down from their majestic high-rise, which features a marbled fountain in the living room and golden cherubs.
Trump has identified herself as a "working mom," and said she has been busy raising Barron, who the couple has generally kept out of the spotlight. She told Refinery29 she hoped her son would understand how other people live and said she encouraged him to "give back." Trump has also been involved in a number of philanthropic causes in recent years and served as the American Red Cross' Good Will Ambassador from 2005-2009.
The couple married in 2005, six years after Trump divorced his second wife, Marla Maples, but Melania wasn't easily won over by the businessman at first, who she reportedly turned down when he first asked her on a date, Heavy reported. She has received some flak for marrying the business tycoon, as some in the blogosphere have termed her a "gold digger."
The cover of Vogue magazine that featured her wearing the $200,000 dress was titled, "How to Win Over a Millionaire." Asked whether that bothered her, Melania spoke confidently: "People can say whatever they want, but first, you need to be happy with yourself. People say all sorts of stuff, and they will talk, but you just need to live your life."
Her husband, known for his outlandish and bold statements, might not seem like the romantic type, but Melania said they have a great and loving relationship. "It's a different romance than maybe some other people [have], but he's [a] very different man anyway," she told Entertainment Tonight.
© Copyright IBTimes 2023. All rights reserved.