Who is Tayyib Rashid? Muslim Marine Whose #MuslimID Tweet To Donald Trump Went Viral Says He Bleeds Red, White And Blue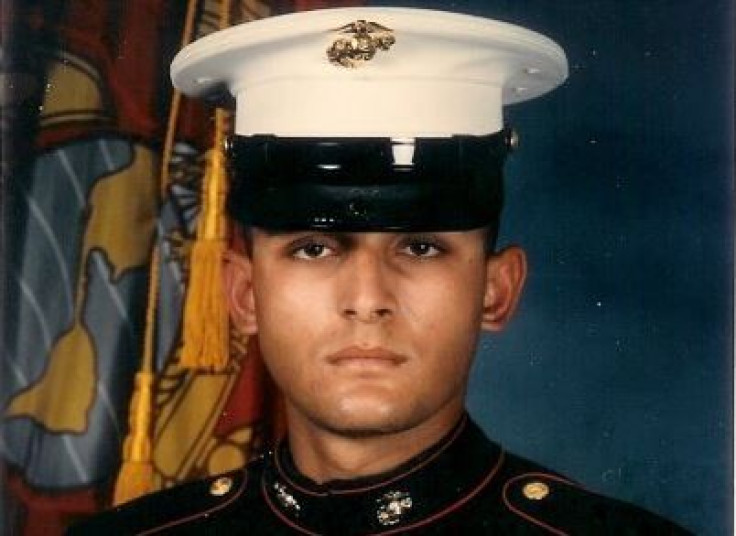 When Sergeant Tayyib Rashid heard Donald Trump's call for all American Muslims to carry special identification, he simply couldn't stay silent. A Muslim himself, the 38-year-old former Marine from Chicago says Trump's comments hit a nerve.
"I got borderline angry that he would make such a comment and try to drive a wedge between Muslims serving in the U.S. armed forces and people who aren't Muslim. I felt the need to call him out -- particularly because Trump himself has never served," Rashid told International Business Times, adding that he has carried two special ID cards -- one that identified him as a Marine, and later, one that identifies him as a veteran.
So Rashid, whose Twitter handle is @MuslimMarine, fired off a tweet to Trump on Thursday with a picture of one of those ID cards asking the Republican presidential candidate, "Hey @realDonaldTrump, I'm an American Muslim and I already carry a special ID badge. Where's yours?"
Rashid never expected his message to go viral, but that's exactly what happened. As of Saturday afternoon, his post has been re-tweeted more than 26,000 times and "favorited" by 35,000 people and counting. It has even launched the hashtag #MuslimID, in which American Muslims are sharing pictures of their own ID cards from work, school and volunteer organizations.
Rashid, who moved with his family to the United States from Pakistan at the age of 10 and became a U.S. citizen shortly thereafter, says there has never been a conflict between his faith and his American identity. He joined the Marine Corps in 1997 at age 19 and served five years of active duty, deploying overseas to Italy, Saudi Arabia and Germany.
"I had a lot of conversations about life with my father growing up, who said we're fortunate to live in America, a land that's offered us freedom of religion and speech. He also told us that those freedoms come with responsibilities," said Rashid, who belongs to the Ahmadiyya Muslim Community, a worldwide reformist movement within Islam that has faced violent persecution in some Muslim countries, including Pakistan.
"The Prophet Muhammad said that being loyal to your country of residence is part of faith. As a young man, I wanted to serve my country by enlisting in the Marine Corps. My father was 100 percent supportive," he said.
During his time in the Marine Corps, Rashid says he served with people of various ethnicities and faiths, but that those differences were "never a dividing issue. Nobody is marginalized. We can disagree, but at the end of the day, we all bleed red, white and blue and we have each other's backs."
Many of those same Marines have been speaking up in favor of their colleague's words. Rashid was particularly touched when a Marine he served with -- one with whom Rashid disagrees with on many political issues -- reached out to him after he appeared on "The Last Word With Lawrence O'Donnell" on Friday night.
"If we (all people no matter what religion) all could do what you discussed...this world would be a much better place. Very proud of you!" read the message his friend left for Rashid on Facebook.
Rashid said plenty of veterans have contacted him with words of support and he explained that he's heartened by the overwhelmingly positive response to his tweet from all stripes of people -- conservatives, liberals, veterans, Christians, Muslims and others. And while he's gotten some hate mail, as well, it hasn't fazed him: "Haters are gonna hate. Anybody who has a bigoted disposition and a hateful mindset is going to find a reason to be nasty. I just try to ignore them."
His mission of service didn't end with his time in the Marine Corps, Rashid said. When he's not working as a human resources executive at a pharmaceutical company or spending time with his wife and three young children, Rashid focuses much of his time on volunteer work and community service.
"The spiritual leader of our religious community speaks out about the importance of Muslims being of service to humanity, so that people know Islam because of the good works we do, instead of some of the extremist interpretations of Islam that are out there," said Rashid, referring to Mirza Masroor Ahmad, the worldwide head of the Ahmadiyya community. "That's our mission -- to live by the example set by our beloved prophet Muhammad."
© Copyright IBTimes 2022. All rights reserved.
FOLLOW MORE IBT NEWS ON THE BELOW CHANNELS