Why 20th Century Fox Is Building Its First Theme Park In Malaysia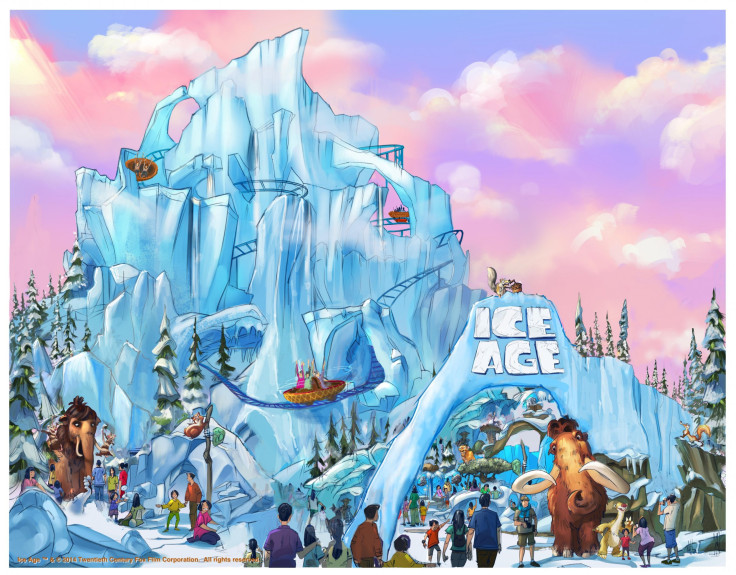 Twentieth Century Fox will give Walt Disney and Universal Studios a run for their money in 2016 when it opens its first-ever film-inspired theme park. But before you book a ticket to Florida or California to check out the new "Ice Age" roller coaster, there's a catch: This 25-acre park will rise from the jungle about an hour outside of Kuala Lumpur, Malaysia.
Twentieth Century Fox Consumer Products, in partnership with Genting Malaysia, announced Tuesday the theme park's (rather underwhelming) new name: Twentieth Century Fox World. The groundbreaking ceremony brought together executives from both Fox and Genting, as well as Prime Minister Najib Razak.
"The opening of the first Twentieth Century Fox Theme Park at Resorts World Genting takes our rich history of storytelling to a whole new level and will provide an exceptional entertainment experience," Jeffrey Godsick, president of Twentieth Century Fox Consumer Products, said in a statement. "People from around the world will gather here in Malaysia to become part of the story and to experience the magic and adventure of their favorite Fox properties."
It's no wonder Twentieth Century Fox decided to dip its toes into the theme park business. Over at Walt Disney Company, it is theme park earnings that have offset big-budget movie flops like "The Lone Ranger" and "John Carter." Indeed, while segment operating income decreased $61 million for Disney's studio entertainment business in fiscal 2013, segment operating income for its parks and resorts soared 17 percent to $2.2 billion.
Universal Studios, too, has found massive success in adapting its films into themed attractions. The Wizarding World of Harry Potter, for one, opened in June 2010 and boosted overall paid admissions to Universal's Orlando, Fla., parks by 20 percent that year, while revenue from food, beverages and merchandise was up 29 percent.
Late to the thrill ride party, Twentieth Century Fox has already licensed some of its biggest franchises to other parks, including "The Simpsons" (Universal Studios) "X-Men" (Universal Studios) and "Avatar" (Walt Disney). Instead, its Malaysian park will feature roughly 25 thrill rides and attractions based on films like "Rio," "Ice Age," "Life of Pi," "Planet of the Apes" and "Alien vs. Predator."
Twentieth Century Fox announced that it had brokered a deal to open an amusement park in July, but did not release any further details on what would be inside or what it would be called until the groundbreaking this week.
Resorts World Genting noted at the event Tuesday that it had upped its investment from $125 million to more than $300 million, making the new attraction the biggest-ever expansion of its nearly 30-year-old leisure and entertainment complex in Genting Highlands (where altitude tempers the tropical heat).
"With its mix of rides, attractions and movie-fantasy appeal, Twentieth Century Fox World will definitely pave the way for the continued growth of Resorts World Genting with next-level family entertainment experiences which will attract tourism dollars to Malaysia," Genting Malaysia CEO Tan Sri Lim said in a statement. Other new developments at the hilltop resort include a 10,000-seat arena, a new cable car station and a "shopping haven" of premium outlets.
Fueled by Asia's emerging middle class, Malaysia is now the second most visited country on the continent after China and the 10th in the world with more than 25 million arrivals in 2012. Genting's six Malaysian properties alone attract nearly 20 million domestic and international guests a year, and the company believes many visitors to the new park will come from as far away as China and elsewhere in Asia.
Malaysia has made a name for itself in recent years as the theme park capital of Southeast Asia, and is home to the continent's first Legoland amusement park, located in yet another development corridor near the southern city of Johor just across the border from Singapore. The $243 million park opened in September 2012 with 40 rides, shows and attractions, and added a new water park in October of this year.
Greg Lombardo, vice president of location-based entertainment for Twentieth Century Fox Consumer Products, called Malaysia a natural selection for the company's first park. "The creation of a world-class entertainment destination in a vital market like Asia is a landmark step in Fox's global theme park strategy," he said in a statement. It "extends our brand and engages audiences in new and exciting ways."
© Copyright IBTimes 2022. All rights reserved.
FOLLOW MORE IBT NEWS ON THE BELOW CHANNELS