Why China's Privately Held Car Companies Like Geely, BYD And Great Wall Can't Seem To Compete With State-Owned Companies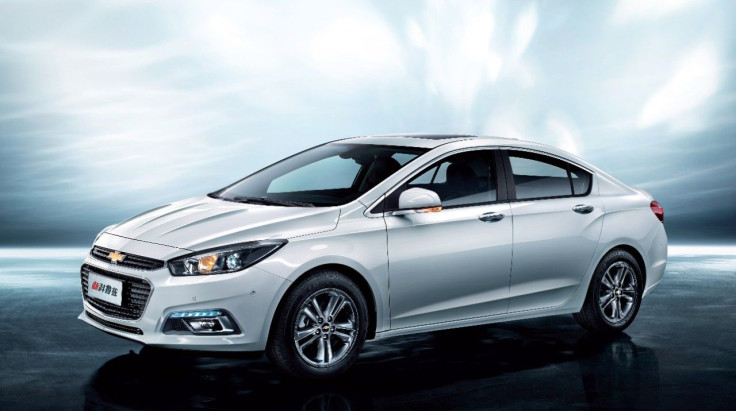 General Motors recently released its first compact car built on its new D2XX vehicle platform that will be used for at least seven upcoming models, but instead of picking the U.S. as the first market to receive its latest welded steel base for Chevrolet, Buick and GMC compacts sedans and crossover SUVs, GM opted to release the new platform in China. The Chinese version of the 2015 Chevrolet Cruze built on the D2XX went on sale Friday in Beijing.
GM's nod to China with its newer, roomier and more stylish Cruze compact underscores how much attention foreign automakers are giving to the world's largest and fastest growing auto market. And financial figures being released now by Chinese and foreign automakers indicate when a domestic automaker wants to attract Chinese buyers, it helps to have a well-known foreign brand at its side.
"The cars being made by the domestic automakers in China are pretty much as good as anything that was made in the U.S. 15 years ago, but they're aiming at a moving target as foreign automakers continue to innovate," Greg Anderson, author of "Designated Drivers: How China Plans to Dominate The Global Auto Industry," said by phone Monday. "The Chinese are getting richer and the aspiration is to own a foreign brand. To be driving around in a Buick impresses your friends more than driving around in a BYD."
BYD Co. Ltd., the privately owned Chinese car and battery maker backed by Warren Buffet's Berkshire Hathaway Inc. (NYSE:BRKA), said Sunday its net profit fell 15.5 percent to $59 million in the first half of the year as its vehicle sales plummeted 27 percent. The news comes a month after another privately held automaker, Great Wall Motors, reported lower profits and shrinking market share in the first six months of the year.
Meanwhile, China's state-owned domestic automakers joined up with foreign brands seeking entry into the Chinese market are riding the rapid growth in the Chinese car market. Brilliance China Automotive recently announced a 79 percent jump in net profit, to $590 million, thanks largely to its partnership in making BMW brand cars and its prevalence in the local market for luxury wheels. Dongfeng Motor, which will soon announce its first-half financial statement in Hong Kong, is expected to report a 23 percent jump in profits to $1.1 billion, JPMorgan said, with the help of its relationship with Honda Motor Co. Ltd. (TYO:7267) and Toyota Motor Corp. (TYO:7203).
Chinese law requires foreign automakers to establish joint ventures with local manufacturers to gain access to the country's exploding population of consumers who can afford mid-level and luxury passenger cars, and the country isn't likely to bow to pressure from critics who say allowing foreign automakers to set up shop in China the same way they can in the United States and Europe would improve innovation.
Chinese officials say if they don't force foreign-local partnerships, then the country's home-grown automotive industry would be left in the dust as foreign automakers would dominate. But if that's the case, the policy isn't working: Chinese automakers continue to shed market share as consumers flock to foreign brand names like the Chevy Cruze. GM and Ford both reported double-digit year-over-year growth in China car deliveries in the first six months of 2014.
One of the more outspoken critics of China's policy is Li Shufu, the founder of Zhejiang Geely Holding Group Co. Ltd., whose company bought Volvo Car Corp. from Ford Motor Co. (NYSE:F) in 2010. Li says allowing the competition would be good for local innovation as more Chinese car companies would be forced to invest in research and development (R&D) instead of relying on technology transfers from companies like Volkswagen AG (FRA:VOW) and GM.
Anderson agrees.
"If those [privately held] companies were able to compete on a level playing field they would become formidable competitors," he said. "Private [Chinese] automakers have every incentive to invest. They have to sell their Chinese branded cars, but because foreign automakers are tied with state-owned companies, it gives them the advantage because they can forego R&D costs."
Last week, Volvo Car Corp. Chief Executive Håkan Samuelsson said sales from the Geely-owned Swedish carmaker are expected to be up 10 percent this year, to 470,000 units. In the first half the company swung back into profitability of $78 million compared to a loss in the same period last year. One of the main drivers of this growth has been Chinese demand for the Swedish marque. Technically, Geely and Volvo are separate companies, but for Volvo to expand operations in China it has been developing a closer local relationship with Geely. And this means Geely could emerge as one of the major private players in the Chinese market to benefit from technical guidance from a foreign automaker, much like China's top (and state-owned) car company, SAIC Motor, benefits from its relationship with GM and Volkswagen.
Geely could certainly use a hand. Like its privately held rivals BYD and Great Wall, the automaker reported a 20 percent drop in profit due to "competitive pressure on indigenous brands" that it expects to intensify in the coming years. Volvo is revealing this week in Stockholm its new XC90 turbocharged crossover, the first vehicle build under Geely's ownership on the company's new Swedish-designed new vehicle platform. The company has high hopes for the car in China.
© Copyright IBTimes 2023. All rights reserved.