Volvo XC90 Release: First Model Produced Under Chinese Ownership Will Be Revealed Next Week In Stockholm
There's a lot on the line for Volvo and its Chinese owner as they prep to unveil the 2016 XC90 next week in Stockholm. The luxury mid-sized crossover SUV represents two important moments in the Swedish car company's 87-year history: One, it's the first model in about a decade to be free of all Ford Motor Co. (NYSE:F) components. Second, it's the first Volvo to be produced under the ownership of Zhejiang Geely Holding Group Co. Ltd., a privately held Chinese car company chaired by billionaire industrialist Li Shufu.
Alain Visser, Volvo's head of sales and marketing, echoed comments made to International Business Times late last year by telling the Financial Times in a report published Monday that the XC90 is "our first car on our own." In other words, Volvo executives want consumers to identify the automaker with its historic association with efficiency and safety that it lost through Ford's failed management.
Ford bought Volvo for $6.45 billion in 1999 and sold it to Geely in 2010 for just $1.8 billion in the wake of the auto-industry crisis of 2009. Since then Geely has helped Volvo fund an $11 billion transformation centered on a new, leaner, one-size-fits-all architecture Volvo says can be used on all future models and body types.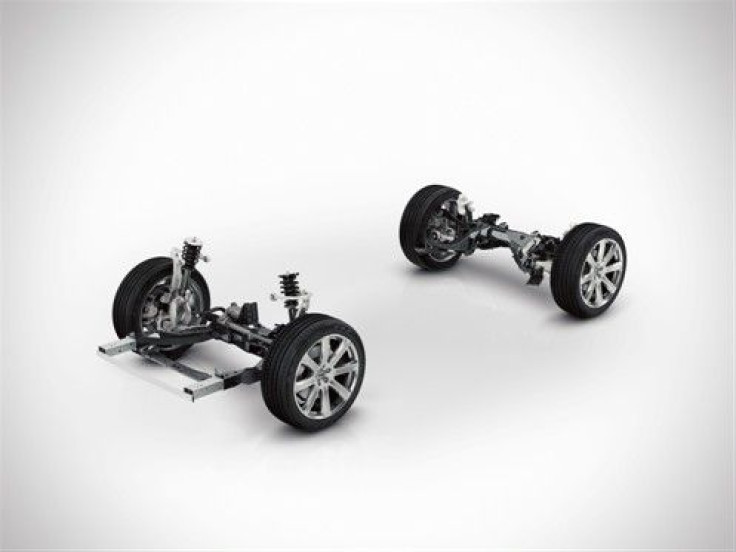 The company has also ditched V-8s and is embracing turbo four-cylinders that get a boost from electric engines. (Volvo is steering away from electric cars in general, however, calling them too niche.) The XC90 is powered with a turbocharged 302-horsepower 2.0-liter engine.
Now, four years into Geely's ownership, Volvo is putting all its chips on the XC90. The company has said it wants zero fatalities in its vehicles by 2020 and is hoping to reclaim its past association with safety by loading up its cars with all of the available body-protecting features as standard options, including auto braking and seat belts that tighten when the car runs off the road.
If Volvo and Geely can succeed with the XC90, which is aimed at buyers of the Audi Q7 and BMW X5, it would be the first time a Chinese carmaker has had marked success globally. State-owned SAIC Motor, China's largest car company which has joint operations China with General Motors Co. (NYSE:GM), failed in its effort to go global when it bought Korean automaker SsangYong in 2004. SAIC later sold its majority stake after facing allegations it stole SsangYong's hybrid technologies for its own domestic cars back in China, a charge SAIC denied. The company is now primarily owned by Indian automaker Mahindra & Mahindra Limited.
As Volvo prepared for its Aug. 28 event in Stockholm, chairman Li is calling for China to open up its auto manufacturing sector. "It's best if it's completely open, like in the U.S. and Europe; whoever wants to produce cars can do it," Li said in an interview with Bloomberg published Sunday.
Li is a major proponent for reforming the Chinese manufacturing sector. The billionaire industrialist founded Geely Automobile in 1986 and has since grown it to become one of the country's largest privately owned car companies. Under current rules, foreign car companies must form joint ventures with Chinese counterparts.
Li says that allowing foreign automakers to incorporate their own local subsidiaries would increase competition and lower prices. China has been going after foreign automakers in recent weeks for alleged anti-consumer price fixing schemes related to car prices and the cost of auto parts and servicing.
© Copyright IBTimes 2023. All rights reserved.