Why Dick's Sporting Goods Sold Off 8 Field & Stream Stores
As Dick's Sporting Goods (DKS) continues to evaluate its hunting and firearms business, the company has sold eight of its Field & Stream locations to Sportsman's Warehouse Holdings (SPWH).
The purchase affects three locations in Pennsylvania, two in New York, two in North Carolina, and one in Michigan. The eight stores will operate as Sportsman's Warehouse locations going forward.
Details of the transaction included a $28 million price tag for the inventory and assets of the stores, funded through Sportsman's Warehouse's revolving credit facility. According to the companies, Sportsman's will sublease the eight stores from Dick's Sporting Goods, with an expected transaction close date of Oct. 11.
Sportsman's Warehouse said the acquisition is in line with its strategy to grow its store locations after two years of debt restructuring and omni-channel and technology investments.
"We are very pleased to announce this opportunistic expansion of our current 95 store base through the acquisition of these 8 Field & Stream locations," Jon Barker, CEO at Sportsman's Warehouse said in a statement.
"Each of these stores operate in strong markets, with well-established customer bases. We look forward to serving these communities with our continued strong commitment to provide outstanding gear and exceptional service to inspire outdoor memories," he added.
The move by Dick's to sell off the Field & Stream locations keeps with its previously stated goal of realigning its focus away from its hunting and firearms business as it looks to concentrate more heavily on athletic specialty and sporting goods, SGB Media reported.
Dick's made the decision to move away from firearms, in particular, after the Parkland school shooting in 2018. The company has since removed hunting gear and firearm products from 10 stores, expanding the elimination of the merchandise from a total of 125 stores in Q3 of this year.
"Building off the success during the second quarter we removed the hunt category from approximately 125 additional stores," Dick's CEO Ed Stack said back in August about the decision. "Like the initial stores, we replaced it with categories and products that can drive growth. Though it's too early to discuss performance, we are optimistic these changes will better serve our athletes in these communities and generate positive results."
Sportsman's Warehouse posted a 3.3 percent increase in firearms sales in the second quarter of this year and a 5.3 percent increase in firearms and ammunition sales, according to the news outlet.
Shares of Dick's stock were up 0.15 percent as of 11:36 a.m. ET on Tuesday while shares of Sportsman's Warehouse stock were up 3.96 percent at the same time.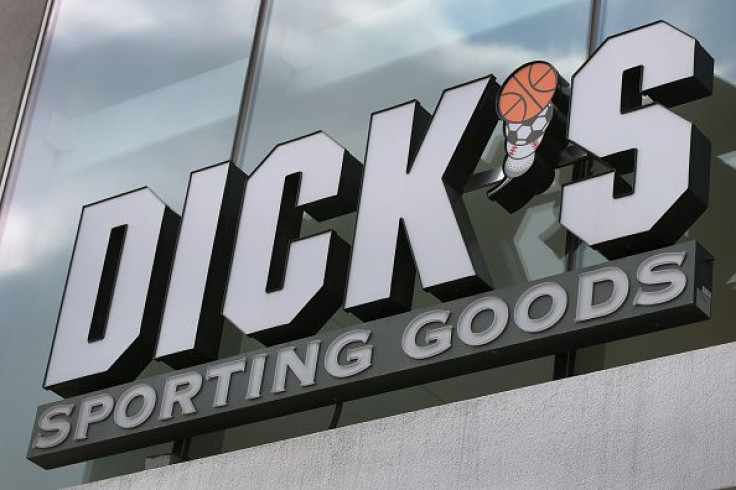 © Copyright IBTimes 2023. All rights reserved.