Woman Attempts Opening Cabin Door, Rants 'I Am God' After Being Tackled
An unruly woman passenger was restrained from opening the cabin door while on board a United Express flight Monday. A video released later Monday purportedly shows the woman being tackled as she ranted about being God.
United Express Flight 5449 was traveling from San Francisco to Boise, Idaho, when the woman passenger tried to open the aircraft cabin door. The woman was wrestled to the ground and a passenger could be seen in the video trying to tie her as another man holds her down in the aisle.
"I am God, I am God, I am God," she is heard screaming in the video.
The United Express flight had a total of 73 passengers on board. The incident did not result in any flight diversion and the plane landed in Boise at the scheduled arrival time.
​"SkyWest flight 5449, operating as United Express from San Francisco to Boise, landed safely in Boise after reports of a customer attempting to open the aircraft door," Layne Watson, a spokesperson from SkyWest, said in a statement. "The customer was restrained and law enforcement officials met the flight at the gate, where all passengers safely deplaned. The unruly customer was held for questioning by law enforcement."
According to reports, the woman was taken into custody of the Idaho Department of Health and Welfare and was placed under medical evaluation.
A representative for the Boise police reportedly said officers will forward the police report to the local prosecutor to decide if charges should be filed against the woman.
Police said no one was hurt and the FBI was currently investigating the incident.
This is not the first time such an incident occurred when a passenger attempted to open the cabin door mid-air.
In August last year, a young man on board an American Airlines flight tried to open the exit door while the plane was descending in Minnesota. The man was subdued and the plane traveling from Los Angeles landed safely.
In early August, a 17-year-old successfully opened the emergency door of a Copa Airlines airplane after it landed on the tarmac at San Francisco International Airport. The young passenger slid down the wing and onto the ground.
In another incident in May last year, an Air Canada flight was forced to make an emergency landing after an aggressive passenger allegedly began harassing flight crew and attempted to open the plane's cabin door mid-flight.
The plane was traveling from Montego Bay, Jamaica, to Toronto when the Canadian man identified as Brandon Courneyea started yelling at passengers. The plane was diverted to Orlando International Airport where the man was arrested following a nearly 45-minute ordeal aboard the flight.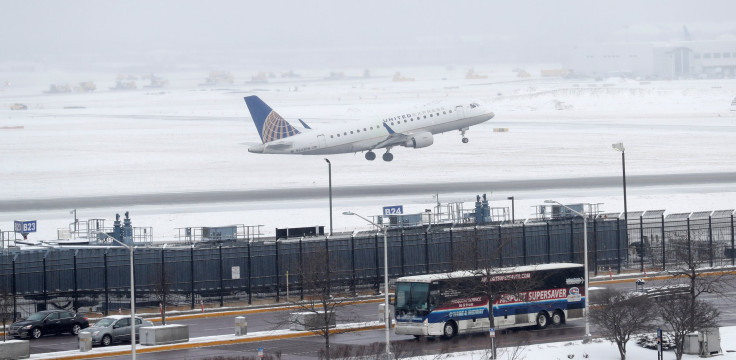 © Copyright IBTimes 2023. All rights reserved.
FOLLOW MORE IBT NEWS ON THE BELOW CHANNELS