Women Soccer Stars Added To EA's 'FIFA 16'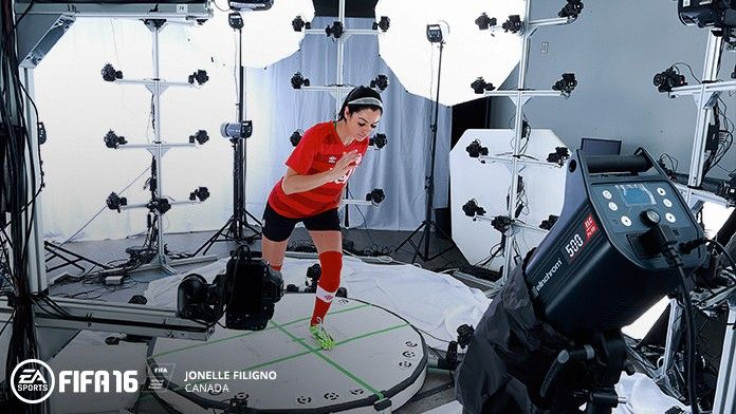 After Electronic Arts teased that new information on its "FIFA 16" soccer video game would be rolled out this week, the first tidbit has finally been released. Announced alongside a new trailer -- and just in time to coincide with FIFA Women's World Cup 2015 Canada -- EA confirmed Thursday that stars of women's soccer teams will now be playable characters.
In a blog post, EA announced the full list of 12 women's national teams that will be included in "FIFA 16." Of the 12 teams, eight will be from the top 10 teams currently ranked in the FIFA Women's World Ranking. According to EA, the female characters can be played in Match Day, Offline Tournament Mode and Online Friendlies.
To ensure that the players' physical features are captured, the developer has been working with the teams for mobile headscanning in various tournaments and events. The 12 teams named for "FIFA 16" are the following: Australia, Brazil, Canada, China, England, France, Germany, Italy, Mexico, Spain, Sweden and the U.S.
EA is aiming to bring a lot to the table with the introduction of female characters. IGN got an exclusive with David Rutter, a FIFA vice president and general manager, where it was revealed that this was the best time for female players to be introduced in the game.
"We've always felt that there were things that needed to be done in the game that were more pressing -- making passing work, or shooting, etc. But the fact of the matter is that the tools and the technology that we have on the game team now is at a level where you can really do the authenticity of the women's game justice," Rutter told IGN.
Part of the process in making this a reality is ensuring that the actual athletes' features and dimensions are captured and perfectly animated in proportion to female bodies. It's reportedly not a matter of replacing a female face on a male body. It's about capturing every movement and action of the female body and recreating and animating it for "FIFA 16."
This is an exciting diversification of gameplay in "FIFA 16." However, according to the report, there will still be the roster of male players from both national and international teams, and there is the limit of no women vs. men gameplay in "FIFA 16."
Previously, there had been speculation about license acquisitions, specifically those pertaining to UEFA, the governing body of European soccer, reports Attack of the Fanboy.
More information is expected to surface before the launch of the game Sept. 22. "FIFA 16" will be out on all major platforms, namely the PC, PS4, Xbox One, Xbox 360 and PS3.
EA 'FIFA 16' Women's Teams (Credit: YouTube/EA SPORTS FIFA)
© Copyright IBTimes 2023. All rights reserved.