World War 3? Russia Sends Missiles To Counter NATO Plans For Historic Military Baltic Buildup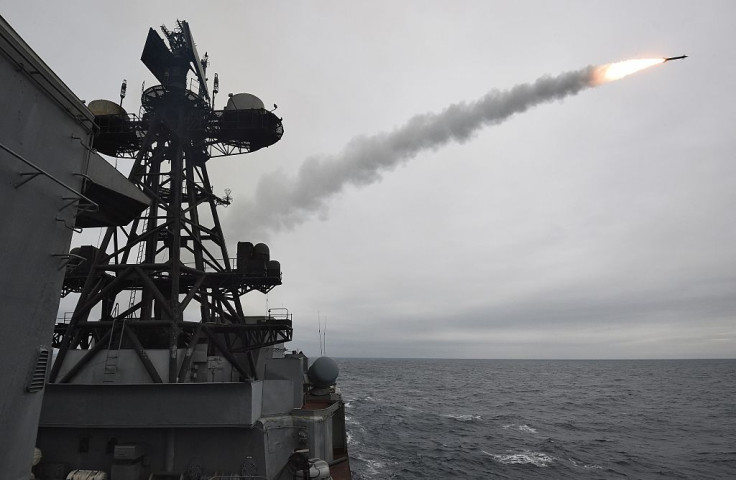 Russia has moved ships carrying long-range cruise missiles into the Baltic as NATO urged its members to commit to the biggest military buildup near Russia's borders since the Cold War. The development is the latest escalation between the two powers, Reuters reported Wednesday.
The Russian warships have already joined the Baltic Fleet and are armed with nuclear-capable Kalibr cruise missiles, which NATO calls Sizzler, claimed by the Russian military to have a range of over 930 miles. The weapons are not believed to be carrying nuclear warheads. The move comes during a period of major tension as NATO has begun to map out a huge military reinforcement along Russian borders.
The U.S., which is by far NATO's largest contributor, has pressed European member-states to form four major battle groups led by the U.S., Germany, the U.K. and Canada. These four groups are to be sent to Poland, Lithuania, Estonia and Latvia in response to what NATO leadership perceives as Russian military aggression in the region. Each group, which is expected to include countries such as Italy, France and Denmark, contains some 4,000 troops supported by armored infantry and drones. An additional 40,000 rapid-reaction force will also be available.
The alliance's strategy would be "a clear demonstration of our transatlantic bond," NATO Secretary-General Jens Stoltenberg told reporters Tuesday. Diplomats added that the development was also a message to Donald Trump, who has previously called NATO "obsolete" and accused Hillary Clinton of wanting to incite World War 3 with Russia.
The latest developments come at a time of major military expansion for Moscow. The U.S. has deployed 300 marines to Norway for arctic military drills Tuesday, while neighboring Finland has grown concerned about the messages it believes Russia is sending in the region. Russia has also heavily reinforced its Baltic Fleet and sought closer military ties with other powers such as Turkey and India. Citing disagreements with the U.S., Russian President Vladimir Putin announced the suspension of an important nuclear treaty Oct. 3.
Washington and Moscow have experienced major falling outs over international events in recent years. The U.S. has criticized Russia for its 2014 annexation of the former Ukrainian territory of Crimea and further aggression throughout the Ukrainian conflict. The two world powers have also found themselves at odds over the Syrian Civil War, with the U.S. supporting the Syrian opposition and Russia backing the Syrian government.
© Copyright IBTimes 2023. All rights reserved.
FOLLOW MORE IBT NEWS ON THE BELOW CHANNELS