'World Of Warcraft': Rise Of Azshara Update Goes Live On June 25
There's a major update coming to "World of Warcraft: Battle for Azeroth" that will include a new raid, a new dungeon, new zones, the ability to turn your mount into Jesus and more.
Patch 8.2, which is called Rise of Azshara, will add a new villain named Azshara to the game. It will also add a new zone called Nazjatar, an undersea city of the naga which is surrounded by waterfalls and can be found in the middle of the Great Sea. The other new zone is called Mechagon, which is an ancient lost city of gnomes who have an unhealthy obsession with robotics.
Players can expect these new zones to be full of quests that will push the main story forward. Blizzard announced the update and released a trailer for it, which you can watch below.
The new raid, called Azshara's Eternal Palace, has players going against the titular character. Azshara is the queen of the naga according to the "World of Warcraft" lore. She rules over them from the underwater city of Nazjatar, which is where the raid will take place.
Additionally, there will also be an update to the Azerite armor system that sees all rings on your armor slots fully unlocked, with added customization options. So for players who are not happy with the Azerite armor sytem, this patch should solve your issues.
The update also adds heritage armor for Tauren and Gnomes, so players can embark on specific quests searching for the extra fancy armor. A new progression system is also coming, and it will give players new abilities as they unlock Essences for their Heart of Azeroth necklace.
Patch 8.2 also contains an item that allows your mount to walk on water, hence the Jesus comment earlier.
The patch goes live on June 25. However, the content doesn't stop there as on July 9, Season 3 officially begins.
Season 3 will mark the opening of the new Azshara's Eternal Palace Raid, a new PvP season, and new Mythic+ Seasonal Affix Beguiling. Season 3 also comes with an overall item level increase, with Mythic Azshara's Eternal Palace dropping Level 445 Gear. The overall item level increase will also increase the number of available Essences only obtainable once the season begins.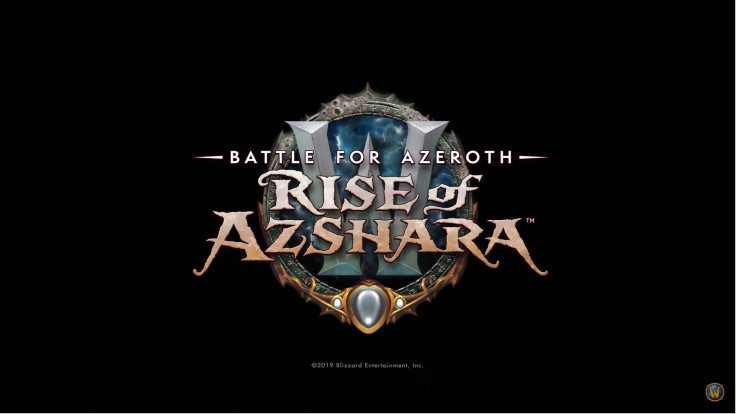 © Copyright IBTimes 2023. All rights reserved.