Worldcoin In Regulators' Crosshairs: German, French, Several Other Watchdogs Probing Crypto Project Over Data Concerns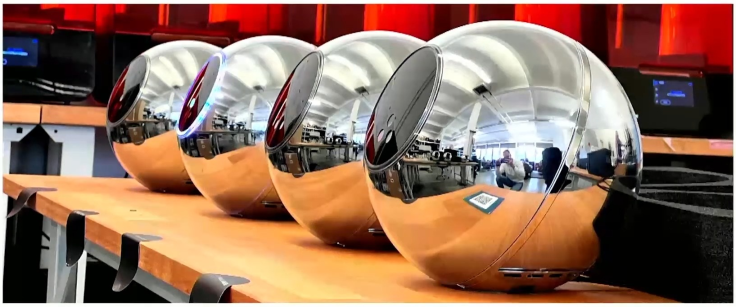 KEY POINTS
Regulators from the UK, France, Germany, Kenya and Mexico are currently looking into the project
Worldcoin dipped 40% a few hours after it was launched last month due to its controversial tokenomics
WLD was trading at $2.34 in the early hours of Tuesday
Worldcoin, the iris biometric cryptocurrency project that rewards people with free cryptocurrency for enrolling in its digital ID by scanning their eyes, is now in the crosshairs of regulators from different parts of the world over data concerns.
Regulators in the U.K., France, Germany, Kenya and Mexico are currently looking into the project spearheaded by Sam Altman, a known figure in the artificial intelligence (AI) industry and Alex Blania, a former National Geographic photographer and CEO of the tech company Odyssey.
Worldcoin, which was officially launched last month, is an ambitious project that offers a World ID, or a "digital passport," for a world in which it's harder to distinguish humans from AI robots. To get a WLD crypto token, customers have to sign up for an iris scan, which will be done using an "orb" device.
Worldcoin dipped by 40% a few hours after it was launched on July 24 due to its controversial tokenomics, with many already raising their eyebrows about the project and the way the team handles data collected from users.
The Information Commission Office (ICO), the privacy authority in the U.K., has started an investigation into the project following its launch in the region and promised to conduct further investigation, Reuters reported.
The watchdog also underlined the need for any organization to conduct a Data Protection Impact Assessment before processing any data that could pose a risk to the public, particularly in the special biometric data category.
France's privacy watchdog CNIL has also raised concerns about Worldcoin, saying the project's collection and storing of data is questionable. The regulator said it is not comfortable with the conditions for handling biometric data.
The Bavarian State Office for Data Protection Supervision in Germany started investigating Worldcoin last November over concerns that the initiative would use new technology to process "sensitive data at a very large scale." Its president, Michael Will, revealed the Bavarian State Office is the chief authority conducting an investigation under the EU data protection rules since Tools for Humanity, the tech company behind Worldcoin, has a German subsidy.
"These technologies are at first sight neither established nor well analyzed for the specific core purpose of the processing in the field of transferring financial information," Will said, adding that this could lead to several risks, including whether users have consented to their highly sensitive biometric data being processed based on "sufficient and clear" information.
The Office of the Data Protection Commissioner (ODPC), Kenya's data watchdog, is also looking into Worldcoin. It has asked the public to exercise vigilance while enrolling in the project. The regulator also raised concerns about the way Worldcoin processes sensitive personal data, as well as its compliance with the country's Data Protection Act of 2019.
"As the ODPC conducts its assessment of Worldcoin's practices to ensure compliance with the law, Kenyans are urged to ensure that they receive proper information before disclosing any personal or sensitive data," the Kenyan watchdog said. "Individuals are advised to thoroughly inquire about how their data will be used."
Privacy advocates in Mexico are sounding the alarm about Worldcoin as it could put users at risk of data breaches and abuses due to the country's weak data protection laws.
The Worldcoin Foundation said last week that it adheres to the rules of the European Union and will continue to work with various regulatory and governing bodies' requests for details on its privacy and data protection practices.
"Biometric data never leaves the Orb. Once you've signed up, it's permanently deleted," Worldcoin's privacy page read. "Your biometric data is first processed locally on the Orb and then permanently deleted. The only data that remains is your IrisCode. This IrisCode is a set of numbers generated by the Orb and is not linked to your wallet or any of your personal information. As a result, it really tells us — and everyone else — nothing about you. All it does is stop you from being able to sign up again."
"Since you are not required to provide personal information like your name, email address, physical address, or phone number, this means that you can easily sign up without us ever knowing anything about you.," Worldcoin said on the website.
WLD, the native token of the Worldcoin project, has slowly climbed back since it plummeted last week but still has not reclaimed the $3.00 price level.
As of 3:15 a.m. ET on Tuesday, WLD was trading at $2.34, with a 24-hour trading volume down by 34.42% at $103,298,001 – representing a 3.37% increase in the last 24 hours and a 14.74% increase over the past seven days.
WLD's total circulating supply stands at 114,925,266, and its value is up by 4.35% at a market cap of $268,676,290, according to data from CoinMarketCap.
© Copyright IBTimes 2023. All rights reserved.