Worldwide Smartphone Subscriptions To Reach 5.6 Billion By 2019 With Networks To Cover 90 Percent Of World's Population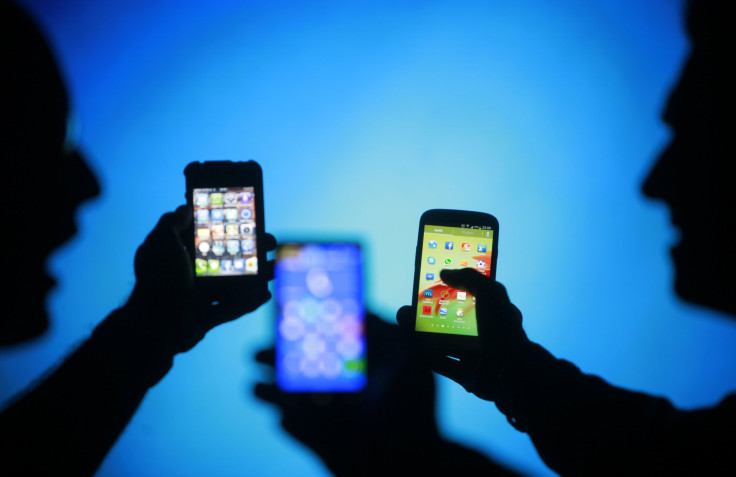 With the popularity of smartphones increasing among consumers, a new report released on Monday expects worldwide mobile-phone subscriptions to reach 9.3 billion by 2019, with smartphones accounting for 5.6 billion, or more than 60 percent, of those subscriptions.
According to the latest Mobility Report, released by Ericsson (NASDAQ:ERIC), a Stockholm, Sweden-based provider of communications technology and services, both WCDMA and HSPA networks are estimated to cover 90 percent of the world's population over the next six years. In addition, nearly 65 percent of the world's population is expected to be covered by 4G LTE (long-term evolution) networks.
"The rapid pace of smartphone uptake has been phenomenal and is set to continue," Douglas Gilstrap, senior vice president and head of strategy at Ericsson, said in a statement. "It took more than five years to reach the first billion smartphone subscriptions, but it will take less than two to hit the 2 billion mark. Between now and 2019, smartphone subscriptions will triple."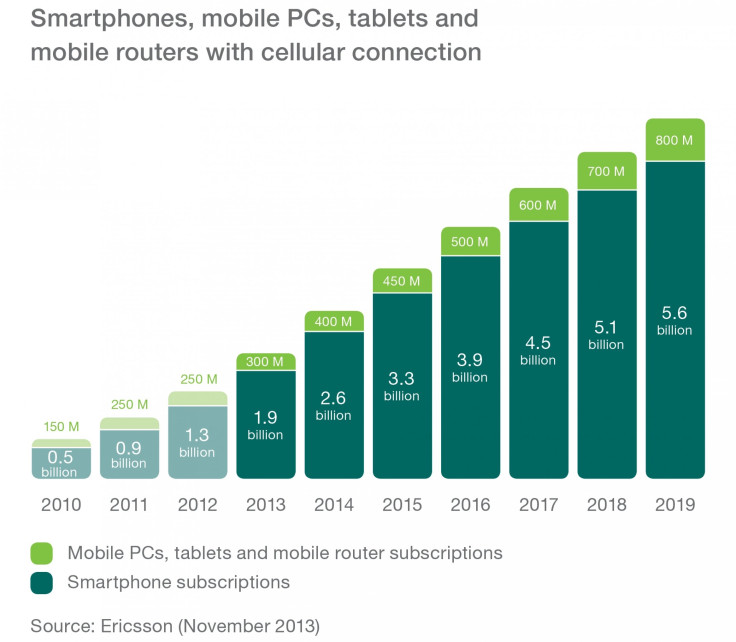 On average, smartphones have represented 25 percent to 30 percent of all mobile-phone subscriptions. However, in the third quarter of this year, smartphones accounted for the majority -- 55 percent -- of all mobile phones sold during the period.
"Interestingly, this trend will be driven by uptake in China and other emerging markets as lower-priced smartphone models become available," Gilstrap said.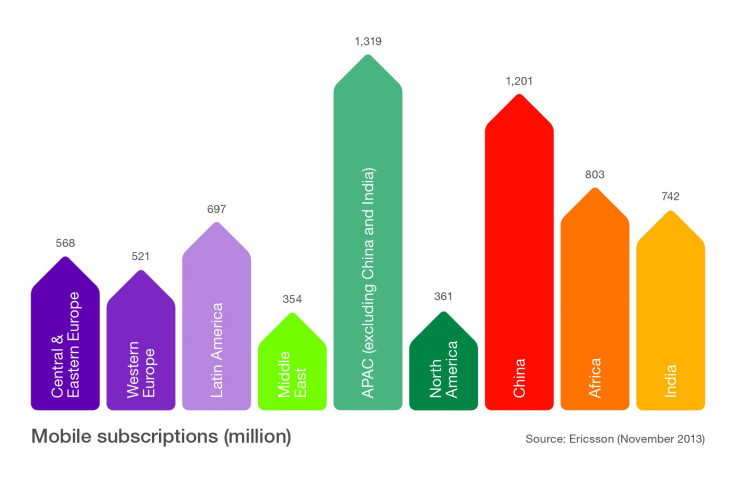 The report also said the number of mobile-broadband subscriptions will quadruple to 8 billion by 2019 from today's 2 billion subscriptions.
"The amount of data sent by each smartphone will also quadruple up to 2019," Johan Wibergh, executive vice president and head of business unit networks at Ericsson, said in a statement. "That means, in 2019, over a period of just two weeks, five exabytes of information will be sent by the average smartphone user."
According to the report, online video will represent more than 50 percent of all mobile-data traffic in 2019, while social networking and Web services will account for about 10 percent each by that period.
While 80 percent of all mobile-phone subscriptions are on the 2G network today, the scenario will change drastically in the next six years, by which time 80 percent of all subscriptions will likely be attributed to 3G or 4G networks, the report said.
© Copyright IBTimes 2023. All rights reserved.