Xbox SmartGlass Debuts At E3 2012: Microsoft Beats Apple, Not Nintendo, With Integrated Living Room Solution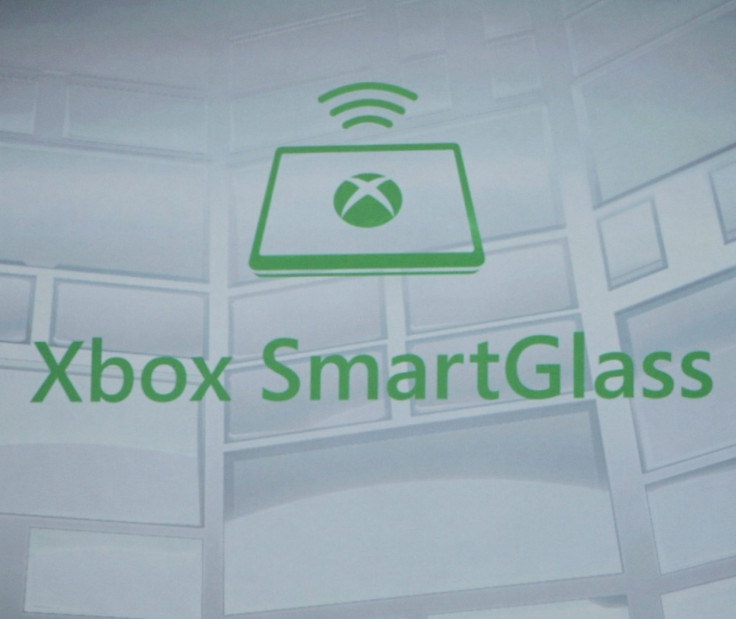 On Tuesday, Microsoft unveiled a stunning new technology platform at the Electronics Entertainment Expo (E3) in Los Angeles called SmartGlass, which essentially connects the television and the Xbox to smartphones and tablets, letting users consume their media in a much simpler and more fun way.
By connecting the Xbox 360 with Xbox Live and Kinect, users can vocally or digitally command their TVs to play movies, music, TV shows and games, and now surf the Web -- Microsoft officially announced Internet Explorer will join the Xbox experience. But SmartGlass is primarily an application: By downloading a SmartGlass app to their smartphones or tablets, users can watch shows or listen to music on the TV, but when it's time to head out the door, users can pick up exactly where they left off directly on their smartphones and tablets. It's similar to Apple's version of AirPlay, which connects the Apple TV with MacBook, iPhone, and iPad devices.
SmartGlass also makes your tablet or smartphone into an intelligent supplemental screen when content is being shown on your TV via Xbox. For instance, if you're watching HBO's Game of Thrones, SmartGlass can offer useful contextual information, like watching the characters' locations on a world map as they travel in the show. In games like Madden, players will be able to use SmartGlass to draw up the next play on their smartphone or tablet. All in all, SmartGlass is packed with features, but it's an incredibly simple and fluid experience. More importantly, users can't enjoy the experience without owning an Xbox.
Microsoft is likely celebrating its exciting announcement; on the flip side, Nintendo and Sony are both likely feeling worn down. Nintendo must be particularly miffed: The company unveiled a prototype of its next-generation gaming console last year, called the WiiU, and that system similarly centered around a game controller with a large screen in the center, which allowed users to share content from screen to screen, and also use the handheld screen to learn contextual clues about the game or content you're watching (sound familiar?). However, Nintendo's WiiU platform isn't the complete package like Microsoft's SmartGlass: WiiU has the Internet and games, while SmartGlass has the Internet, games, movies, TV shows, and music. Smartglass seamlessly integrates all the media you could possibly want, while Nintendo's clunky solution is simply not on-par.
But even though Microsoft directly competes with Nintendo at these E3 expos, the WiiU wasn't the target here: SmartGlass is out to compete with Apple and the Apple TV. This is essentially Microsoft saying: Do you have a better idea for a TV experience than this, Apple? We'd like to see it now.
Rumors of an Apple-made television have been circulating since the death of Apple co-founder Steve Jobs in October, but it seems like an iTV would be many months, if not years, away. In the meantime, Apple CEO Tim Cook has stood behind the Apple TV device, noting that Apple will only build a television if it can make a significant contribution beyond what others have made in this area.
We've stayed in the Apple TV business. That's unusual for us, Cook said at the D10 Conference in Rancho Palos Verdes, Calif.We're not a hobby kind of company. We put all our wood behind a few arrows. If something creeps in and isn't a big success we put our energies somewhere else... Last year, we sold 2.8 million Apple TV's. This year, in the first 6 months, we've sold 2.7 million. We've almost equalled last year. The customer satisfaction with that product is incredible. We're going to keep pulling this string and see where it takes us. Many people would say this is an area in their life that they aren't pleased with. They might not be pleased with many things about it. The whole TV experience. It's an interesting area. We'll have to see what we do. Right now our contribution is Apple TV.
Though others have attempted to create Apple's all-in-one TV solution, including IKEA and now Microsoft, Apple will build its TV at the pace it desires -- if it even decides to build one at all. In the meantime, Microsoft's SmartGlass blows the AirPlay-Apple TV solution out of the water. Even though Apple already has the iTunes Store for movies, TV and music and the Apple TV for watching these types of content, Apple can't compete with Microsoft's gaming solution in SmartGlass, and no Apple product besides the iPhone 4S takes vocal commands from its users. Unless Apple ports Siri to the iPad or Apple TV, Microsoft will have Apple thoroughly beat in the all-in-one living room solution.
Watch the video below, and let us know your impressions of Xbox SmartGlass in the comments section below.
© Copyright IBTimes 2023. All rights reserved.