Xiaomi MIUI 9 Update To Be Announced in August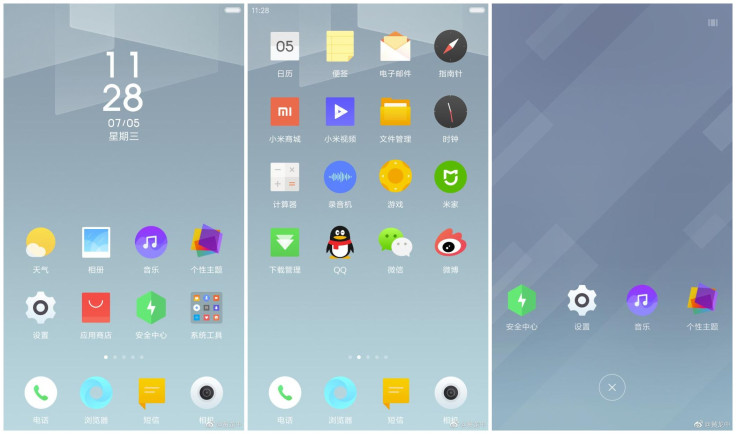 Smartphone manufacturer Xiaomi will unveil the upcoming version of its custom interface, MIUI 9, Aug. 16 in China. The popular MIUI fan forum shared Friday, details it learned about the software from a Xiaomi product manager.
There isn't much known about MIUI 9 at this time, but the software will most likely be based on Android Nougat and may also include some aspects from the Android O, which has not yet been released officially released by Google.
Read: Xiaomi Buys Patents From Nokia As Companies Enter Long-Term Partnership
However, Google is expected to announce Android O sometime during the third quarter of 2017, which could easily precede the MIUI 9 launch. Some rumors suggest MIUI 9 could include Android O features, such as split-screen and picture-in-picture. Xiaomi CEO Lei Jun has stated that users can expect a "more fluid and powerful" interface with MIUI 9.
There have been some reports, detailing which devices may be eligible for the MIUI 9 update; however, the MIUI forum claims the news is fake. Still, devices such as the upcoming Xiaomi Mi Mix 2 may be among those that will run MIUI 9 out of the box.
Read: Xiaomi Mi Max 2 Price And Specs Introduce 6.44-Inch Display And 5,300mAh Battery
Xiaomi is known for customizing its user interface far beyond that of the typical Android manufacturer. In particular, the MIUI interface often has a feel like Apple's iOS software. Since Google services are banned in China, manufacturers such as Xiaomi often include proprietary versions of stock Android applications, which further strips away the Google feel of the interface.
© Copyright IBTimes 2023. All rights reserved.