Yahoo Acquires Tumblr: Members Lament In GIFS and Memes [PHOTOS]
It appears that Tumblr founder and CEO David Karp has forgotten the first three rules of his infamous social networking site:
Rule 1: You do not talk about Tumblr.
Rule 2: You DO NOT talk about Tumblr.
Rule 3: If someone asks how it works you ignore them.
Yahoo will soon know all the inner workings of Tumblr as the search engine and news website confirmed its acquisition of the micro-blogging platform on Monday. Yahoo CEO, Marissa Mayer announced the $1.1 billion deal on her Tumblr page, insisting that Yahoo will not "screw up" the website, which has a cult-like following of nearly 120 million users, half of which are under the age of 25. Members have not kept quiet about their feelings on the Yahoo's acquisition and have taken to expressing themselves in true Tumblr fashion.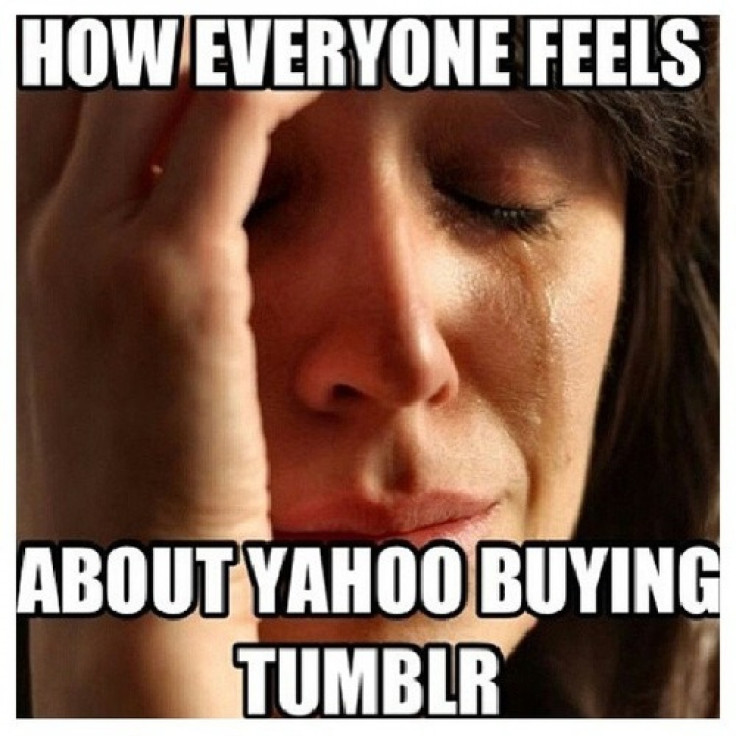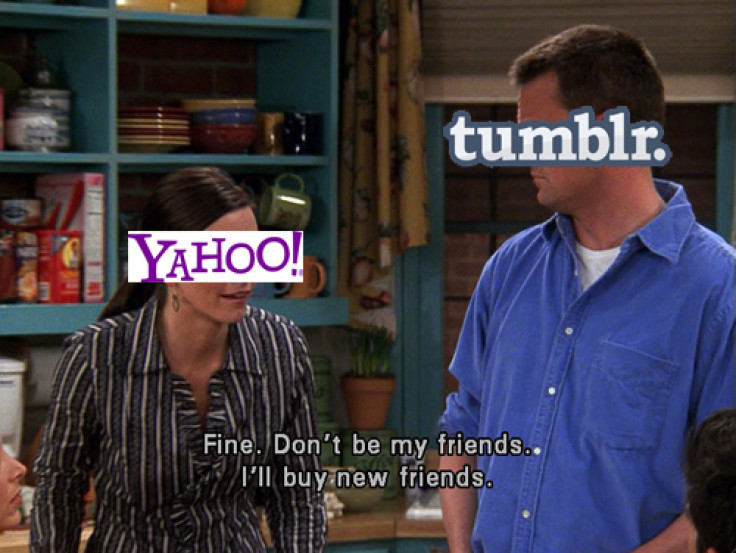 Both Karp and Mayer say that Tumblr will essentially remain the same, with the exception of a few more ads. "We really want to let Tumblr be Tumblr and let Yahoo be Yahoo," Mayer told Forbes, indicating that Tumblr will remain free of Yahoo branding. However, Tumblr users remain skeptical of Yahoo's intensions.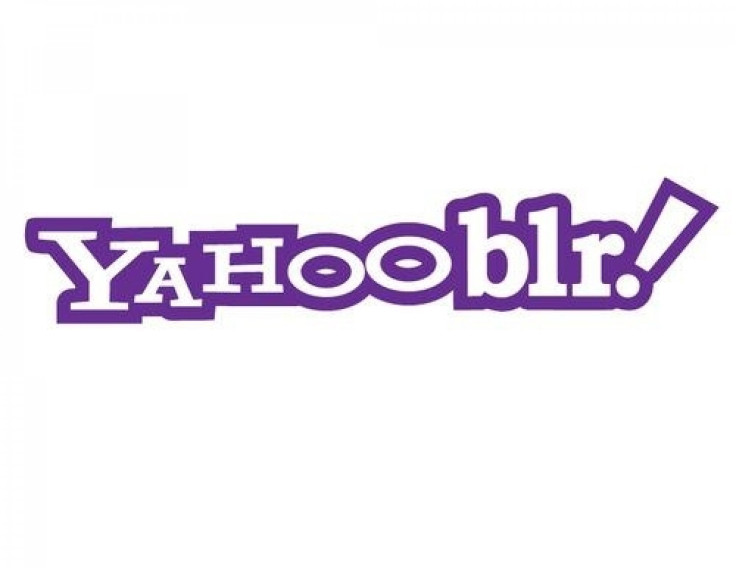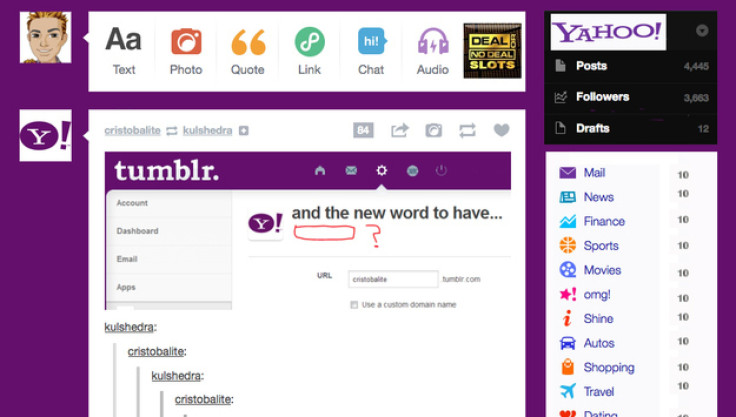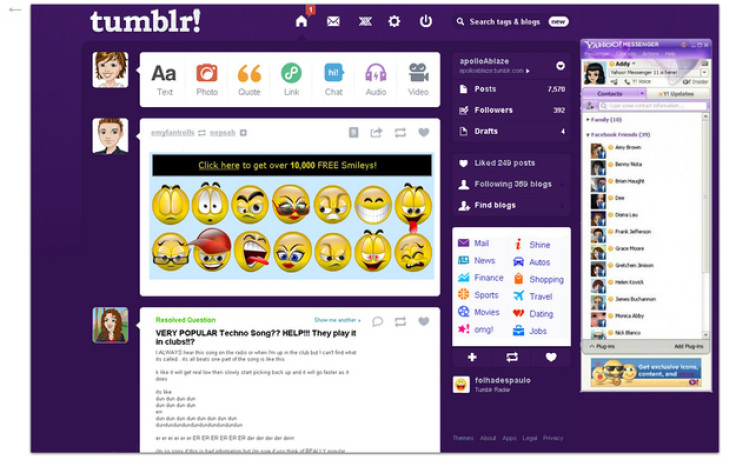 Mayer has compared Yahoo's acquisition of Tumblr to other famous acquisitions, noting that Google's purchase of Youtube and eBay's purchase of PayPal did not bring major changes to the websites of the acquired companies. However, it is also notable that YouTube now requires a Google account in order to log into the video media website. While users are accustomed it now, such changes were a source of duress for many long-time YouTube users when the acquisition was new. And Tumblr users reserve their right to complain, for a very long time.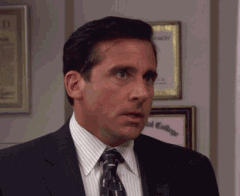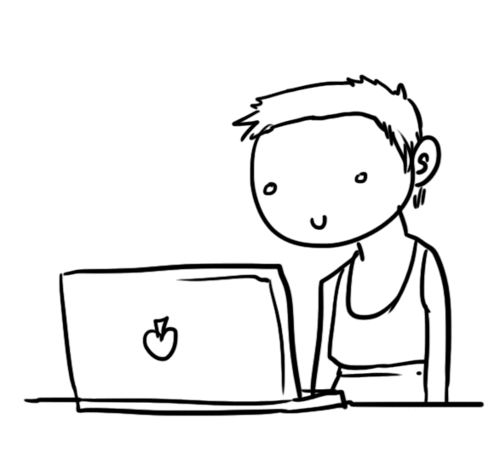 In fact, reports indicate that countless users have already jumped ship to other blogging platforms such as Wordpress. According to WordPress founder Matt Mullenweg, approximately 72,000 blog posts were imported from Tumblr to the still-independent blogging site on Sunday while talks of the acquisition remained in the realm of rumors.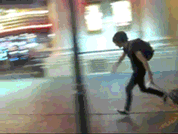 Yahoo wishes to capitalize on Tumblr's core demographic, which range in ages between 18 and 34. According to BuzzFeed, localizing Tumbr's demographic even more; it's most frequent users are between the ages of 18 and 24 and was not even alive when Yahoo was founded. Not only does this demographic have a limited presence on Yahoo, most don't even know what Yahoo is. Mayer indicates that Yahoo hopes to grow its audience by percent and its overall traffic by 20 percent with the inclusion of Tumblr users.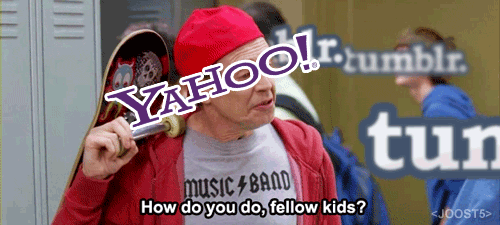 Many fail to see how Yahoo can benefit Tumblr; however, especially with the generation disconnect. Some also note that such websites as GeoCities and Del.icio.us met their ultimate demise after being acquired by Yahoo, which then did nothing to develop the sites, essentially leaving them to die. Hitting even more close to home for the present generation was Yahoo's acquisition of Flickr, the self-proclaimed "almost certainly the best online photo management and sharing application in the world," which has seen a rapid decline in the last three years under Yahoo. Tumblr users are afraid to see the same happen to their safe haven.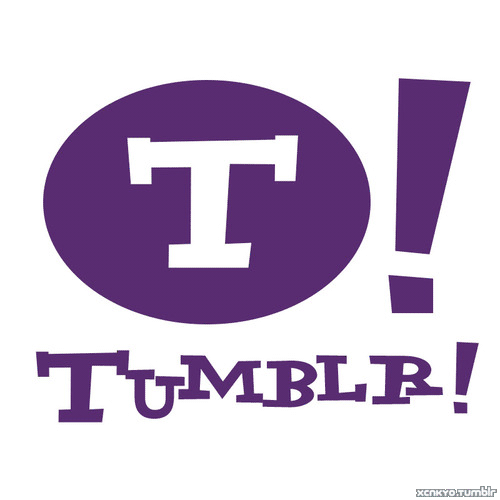 As for David Karp, he will remain CEO, having earned $250 million in the deal plus a small portion of Yahoo stock. For now, Tumblr's 175-employees will keep their jobs and Tumblr headquarters will remain in New York City. There is no saying what direction Tumblr will take under Yahoo. All users can do at this point is wait, and…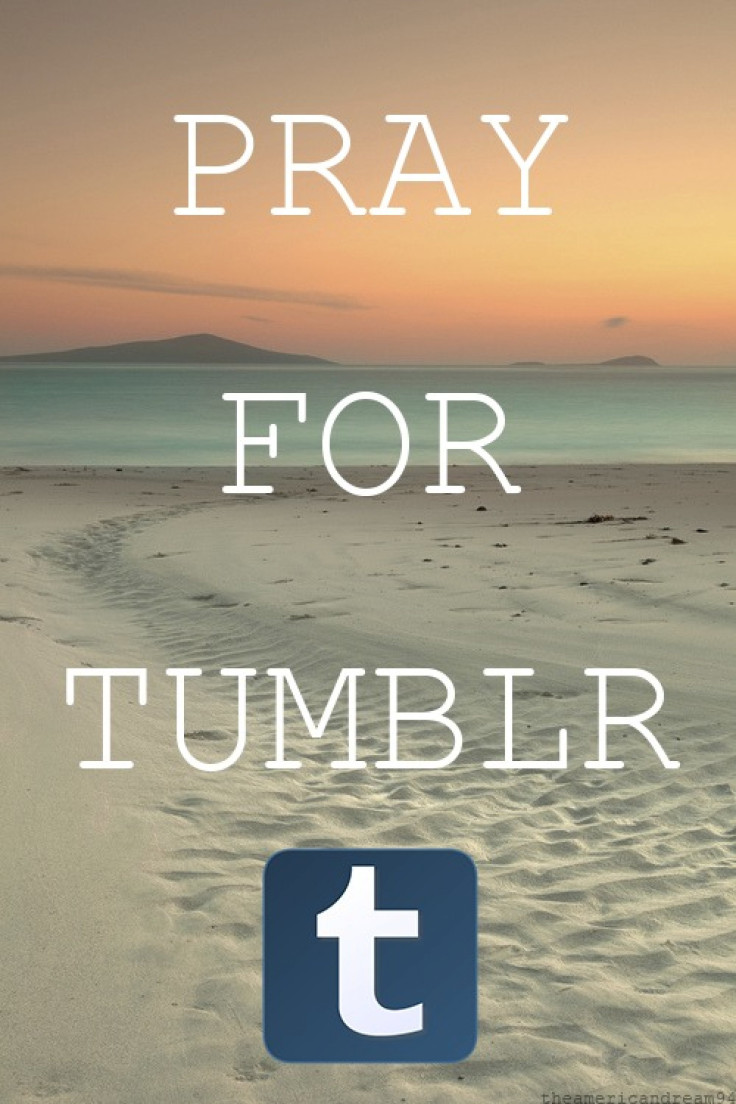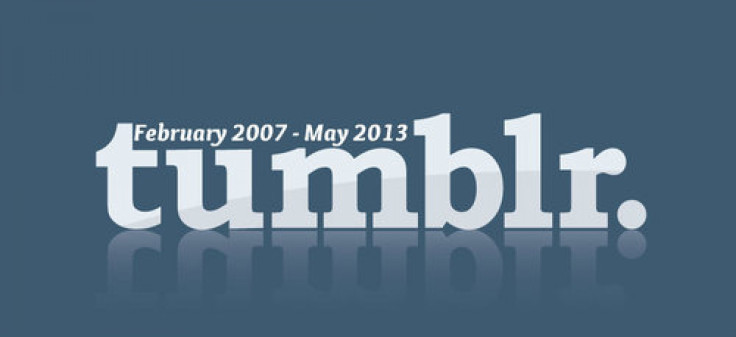 © Copyright IBTimes 2023. All rights reserved.
FOLLOW MORE IBT NEWS ON THE BELOW CHANNELS